ASUS P8Z77-V PRO Intel Z77 (Socket 1155) Motherboard overview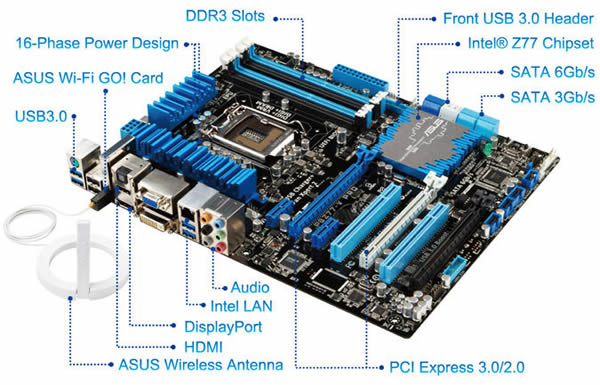 CPU, Chipset and Graphics Features


Intel 3rd and 2nd Generation Core i7/i5/i3 Processors Ready
This motherboard supports Intel 3rd generation (Ivy Bridge) Intel Core processor-based platform and 2nd generation (Sandy Bridge) Core i7/i5/i3/Pentium/Celeron processors, with iGPU, memory and PCI Express controllers integrated to support onboard graphics output with dedicated chipsets, 2-channel (4 DIMM) DDR3 memory and 16 PCI Express 3.0/2.0 lanes. This provides great graphics performance. Intel 3rd generation Intel Core processor-based platform and 2nd generation Core i7/i5/i3/Pentium/Celeron processors are among the most powerful and energy efficient CPUs in the world.


Intel Z77 Express Chipset
The Intel Z77 Express Chipset is a single-chipset design to support socket 1155 Intel 3rd generation Intel Core processor-based platform and 2nd generation Core i7/i5/i3/Pentium/Celeron processors. It provides improved performance by utilizing serial point-to-point links, allowing increased bandwidth and stability. Additionally, Z77 chipset provides 4 USB 3.0 ports for 10 times faster data retrieval speed. Moreover, Intel Z77 Express Chipset can also enable iGPU function, letting users enjoy the latest Intel integrated graphic performance.


Dual Intelligent Processors 3
The world's first Dual Intelligent Processors from ASUS pioneered twin onboard chips - TPU (TurboV Processing Unit) and EPU (Energy Processing Unit). Dual Intelligent Processors 3 builds on that foundation with new SMART DIGI+ power control, which includes multiple digital voltage controllers, allowing ultra-precise tuning for the CPU, iGPU and DRAM. It's upgraded with one-click extreme performance optimization and selectable CPU wattage levels, offering easier power control and better power savings with the user-friendly AI Suite II utility.


TPU plus SMART DIGI+
Always at the forefront of power design, ASUS propels you into the future standard of power management again by SMART DIGI+ Technology, which works with the TPU (TurboV Processing Unit) to ramps up performance to its maximum. Enable the all-new SMART DIGI+ key with a single click and adjust CPU ratios manually in the TPU to increase CPU frequency up to an incredible 85%! SMART DIGI+ Technology also includes the Smart CPU Power Level profile, which reduces CPU power consumption to a specific indicated wattage with a single click, creating a cooler and quieter PC. With next generation Intel VRD 12.5 future power technology, ASUS once again leaps to the future of innovation.


PCIe 3.0 Ready
The latest PCI Express bus standard delivers improved encoding for twice the performance of current PCIe 2.0. Total bandwidth for a x16 link reaches a maximum of 32GB/s, double the 16GB/s of PCIe 2.0 (in x16 mode). PCIe 3.0 provides users unprecedented data speeds, combined with the convenience and seamless transition offered by complete backward compatibility with PCIe 1.0 and PCIe 2.0 devices. It's a must-have feature for PC users aiming to improve and optimize graphics performance, as well as have the latest, most future-proof technology.


HDMI Support
High-Definition Multimedia Interface (HDMI) is a set of digital video standards that delivers multi-channel audio and uncompressed digital video for full HD 1080p visuals and 3D animation through all high speed HDMI cable with 3D devices. Supporting HDCP copy protection such as HD DVD and Blu-ray Discs, HDMI provides you with the highest-quality home theater experience.


DisplayPort Support
DisplayPort is a digital display interface standard that delivers up to 10.8 Gbps of bandwidth over standard cables, providing billions of colors and bi-directional communications, thus enabling the fastest refresh rates and the highest resolution digital display through a single cable. Also, it supports HDCP copy protection for Blu-ray Discs. Simply output 3D signals through the connected DisplayPort 1.1a cable with your 3D display, then you can sit back and enjoy a perfect 3D animation experience.


LucidLogix Virtu MVP
LucidLogix Virtu MVP featuring HyperFormance Technology boosts your discrete graphics card up to 60% beyond its original performance through the test of 3DMark Vantage. Designed for Intel processor graphics and Windows 7 PCs, it perfectly combines the performance of discrete graphics cards with fast computing iGPU. Also with the newly designed Virtual Sync, users can enjoy a smoother gaming experience by eliminating tearing artifacts. LucidLogix Virtu MVP could also dynamically assign tasks to the best available graphics resource, based on power, performance and system load. This allows users to fully utilize 3x faster video conversion with Intel Quick Sync Video technology while retaining high-end 3D rendering and gaming performance, provided by both NVIDIA and AMD graphic cards. When the discrete graphics card is not required, power consumption goes automatically down to near zero, making the system more environmentally-friendly. For users searching for perfection, LucidLogix Virtu MVP provides great graphical performance and the best flexibility and efficiency.


AMD CrossfireX Multi-GPU Support
AMD CrossFireX is the ultimate multi-GPU performance gaming platform. Enabling game-dominating power, AMD CrossFireX technology enables two or more discrete graphics processors to work together to improve graphics performance. AMD CrossFireX technology allows you to expand your system's graphics capabilities. It allows you the ability to scale your system's graphics horsepower as you need it, supporting up to four AMD Radeon HD graphics cards, making it the most scalable gaming platform ever. With an AMD CrossFireX gaming technology, the traditional graphics limitation exists no more, allowing you to enjoy higher performance as well as visual experience.


NVIDIA SLI Multi-GPU Technology
NVIDIA SLI technology is a revolutionary platform innovation that allows you to intelligently scale graphics performance by combining multiple NVIDIA graphics solutions in an SLI-Certified motherboard. Using proprietary software algorithms and dedicated scalability logic in each NVIDIA graphics processing unit (GPU), NVIDIA SLI technology delivers up to twice the performance (with 2 cards) and 2.8X the performance (with 3 cards) compared to a single graphics solution.
Memory Features
Dual-Channel DDR3 2600 MHz Support
The motherboard supports 32GB DDR3 memory that features data transfer rates of up to 2600 MHz to meet the higher bandwidth requirements of the latest 3D graphics, multimedia and Internet applications.


MemOK!
Any Memory is A-OK! MemOK! quickly ensures memory boot compatibility. This remarkable memory rescue tool requires a mere push of a button to patch memory issues. MemOK! determines failsafe settings and dramatically improves your system boot success. Get your system up and running in no time!
Transfer Features
Complete USB 3.0 Integration
ASUS facilitates strategic USB 3.0 accessibility for both the front and rear panel - 8 USB 3.0 ports in total. Experience the latest plug & play connectivity at speeds up to 10 times faster than USB 2.0. This motherboard affords greater convenience to high speed connectivity.


USB 3.0 Boost
New ASUS USB 3.0 Boost technology supports UASP (USB Attached SCSI Protocol), the latest USB 3.0 standard. With USB 3.0 Boost technology, a USB device's transmission speed is significantly increased up to 170%, adding to an already impressive fast USB 3.0 transfer speed. ASUS software automatically accelerates data speeds for compatible USB 3.0 peripherals without the need for any user interaction


Extra SATA 6Gb/s Supports
The Intel Z77 Express chipset natively supports the next-generation Serial ATA (SATA) interface, delivering up to 6Gb/s data transfers. ASUS provides extra SATA 6Gb/s ports with enhanced scalability, faster data retrieval and double the bandwidth of current bus systems.


USB Charger+
3X Faster Charging for All Smart Devices. With a dedicated onboard controller, quick-charge all your smart devices such as iProducts. smartphones, tablets and more, all up to 3X faster, even when the PC is powered off, in sleep or hibernation modes.


Network iControl
With a single-click on/off button, the application currently in use has its data and network bandwidth prioritized over other programs. Moreover, you can prioritize your favorite software easily by configuring profiles through the intuitive user interface. Within the profile, programs can be pre-scheduled to run in a specific time period to avoid network congestion and long-waits on downloads. Auto PPPoE network connection provides a one-step setup for enhanced online convenience. Overall, it's an intuitive network bandwidth control center.


Wi-Fi GO!
ASUS Wi-Fi GO! makes enjoying home entertainment easier than ever! Exclusive Wi-Fi functions provide DLNA streaming so you can enjoy a home theater PC, while also providing remote access to your PC with a smart device. ASUS Wi-Fi GO! leads the market by integrating Wi-Fi connectivity, DLNA access and all smart devices with a one-stop utility for a futuristic connected lifestyle.
Audio Features
DTS Connect
To get the most out of your audio entertainment across all formats and quality levels, DTS Connect combines two enabling technologies. DTS Neo:PC upmixes stereo sources (CDs, MP3s, WMAs, internet radio) into as many as 7.1 channels of incredible surround sound. Consumers can then connect their PC to a home theater system.DTS Interactive is capable of performing multi-channel encoding of DTS bitstreams on personal computers, and sending encoded bitstreams out of a digital audio connection (such as S/PDIF or HDMI) designed to deliver audio to an external decoder.


DTS UltraPC II
DTS UltraPC II delivers exceptional 7.1 surround through the most popular PC audio setups - your existing stereo speakers or headphones. In addition to virtual surround, it upgrades original sound to new levels with Audio Restoration, recreating the dynamic range of audio files. Symmetry mode improves the balance of perceived loudness across different input sources and Enhance boosts audio quality through high and low frequency equalization. With these technologies, users experience better home theater audio with ease.
Other Features
Fast Boot
Instant OS Login. ASUS has released new hardware and software designs to shorten system boot-up time to 2-seconds* for a smoother user experience that removes annoying delays under Windows 8, and even previous versions of Windows. Faster system boot and restart means Windows starts quicker and higher efficiency - No more waiting around


ASUS Boot Setting
Multi-startup Options. Thanks to ASUS Windows 8 hardware optimization, ASUS Boot Setting provides better flexibility in customizing your PCs startup process. You can enter the BIOS directly with one click through a user-friendly interface, and quickly select your preferred system boot up method: either get to the OS in seconds or opt for regular boot up. Whatever your choice, settings are saved and persistent, with no need to choose every time you power on.


Fan Xpert 2
Seeing an opportunity for more fine-tuned control, Hardware-level ASUS Fan Xpert 2 literally blows away the competition. It provides an exclusive Fan Auto Tuning Mode to scan each fan's characteristics through the exclusive automatic fan speed detection, giving custom speed settings of each fan with a single click, achieving the best balance of cooling performance and low noise. Fan Xpert 2 also includes an RPM Fixed Mode for users who wish to reduce noise levels to near 0dB with highly specific fan speed control. It reacts to system loads for greater control.


USB BIOS Flashback
A truly revolutionary hardware-based update solution. USB BIOS Flashback offers the most convenient way ever to update the BIOS! It allows users to update new UEFI BIOS versions even without hardware such as a CPU or DRAM installed into the motherboard. Just plug in a USB flash drive containing the BIOS file, and press the BIOS Flashback button for 3 seconds with the power supply connected. The UEFI BIOS will then automatically update without requiring further interaction. With its new, complementary Windows application, users can regularly check for UEFI BIOS updates and download the latest BIOS automatically. Hassle-free updating for the ultimate convenience!


Intel Smart Response Technology
Intel Smart Response Technology boosts overall system performance. It uses an installed fast SSD (min 18.6GB available capacity required) as a cache for frequently accessed data. Key benefits include reduced load and wait times, and lower power consumption through the elimination of unnecessary hard drive spin. This technology combines SSD performance with hard drive capacity, operating up to 6X faster than a hard drive-only system.


Intel Smart Connect Technology
Your computer can receive web updates with fresh content for selected applications, even when the system is in sleep mode. This means less time waiting for applications to update and sync with the cloud, leading to a more efficient computing experience.


Intel Rapid Start Technology
Allows your computer to quickly resume from a low-power hibernate state in seconds. Saving your system memory to the designated SSD, it provides your computer a faster wake-up response time, while still keeping the energy use low.


UEFI BIOS
ASUS UEFI BIOS offers the first mouse-controlled graphical BIOS designed with selectable modes, providing a user-friendly interface that goes beyond traditional keyboard-only controls. It also natively supports fully-utilized hard drives larger than 2.2TB in 64-bit operating systems.


Windows 8 Ready
With hardware driver compatibility tested and assured, ASUS provides a complete solution for Windows 8 support. Starting now, users can experience the next generation operating system on ASUS hardware, and can rest assured that they can easily upgrade once the final driver versions are released without any compatibility issues!
General
| | |
| --- | --- |
| Part Number | P8Z77-V PRO |
| Model Number | P8Z77-V PRO |
| Form Factor | ATX |
| Width | 30.5cm |
| Depth | 24.4m |
Processor Information
Compatible Processors
Intel 3rd Generation Core i7/i5/i3
Intel 2nd Generation Core i7/i5/i3
Intel Pentium
Intel Celeron
Socket Type
LGA 1155
Note: Please refer to www.asus.com for Intel CPU Support List
Chipset
| | |
| --- | --- |
| Chipset Manufacturer | Intel |
| Chipset Type | Z77 Express |
Memory
| | |
| --- | --- |
| RAM Installed / Max Capacity | 0 MB / 32 GB Max |
| RAM Slots | 4 x DDR3 DIMM |
| Supported RAM Technology | Dual Channel DDR3 SDRAM |
| Supported RAM Speeds | DDR3 2600(OC)/1600/1333/1066 Mhz |
Expansion Slots
Expansion Slots Total (Free)
2 x PCIe 3.0 x16 (running at x16)
1 x PCIe 2.0 x16 (running at x4)
2 x PCIe 2.0 x1
2 x PCI
VGA & Integrated Graphics Options
Video Controller
Supports Intel HD Graphics
Multi-GPU Support
Supports AMD CrossFireX
Supports NVIDIA SLI
Ports & Connectivity - External IO Panel (Back of Motherboard)
Ports Present & Quantity
1 x PS/2 keyboard/mouse combo port(s)
1 x DVI-D
1 x D-Sub
1 x DisplayPort
1 x HDMI
1 x LAN (RJ45) port(s)
4 x USB 3.0
2 x USB 2.0
1 x Optical S/PDIF out
6 x Audio jack(s)
1 x WLAN connector(s) for ASUS wireless module
Ports & Connectivity - Internal IO (Header pins on Motherboard - Inside Case)
Ports Present & Quantity
2 x USB 3.0 connector(s)
4 x USB 2.0 connector(s)
4 x SATA 6Gb/s connector(s)
4 x SATA 3Gb/s connector(s)
1 x CPU Fan connector(s)
4 x Chassis Fan connector(s)
1 x Optional Fan connector(s)
1 x S/PDIF out header(s)
1 x 24-pin EATX Power connector(s)
1 x 8-pin ATX 12V Power connector(s)
1 x Front panel audio connector(s) (AAFP)
1 x System panel(s)
1 x MemOK! button(s)
1 x TPU switch(es)
1 x EPU switch(es)
1 x Clear CMOS jumper(s)
1 x USB BIOS Flashback button(s)
Storage Interfaces & Controllers
Intel Z77
2 x SATA 6Gb/s (RAID 0,1,5,10)
4 x SATA 3Gb/s (RAID 0,1,5,10)
ASMedia Controller
2 x SATA 6Gb/s
LAN & Networking
| | |
| --- | --- |
| Controller | Intel 82579V |
| Lan Speed | 10/100/1000 |
| Ports | 1 x LAN(RJ45) port |
Audio
Controller/Codec/Information
Realtek ALC892
Absolute Pitch 192kHz/ 24-bit True BD Lossless Sound
DTS Ultra PC II
DTS Connect
Optical S/PDIF out port(s) at back panel
Features & Technologies
Feature List
ASUS Dual Intelligent Processors 3
SMART DIGI+ :
Smart DIGI+ Key
Smart CPU Power Level
ASUS TPU :
Auto Tuning
TurboV
GPU Boost
TPU switch
ASUS EPU :
EPU
EPU switch
ASUS Digital Power Design :
16 Phase Power Design
2 Phase DRAM Power Design
CPU Power Utility
DRAM Power Utility
ASUS Wi-Fi GO!
Wi-Fi GO! Function
Wi-Fi GO! Remote
Wi-Fi Engine
ASUS Exclusive Features :
USB BIOS Flashback
MemOK!
AI Suite II
Ai Charger+
USB Charger+
Anti-Surge
ASUS UEFI BIOS EZ Mode featuring friendly graphics user interface
Network iControl
USB 3.0 Boost
Disk Unlocker
ASUS Quiet Thermal Solution :
Stylish Fanless Design Heat-sink solution
ASUS Fan Xpert 2
ASUS EZ DIY :
ASUS O.C. Tuner
ASUS CrashFree BIOS 3
ASUS EZ Flash 2
ASUS Q-Design :
ASUS Q-Shield
ASUS Q-LED (CPU, DRAM, VGA, Boot Device LED)
ASUS Q-Slot
ASUS Q-DIMM
ASUS Q-Connector
Delivery Options Available
Next Working Day Delivery
Get your order delivered the next working day for £5.99, available when ordering Monday - Thursday and before 17:00 on that day if the product is in stock and your payment has cleared.
Pre 12 Next Working Day Delivery
Get your order delivered the next working day before 12:00pm for £8.38, available when ordering Monday - Thursday and before 17:00 on that day if the product is in stock and your payment has cleared. Some orders if via PayPal and the first customer order may not clear in time.
Weekend Delivery - Saturday & Sunday
If you need your order at the weekend, for £9.98, you can specify the day you wish to have it delivered to you, Saturday or Sunday providing your order has been placed by 17:00 on the Friday before.
Free Delivery
Economy Delivery
Economy delivery is available on all orders of any value being shipped within the UK.
Sorry, this product is no longer available to purchase.

Please view our whole range of ATX Form Factor here