MSI GeForce GTX 550 Ti OC 1024MB GDDR5 + Mafia 2 overview
Product Overview
Get your PC ready to dominate this year's blockbuster games with the GeForce GTX 550 Ti. With up to 6 times the performance of previous generation's graphics, you know you are well armed for the future. Performance is not the end of the story though; full DirectX 11 done right that blows away the competition, NVIDIA 3D Vision, NVIDIA Surround Gaming and NVIDIA PhysX give you the edge on your opponents. Get serious performance today with the GeForce GTX 550Ti.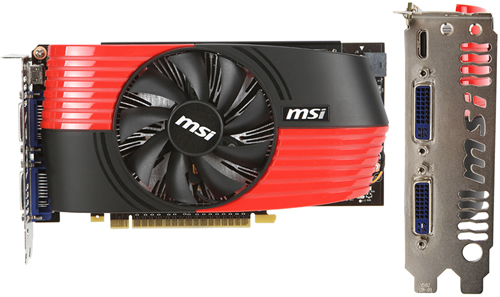 Free Game - Mafia 2
MSI Exclusive Features


Military Class Concept Components
- SSC (Solid State Choke) has higher current for better overclocking ability.
- All Solid CAPs have longer lifespan.




MSI Afterburner Utility
Afterburner is a co-development by MSI and Rivatuner and is the ultimate graphics card tuning utility. This utility enables all MSI graphics card users to boost performance and to monitor all kinds of critical information in real-time. Afterburner is a completely free utility which is compatible with almost all MSI graphics cards.




MSI Solid Capacitor Graphic Cards
MSI Graphics Cards utilise high quality solid capacitors. For the gamers and high-end users, this feature not only means that the product has better quality components within, but also provides much stronger support for users that want to engage in hard-core tuning.




Live Update 5
MSI Live Update 5 is a single utility software that automatically checks BIOS, driver and utility updates and installs them for you, which saves your time and lowers the risk of downloading the wrong file.
NVIDIA Features


NVIDIA PhysX Technology
PhysX is designed specifically for hardware acceleration by powerful processors with hundreds of cores. Combined with the tremendous parallel processing capability of the GPU, PhysX will provide an exponential increase in physics processing power and will take gaming to a new level delivering rich, immersive physical gaming environments.




NVIDIA CUDA Technology
NVIDIA CUDA technology is the world's only C language environment that enables programmers and developers to write software to solve complex computational problems in a fraction of the time by tapping into the many-core parallel processing power of GPUs. With millions of CUDA-capable GPUs already deployed, thousands of software programmers are already using the free CUDA software tools to accelerate applications—from video and audio encoding to oil and gas exploration, product design, medical imaging, and scientific research.




NVIDIA 3D Vision
NVIDIA 3D Vision brings a fully immersive stereoscopic 3D experience to the PC. A combination of high-tech wireless glasses and advanced software 3D Vision transforms hundreds of PC games into full stereoscopic 3D. Users can even watch 3D movies and 3D digital photographs in crystal-clear quality.




NVIDIA SLI Technology
Delivers up to 2x the performance of a single GPU configuration for unequaled gaming experiences by allowing two cards to run in parallel. The must-have feature for performance PCI Express graphics, SLI technology dramatically scales performance on today's hottest games.




NVIDIA PureVideo HD Technology
Blu-ray and HD DVD movies are bringing a new level of movie-viewing experience; with high-definition image quality far surpassing standard-definition DVDs. NVIDIA PureVideo HD2 technology provides unsurpassed Blu-ray and HD DVD movie picture quality.
General Specifications
Interface
PCI Express 2.0 x16
Output Interface
2 x DVI
1 x Mini HDMI
Expansion / Connectivity
| | |
| --- | --- |
| Compatible Slots | 1 x PCI Express x16 |
GPU Specification
| | |
| --- | --- |
| Core Clock | 950 MHz Core Clock |
| Shader Clock | 1900 MHz Core Clock |
| Stream Processors | 192 |
Memory Specification
| | |
| --- | --- |
| Memory Type | 192 bit GDDR5 |
| Memory Size | 1024 MB |
| Memory Effective Size | 4300 Mhz |
Manufacturer Warranty
Supported Technologies
Technologies
Microsoft DirectX 11
NVIDIA SLI Support
NVIDIA CUDA Technology
NVIDIA PhysX Ready
NVIDIA PureVideo HD
NVIDIA 3D Vision
Delivery Options Available
Next Working Day Delivery
Get your order delivered the next working day for £5.99, available when ordering Monday - Thursday and before 17:00 on that day if the product is in stock and your payment has cleared.
Pre 12 Next Working Day Delivery
Get your order delivered the next working day before 12:00pm for £8.38, available when ordering Monday - Thursday and before 17:00 on that day if the product is in stock and your payment has cleared. Some orders if via PayPal and the first customer order may not clear in time.
Weekend Delivery - Saturday & Sunday
If you need your order at the weekend, for £9.98, you can specify the day you wish to have it delivered to you, Saturday or Sunday providing your order has been placed by 17:00 on the Friday before.
Free Delivery
Economy Delivery
Economy delivery is available on all orders of any value being shipped within the UK.