EVGA GeForce GTX 650 Ti 1GB GDDR5 overview
Product Overview
If you're passionate about gaming then the GeForce GTX is the family of graphics cards for you. Turbocharge your gaming experience with the powerful performance of the GeForce GTX 650 Ti. Play your favourite games with full DirectX 11 support that blows away your old DirectX 10 cards performance by up to 8x. Plus count on the GeForce GTX 650 Ti's revolutionary next-gen NVIDIA Kepler architecture for stunning graphics, 1080p HD brilliance and rock solid performance that will make your console-loving friends envious.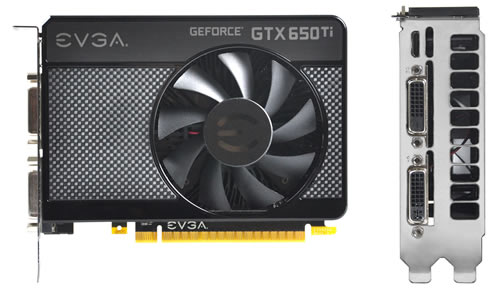 EVGA Exclusive Features


EVGA Precision X
Designed from the ground up to support the new GPU technology, EVGA Precision X redefines what overclocking software should be. This program allows you to fine tune your EVGA graphics card for the maximum performance possible, with Core/Shader/Memory clock tuning, real time monitoring support including in-game, Logitech Keyboard LCD Display support, and compatibility with almost all EVGA graphics cards.




EVGA OC Scanner X
Featuring a brand new look and layout, this popular application has been supported to show all of the new GPU vitals. With the EVGA OC Scanner you can now take your graphics card to the limit! With built-in artifact scanning, benchmark functionality, log functionality and more, the EVGA OC Scanner combined with EVGA Precision make the perfect combo for any enthusiast.




EVGA Gaming
If you live to game this is the place for you! Access to exclusive EVGA tournaments, prizes and game servers.




MODS RIGS
$1k Sponsorship for every 200 posts. Come show off your rig and join in on one of the biggest things happening at EVGA. Visit www.evga.com/community/modsrigs for more information.




EVGA SoNet
Follow EVGA on your favourite Social Networking sites like Facebook, Twitter, Steam and the EVGA Gaming Community.




24/7 Technical Support
EVGA is here for you day or night to help answer any questions!


NVIDIA Features


NVIDIA GeForce Experience
Want to know the best settings to play your games? GeForce Experience will figure it out for you. GeForce Experience connects you to NVIDIA's cloud datacenter to download optimal game settings tailored to your PC based on your CPU, GPU and monitor. Optimal settings maximize image quality while maintaining great performance so you get the best experience. A built-in interactive screenshot viewer helps you learn more about each setting and their benefits. The GeForce Experience application automatically notifies you of new driver releases from NVIDIA. With a single click, you'll be able to update the driver directly, without leaving your desktop.




NVIDIA Kepler GPU Architecture
NVIDIA's Kepler GPU architecture has been designed from the ground up not just for maximum performance in the latest DirectX 11 games, but optimal performance per watt. The new SMX streaming multiprocessor is twice as efficient as the prior generation and the new geometry engine draws triangles twice as fast. The result is world class performance and the highest image quality in an elegant and power efficient graphics card.




NVIDIA Adaptive V-Sync Technology
Nothing is more distracting than framerate stuttering and screen tearing. The first tends to occur when framerates are low, the second when framerates are high. Adaptive V-Sync is a smarter way to render frames. At high framerates, V-sync is enabled to eliminate tearing, at low frame rates, it's disabled to minimize stuttering. It gets rid of distractions so you can get on with gaming.




NVIDIA PhysX Technology
PhysX is designed specifically for hardware acceleration by powerful processors with hundreds of cores. Combined with the tremendous parallel processing capability of the GPU, PhysX will provide an exponential increase in physics processing power and will take gaming to a new level delivering rich, immersive physical gaming environments.




NVIDIA CUDA Technology
NVIDIA CUDA technology is the world's only C language environment that enables programmers and developers to write software to solve complex computational problems in a fraction of the time by tapping into the many-core parallel processing power of GPUs. With millions of CUDA-capable GPUs already deployed, thousands of software programmers are already using the free CUDA software tools to accelerate applications—from video and audio encoding to oil and gas exploration, product design, medical imaging, and scientific research.




NVIDIA Surround with up to 3 Monitors
Nothing is as breathtaking as playing your favorite games across three monitors. At 5760 x 1080, the expanded field of view fully engages human peripheral vision and provides for the most immersive experience in racing and flight simulators.




NVIDIA 3D Vision
NVIDIA 3D Vision brings a fully immersive, stereoscopic 3D experience to the PC. A combination of high-tech wireless glasses and advanced software, 3D Vision transforms hundreds of PC games into full stereoscopic 3D. Get up to 2x monitor and keyboard brightness with NVIDIA 3D LightBoost technology. In addition, you can enjoy 3D movies and 3D digital photographs from 3DVisionLive.com in eye popping, crystal-clear quality.




NVIDIA PureVideo HD Technology
Blu-ray and HD DVD movies are bringing a new level of movie-viewing experience; with high-definition image quality far surpassing standard-definition DVDs. NVIDIA PureVideo HD2 technology provides unsurpassed Blu-ray and HD DVD movie picture quality.
General Specifications
Bus Interface
PCI Express 3.0 x16
Output Interface
1 x DVI-I
1 x DVI-D
1 x Mini HDMI
Expansion / Connectivity
| | |
| --- | --- |
| Compatible Slots | 1 x PCI Express x16 |
| Width | Dual Slot |
GPU Specification
| | |
| --- | --- |
| Core Clock | 928 MHz Core Clock |
| Core Boost Clock | N/A |
| CUDA Cores | 768 |
Memory Specification
| | |
| --- | --- |
| Memory Type | 128 bit GDDR5 |
| Memory Size | 1024MB |
| Memory Effective Speed | 5400 Mhz |
Display Specification
| | |
| --- | --- |
| Multi-Monitor Support | Up to 3 displays |
| Max Digital Resolution | 2560x1600 |
| Max Analogue Resolution | 2048x1536 |
Thermal Specification
| | |
| --- | --- |
| Max GPU Temp | 105C |
| Max Power Usage | 110W |
| Minimum PSU Requirement | 400W |
| Required Power Connectors | 1 x 6-pin |
Supported Technologies
Technologies
DirectX 11 Support
PCIe 3.0 Support
OpenGL 4.1
NVIDIA Kepler GPU Archtecture
NVIDIA Adaptive V-Sync Technology
NVIDIA PhysX Technology
NVIDIA CUDA Technology
NVIDIA Surround Technology with 3 Monitor Support
Manufacturer Warranty
Delivery Options Available
Next Working Day Delivery
Get your order delivered the next working day for £5.99, available when ordering Monday - Thursday and before 17:00 on that day if the product is in stock and your payment has cleared.
Pre 12 Next Working Day Delivery
Get your order delivered the next working day before 12:00pm for £8.38, available when ordering Monday - Thursday and before 17:00 on that day if the product is in stock and your payment has cleared. Some orders if via PayPal and the first customer order may not clear in time.
Weekend Delivery - Saturday & Sunday
If you need your order at the weekend, for £9.98, you can specify the day you wish to have it delivered to you, Saturday or Sunday providing your order has been placed by 17:00 on the Friday before.
Free Delivery
Economy Delivery
Economy delivery is available on all orders of any value being shipped within the UK.