Novatech GeForce GTX 660 2GB GDDR5 overview
Product Overview
Experience a new dimension of gaming with the GeForce GTX 660 powered by the latest NVIDIA GeForce architecture that combines performance, power efficiency and affordability. The GeForce GTX 660 raises the performance bar and is a must-have upgrade for gamers seeking the best experience in today's visually demanding games.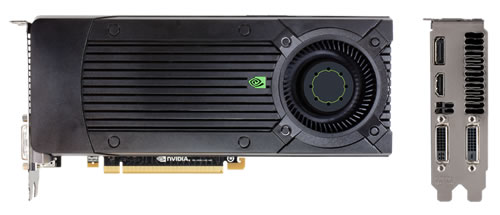 NVIDIA Features


NVIDIA Kepler GPU Architecture
NVIDIA's Kepler GPU architecture has been designed from the ground up not just for maximum performance in the latest DirectX 11 games, but optimal performance per watt. The new SMX streaming multiprocessor is twice as efficient as the prior generation and the new geometry engine draws triangles twice as fast. The result is world class performance and the highest image quality in an elegant and power efficient graphics card.




NVIDIA GPU Boost Technology
Up until now, GPUs have operated at a fixed clock speed when playing 3D games, even if they have the potential to run faster. GPU Boost intelligently monitors graphics work load and increases the clock speed whenever possible. The result is that the GPU always performs at its peak and you get the highest framerate possible.




NVIDIA Adaptive V-Sync Technology
Nothing is more distracting than framerate stuttering and screen tearing. The first tends to occur when framerates are low, the second when framerates are high. Adaptive V-Sync is a smarter way to render frames. At high framerates, V-sync is enabled to eliminate tearing, at low frame rates, it's disabled to minimize stuttering. It gets rid of distractions so you can get on with gaming.




NVIDIA PhysX Technology
PhysX is designed specifically for hardware acceleration by powerful processors with hundreds of cores. Combined with the tremendous parallel processing capability of the GPU, PhysX will provide an exponential increase in physics processing power and will take gaming to a new level delivering rich, immersive physical gaming environments.




NVIDIA CUDA Technology
NVIDIA CUDA technology is the world's only C language environment that enables programmers and developers to write software to solve complex computational problems in a fraction of the time by tapping into the many-core parallel processing power of GPUs. With millions of CUDA-capable GPUs already deployed, thousands of software programmers are already using the free CUDA software tools to accelerate applications—from video and audio encoding to oil and gas exploration, product design, medical imaging, and scientific research.




NVIDIA Surround with up to 4 Monitors
Nothing is as breathtaking as playing your favorite games across three monitors. At 5760 x 1080, the expanded field of view fully engages human peripheral vision and provides for the most immersive experience in racing and flight simulators. Add in a fourth display to keep tabs on chat, email or web while you are gaming.




NVIDIA 3D Vision
NVIDIA 3D Vision brings a fully immersive, stereoscopic 3D experience to the PC. A combination of high-tech wireless glasses and advanced software, 3D Vision transforms hundreds of PC games into full stereoscopic 3D. Get up to 2x monitor and keyboard brightness with NVIDIA 3D LightBoost technology. In addition, you can enjoy 3D movies and 3D digital photographs from 3DVisionLive.com in eye popping, crystal-clear quality.




NVIDIA SLI Technology
Used by the most demanding gamers worldwide, SLI lets you link up to four GeForce GTX 660s together for astounding performance. And with NVIDIA's track record for fast and frequent software updates, you'll not only get the best performance in existing games, but future games too.




NVIDIA PureVideo HD Technology
Blu-ray and HD DVD movies are bringing a new level of movie-viewing experience; with high-definition image quality far surpassing standard-definition DVDs. NVIDIA PureVideo HD2 technology provides unsurpassed Blu-ray and HD DVD movie picture quality.