ASUS GeForce GT 730 Low Profile 2GB GDDR5 overview
Product Overview
Speed up your PC multimedia experience. Upgrade to the new NVIDIA GeForce GT 730 dedicated graphics card and get super-fast web browsing, plus incredible photo and video editing. The GT 730 also delivers 3X faster gaming performance than integrated graphics while delivering rock-solid reliability and stability with GeForce Experience.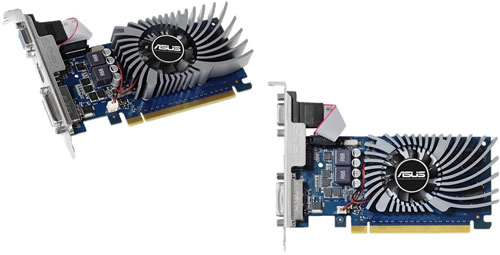 ASUS Features



Super Alloy Power

Exclusively-formulated alloy components boost performance by reducing power loss, enhancing durability, and achieving cooler operation. Choke concrete cores eliminate buzzing sound under full load while capacitors assure a 50,000-hour lifespan: equivalent to 2.5 times longer than traditional capacitors.






GPU Tweak

Overclocking is made real-time and intuitive with ASUS GPU Tweak utility. It not only allows you to optimize clock speeds, voltage and fan speeds on up to four graphics cards independently or simultaneously, you can also select between GPU Tweak's Standard or Advanced modes depending on your level of experience. For gamers out there, GPU Tweak enables instantaneous in-game video recording up to 720p resolution so you can share clips with the community easily.
NVIDIA Features
Your Whole PC Experience - A Whole Lot Faster
Accelerate your entire PC experience with a new NVIDIA GeForce GT graphics card. Upgrade from integrated graphics to a GeForce GT series GPU and get the speed you need to keep up with today's most demanding PC applications.
Stunning Multimedia


Enjoy all your videos and pictures at HD resolutions with up to 10X faster video editing, 9X faster web browsing and 13X faster photo editing. Plus, drive up to three HD displays with a single card.
Better Gaming


Play modern games like World of Tanks and Infinite Crisis with a faster, smoother, more dependable GPU. With up to 4X faster performance than integrated graphics, you can experience modern gaming for the first time.
Rock Solid Reliability
GeForce GT means speed, stability, and industry-leading NVIDIA drivers. Tap into GeForce Experience to automatically get the latest drivers and optimize game settings with a single click.



NVIDIA GeForce Experience

Want to know the best settings to play your games? GeForce Experience will figure it out for you. GeForce Experience connects you to NVIDIA's cloud datacenter to download optimal game settings tailored to your PC based on your CPU, GPU and monitor. Optimal settings maximize image quality while maintaining great performance so you get the best experience. A built-in interactive screenshot viewer helps you learn more about each setting and their benefits. The GeForce Experience application automatically notifies you of new driver releases from NVIDIA. With a single click, you'll be able to update the driver directly, without leaving your desktop.