ASUS NVIDIA GeForce RTX 3090 TUF Gaming OC 24GB GDDR6X Graphics Card overview
NVIDIA AMPERE ARCHITECTURE
The GeForce RTX™ 3090 is a big ferocious GPU (BFGPU) with TITAN class performance. It's powered by Ampere—NVIDIA's 2nd gen RTX architecture—doubling down on ray tracing and AI performance with enhanced Ray Tracing (RT) Cores, Tensor Cores, and new streaming multiprocessors. Plus, it features a staggering 24 GB of G6X memory, all to deliver the ultimate gaming experience.
2nd Generation RT Cores for 2x Throughput


3rd Generation Tensor Cores for up to 2x Throughput


New Streaming Multiprocessors for 2x FP32 Throughput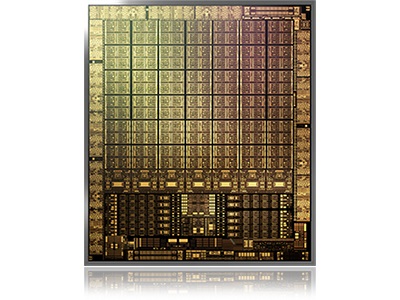 DLSS AI ACCELERATION
NVIDIA DLSS is groundbreaking AI rendering that boosts frame rates with uncompromised image quality using the dedicated AI processing Tensor Cores on GeForce RTX. This gives you the performance headroom to crank up settings and resolutions for an incredible visual experience. The AI revolution has arrived to gaming.
RAY TRACING
Ray tracing is the holy grail of gaming graphics, simulating the physical behaviour of light to bring real time, cinematic quality rendering to even the most visually intense games.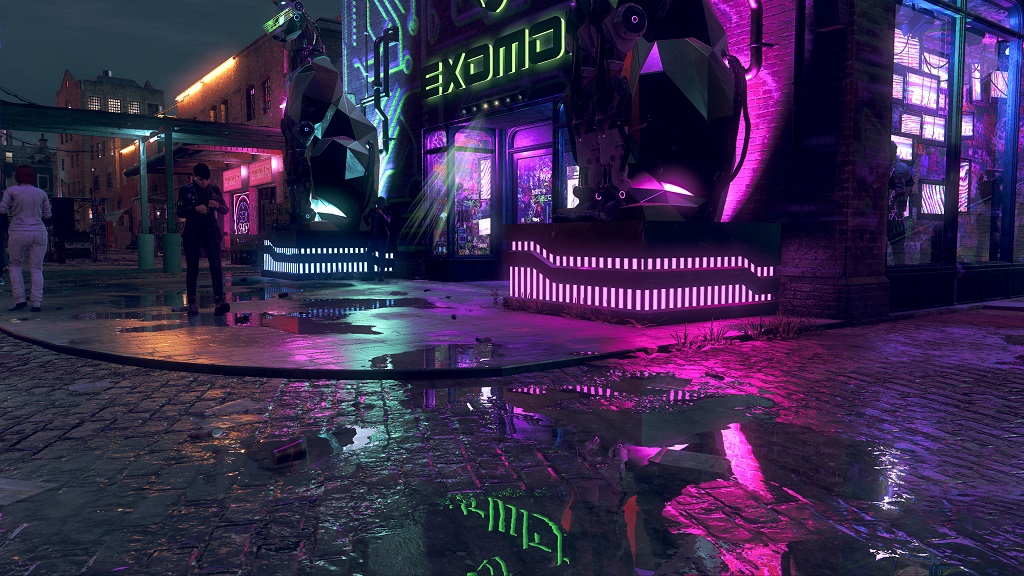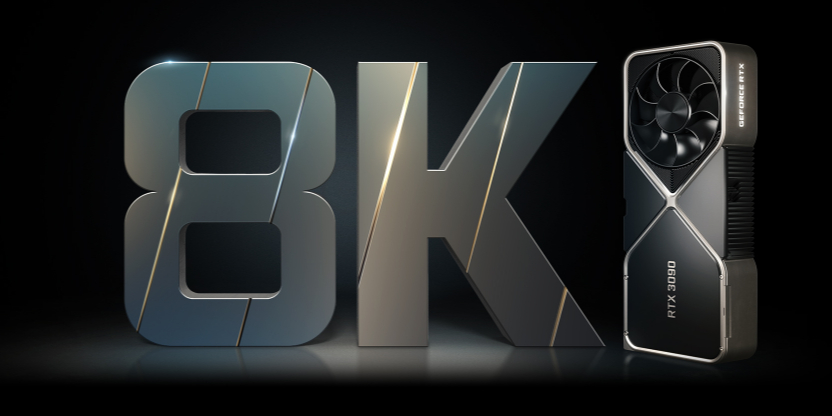 8K HDR GAMING
Connect, play, capture, and watch in brilliant HDR at resolutions up to 8K with GeForce RTX 3090. HDMI 2.1 makes it possible for 8K resolution on a single cable. Capture up to 8K HDR footage with the GeForce Experience™ ShadowPlay™ feature and play back smoothly with AV1 decode.
VICTORY MEASURED IN MILLISECONDS
NVIDIA Reflex delivers the ultimate competitive advantage. The lowest latency. The best responsiveness. Powered by GeForce RTX 30 Series GPUs and NVIDIA® G-SYNC® gaming monitors. Acquire targets faster, react quicker, and increase aim precision through a revolutionary suite of technologies to measure and optimise system latency for competitive games.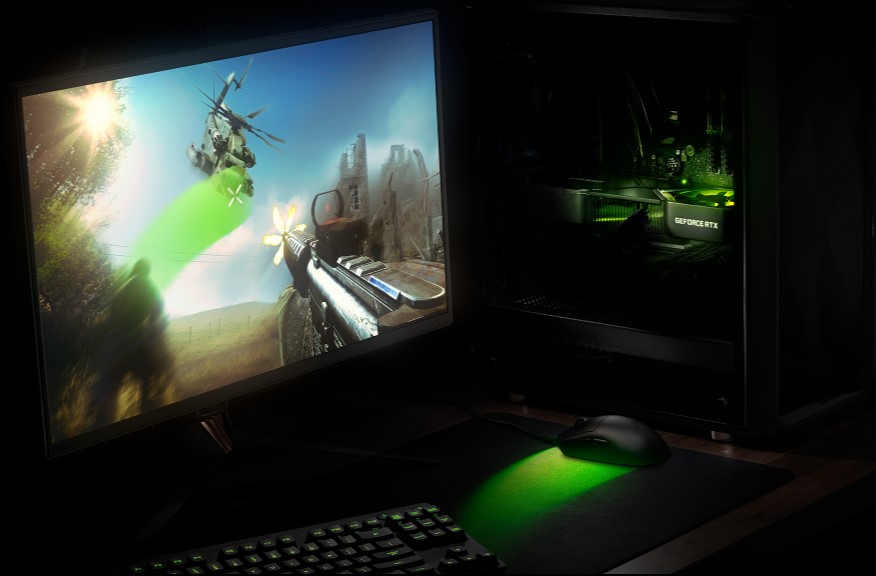 UP YOUR CREATIVE GAME
Take your creative projects to a new level with GeForce RTX 30 Series GPUs. Delivering AI-acceleration in top creative apps. Backed by the NVIDIA Studio platform of dedicated drivers and exclusive tools. And built to perform in record time. Whether you're rendering complex 3D scenes, editing 8K video, or livestreaming with the best encoding and image quality, GeForce RTX GPUs give you the performance to create your best.
BUILT TUF
The TUF Gaming GeForce RTX™ 3090 has been stripped down and built back up to provide more robust power and cooling. A new all-metal shroud houses three powerful axial-tech fans that utilise durable dual ball fan bearings. Fan rotation has been optimised for reduced turbulence, and a stop mode brings all three fans to a halt at low temps. Beneath, independent heatsinks for the GPU and memory keep thermals under tight control. Additional features, including TUF components, Auto-Extreme Technology, a new GPU bracket, and a backplate vent make the TUF a proper powerhouse. For builders looking for a new "old faithful", this card has your back.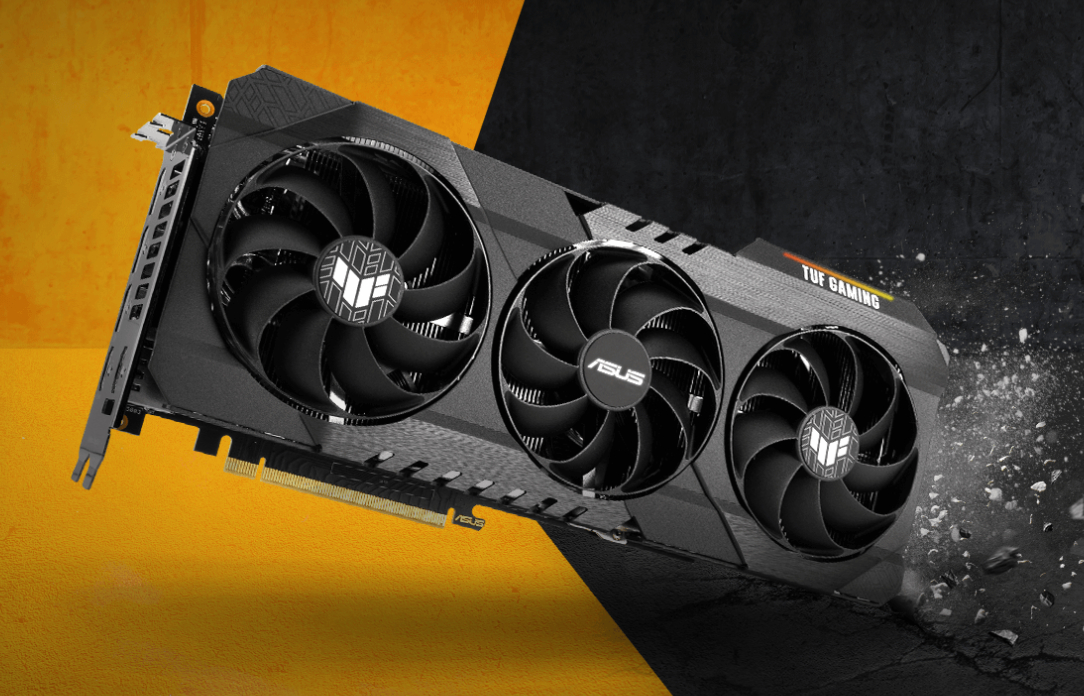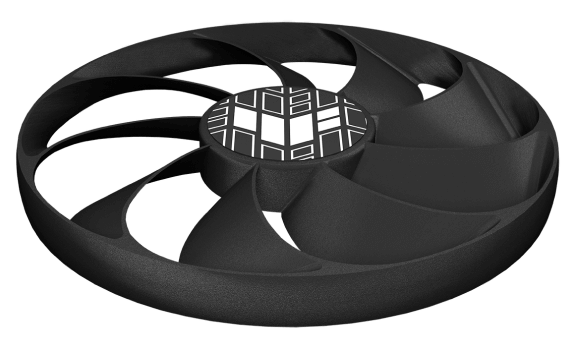 AXIAL-TECH UPGRADES
TUF Gaming cards leverage our tried-and-true Axial-tech fan design, with three fans working in tandem to satisfy the thermal demands of NVIDIA's new high-octane design. The fans rely on dual ball fan bearings to ensure consistent performance and increased longevity compared to sleeve bearings and other bearing types.
NEW DIRECTIONS
The fans have been smartly tuned with a reversed rotation for the center fan, which reduces turbulence, and with a fan-stop mode that kicks in when the GPU temp falls below 55 degrees.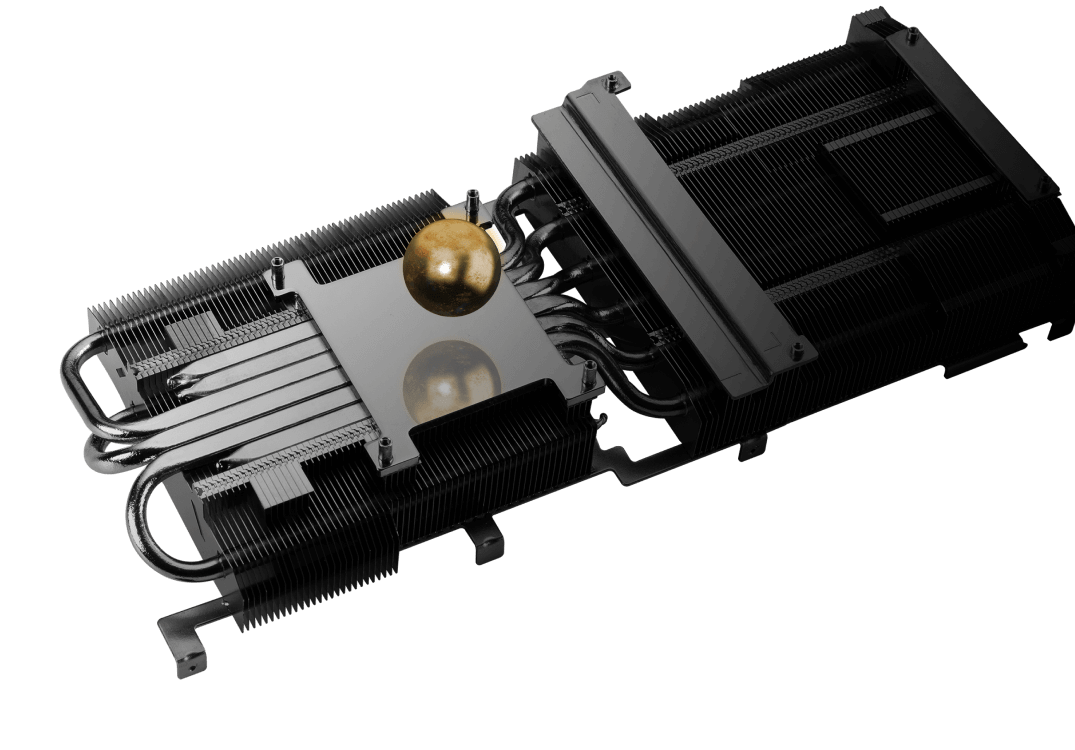 MAXCONTACT HEATSINK
To get heat up off the die and into the heatsink array to benefit from the new fan design requires special attention. We use a manufacturing process that polishes the surface of the heat spreader to improve smoothness at the microscopic level. The extra flatness allows for better contact with the die for improved thermal transfer.
2.7-SLOT DESIGN
The heat spreader draws heat up into heatpipes that carry it through a fin stack that fills most of the card's large, 2.7-slot footprint. This generation of TUF Gaming graphics cards also feature a dedicated heatsink for VRAM to keep temperatures well under maximum operating specs.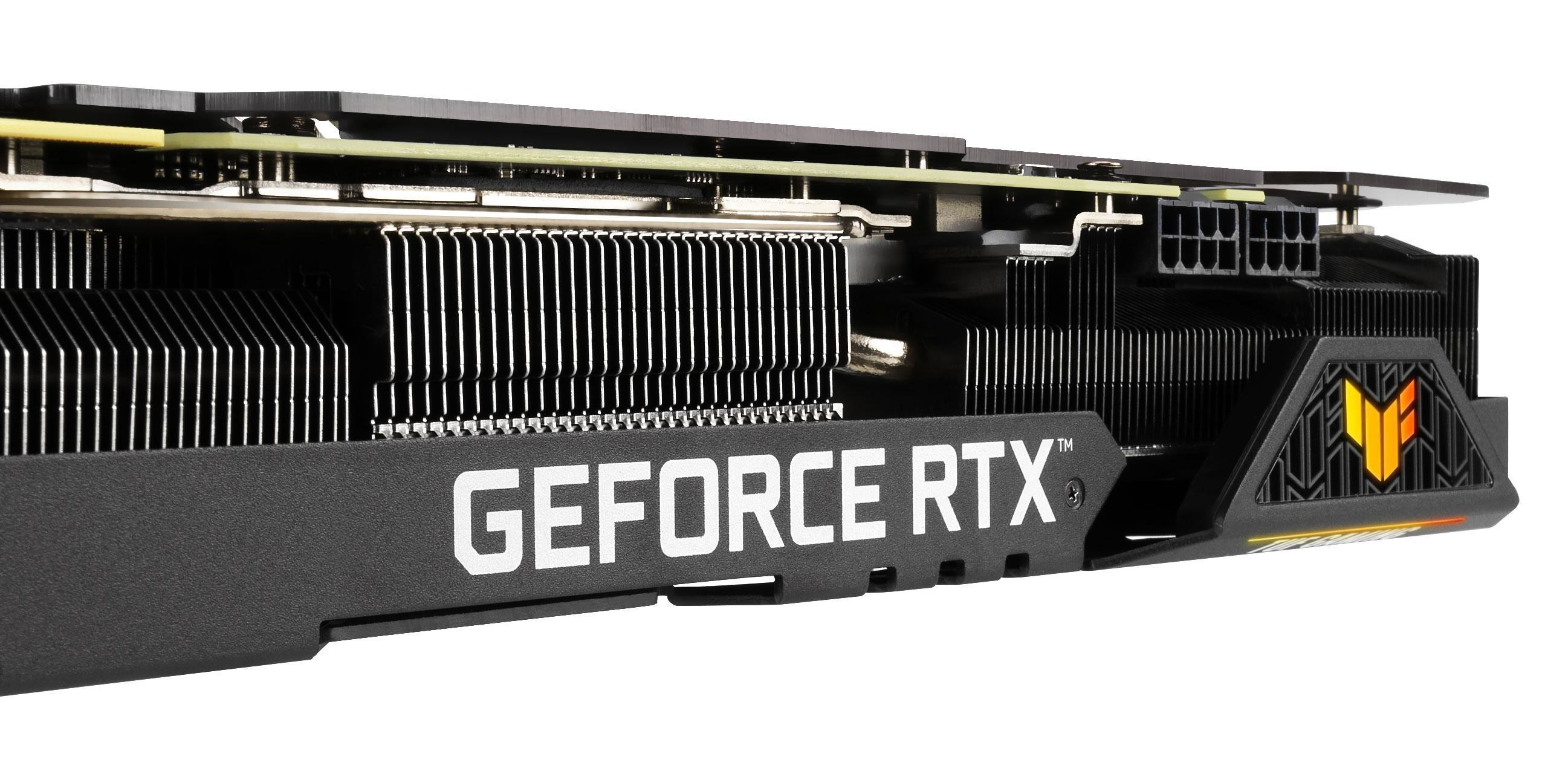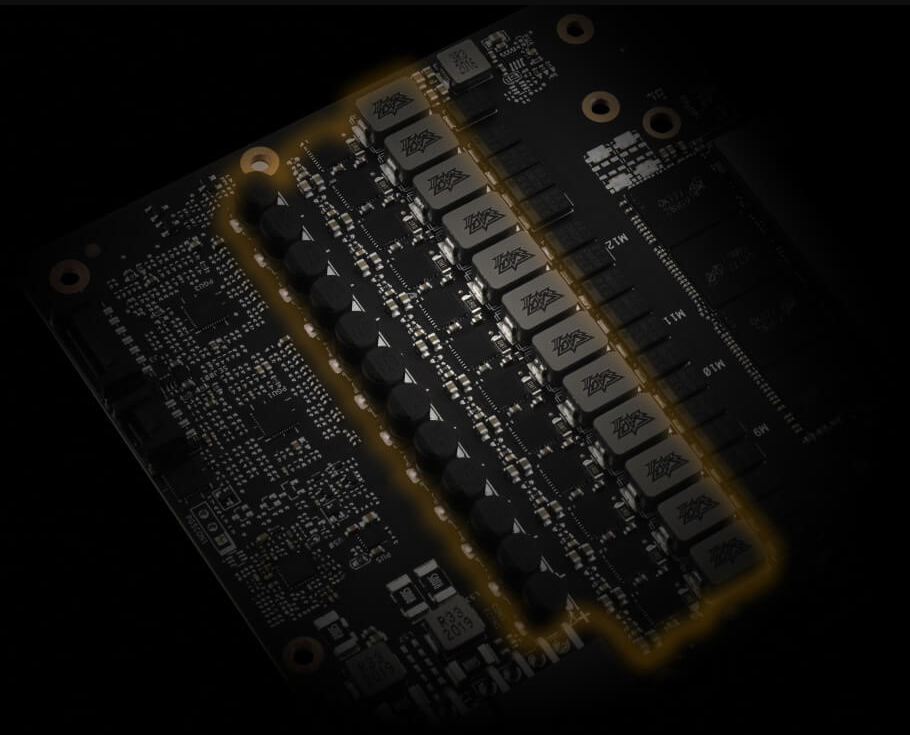 TUF COMPONENTS
Components are selected for TUF Gaming graphics cards based on their durability and performance. In addition to top-shelf chokes and MOSFETs, capacitors that meet military-grade certification make the TUF stand tall amongst the competition. The components are soldered to the PCB using our advanced Auto-Extreme automated manufacturing process. Smooth joints on the rear of the PCB and the elimination of human errors ensure each graphics card meets our rigorous specifications. Finally, to ensure flawless performance when it counts, the cards are subjected to a grueling 144-hour validation trial.
FRESH SHROUD
An all-aluminium shroud adds robust protection to TUF Gaming graphics cards and a no-nonsense industrial design and grayscale colorway fits into any build with ease.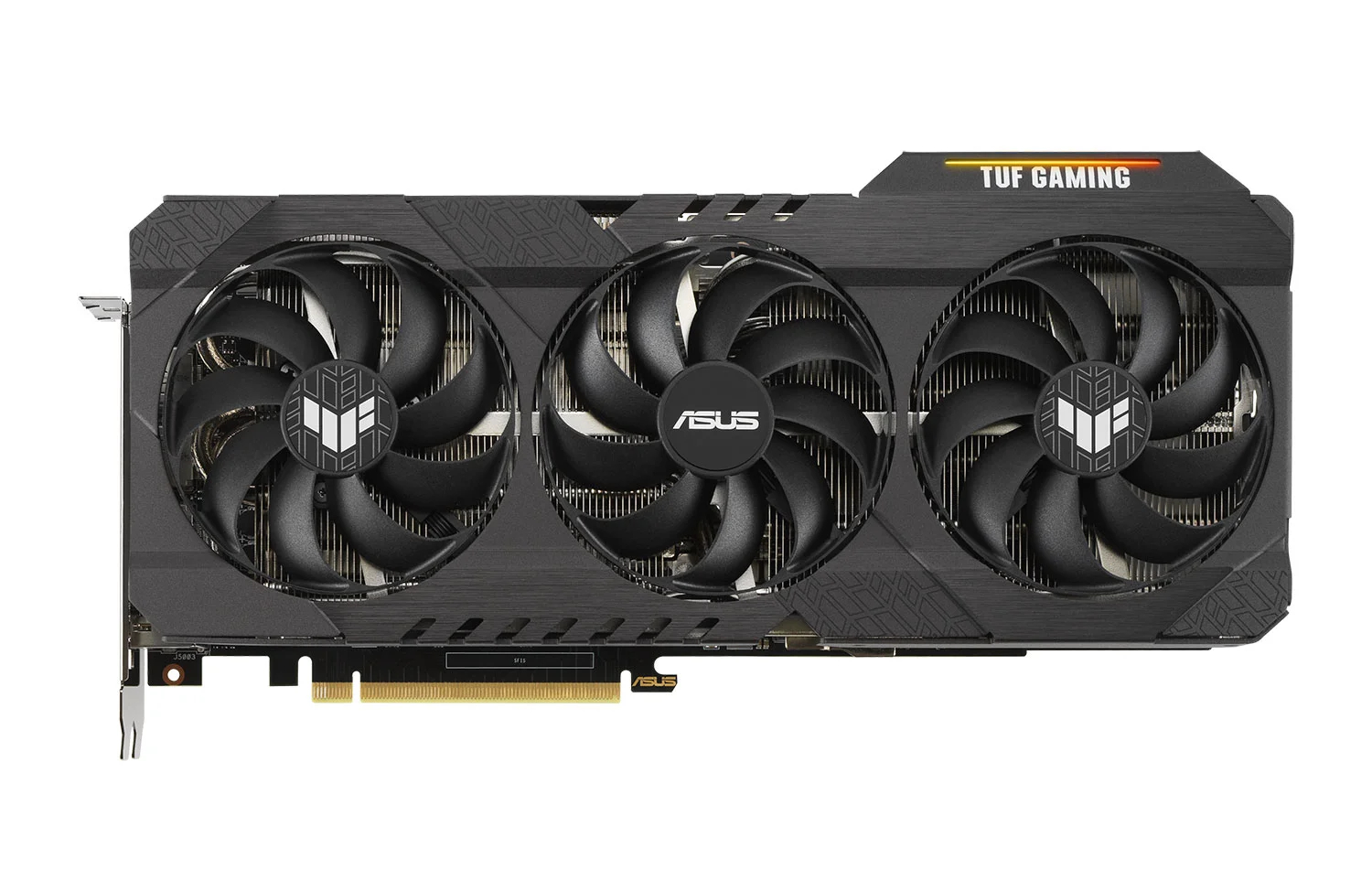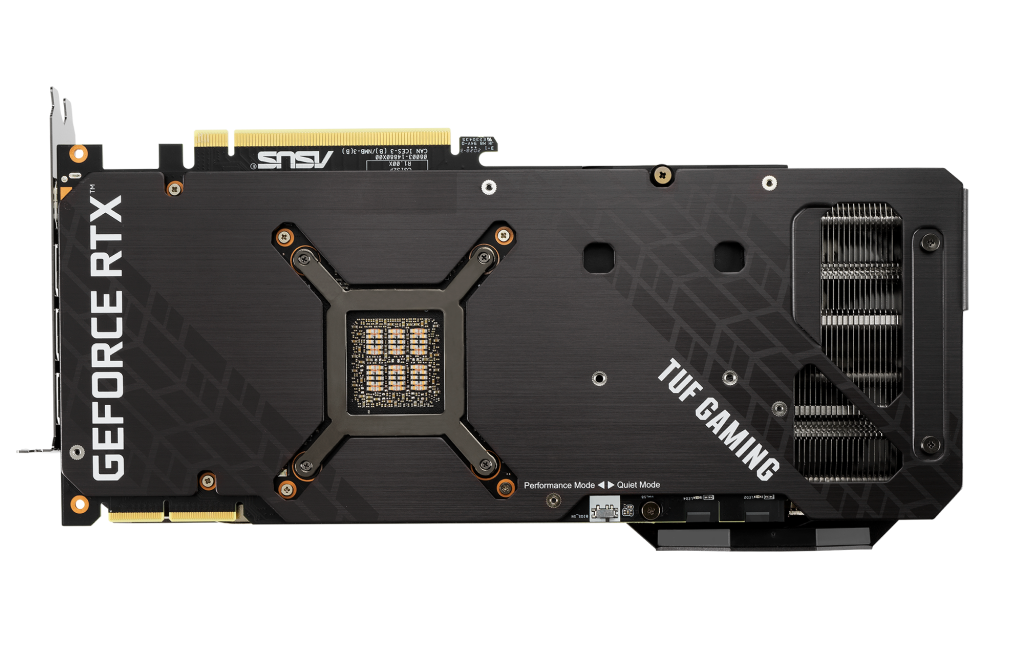 ITS COOLER OUT BACK
The underside of the card reveals a host of improvements. Most of the rear is swathed in a protective metal backplate that prominently features a wide vent. The vent allows hot air to escape towards chassis exhaust fans instead of being recycled back into the GPU cooler. Beneath the GPU, a bracket provides consistent mounting pressure between the die and heat spreader. Stainless steel is used for the I/O bracket to protect ports and provide a more secure mount. A conveniently placed Dual Bios switch allows customisation of the card's default performance profile without software.
FUNCTIONAL FRONT
Careful attention has been paid to the front of the GPU, as it's the most visible part of the card in typical configurations. A new addressable RGB element can be customised with Armoury Crate to create a uniform look along with other ROG components. To fulfill the power demands of the GeForce RTX 3080, three 8-pin power connectors are present, along with an onboard circuit that monitors PSU rail voltage. The circuit is fast enough to catch any transients that result in the rail voltage dropping too low. If that happens, a red LED will light up to indicate a power supply issue. The Strix's reinforced metal frame is also visible here, adding a literal layer of durability.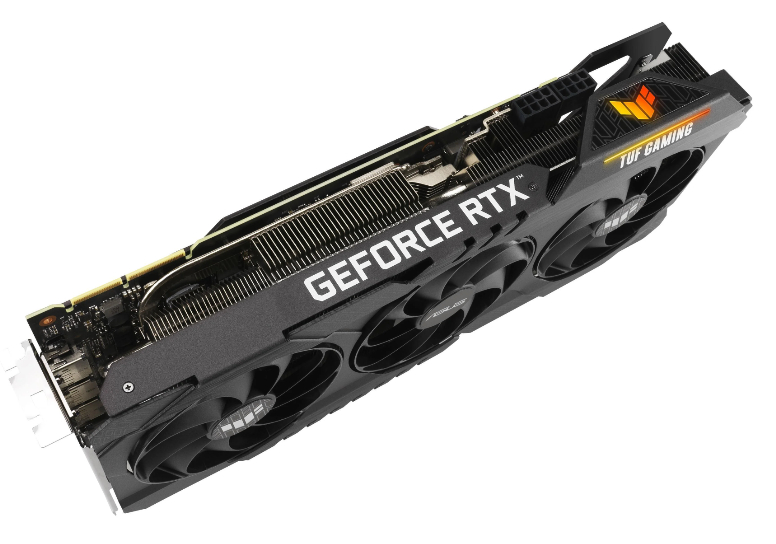 GPU TWEAK II
The ASUS GPU Tweak II utility takes graphics card tuning to the next level. It allows you to tweak critical parameters including GPU core clocks, memory frequency, and voltage settings, with the option to monitor everything in real-time through a customisable on-screen display. Advanced fan control is also included along with many more features to help you get the most out of your graphics card.