ASUS PRIME A320M-K AMD A320 Chipset (Socket AM4) Micro-ATX Motherboard overview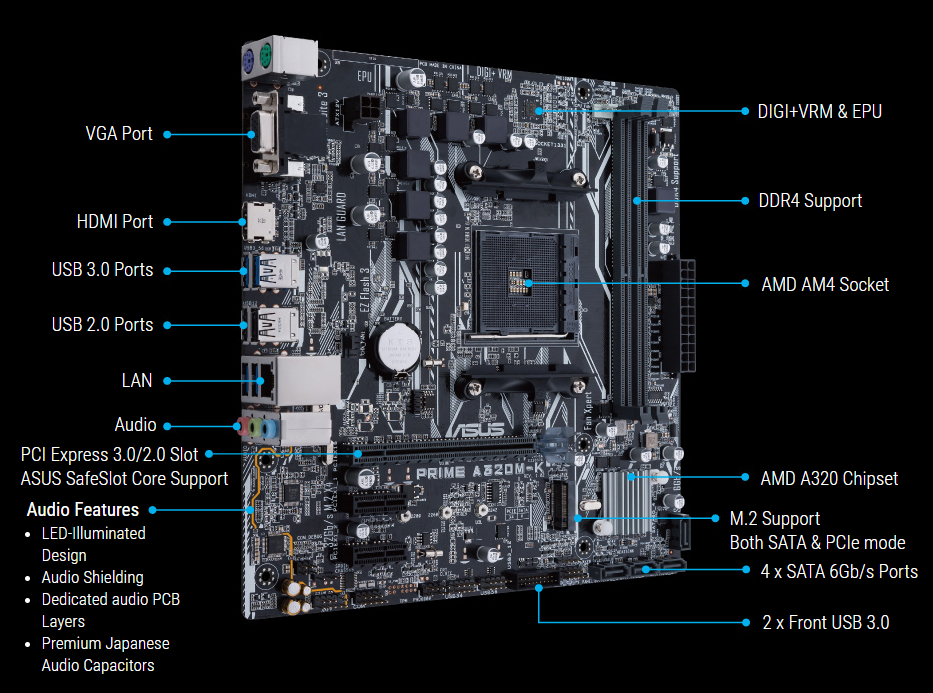 ASUS PRIME
ASUS Prime is the next evolution of the ASUS motherboard, born of a pedigree that stretches back to 1989. Our team of world-class engineers are passionate about empowering everyone to enjoy the benefits of customisation and tuning, and the driving force behind the development of Prime is to make advanced enthusiast controls easily accessible — maximising performance, stability and compatibility for the very best DIY PC experiences. Simply stated: it's time for Prime.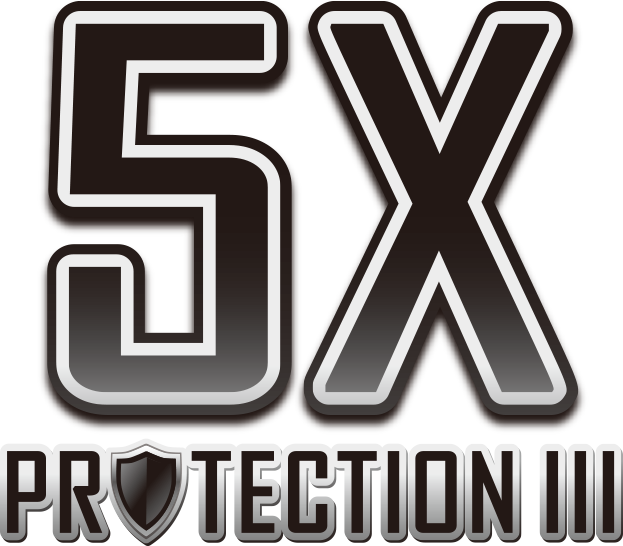 BUILT TO LAST
ASUS is the world's foremost motherboard manufacturer, renowned for our unique Design Thinking approach. Our exhaustive testing exceeds industry standards, supported by high-quality components for exceptional real-world protection. Our motherboards are proven to be compatible with more than 1,000 components and devices, and each new model undergoes a minimum of 8,000 hours of strict validation. ASUS gives you the peace of mind of knowing that your motherboard is fit for all environments and applications. By choosing ASUS, you also gain the freedom to select outstanding component options, for trouble-free DIY experiences.
PROVEN COMPATIBILITY
Having the freedom to pick and choose the parts that go into your machine is at the heart of PC DIY. Our extensive certification program focuses on providing the very best compatibility with the widest range of components and devices, giving you the freedom to build and upgrade without frustration. Compatible today and compatible far into the future – that's the ASUS way.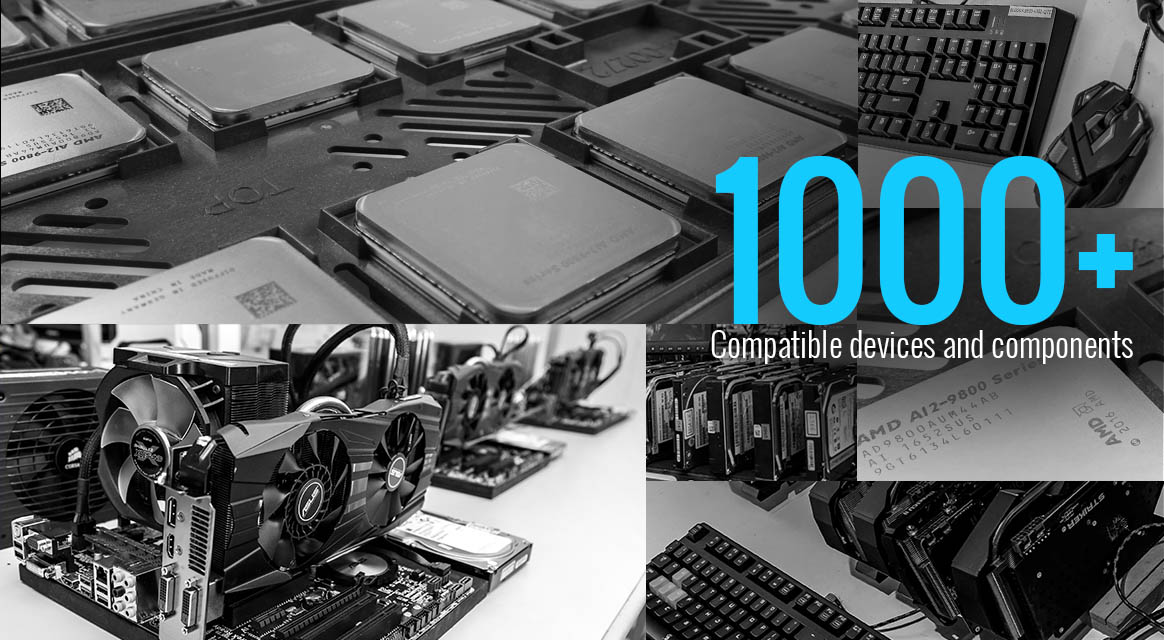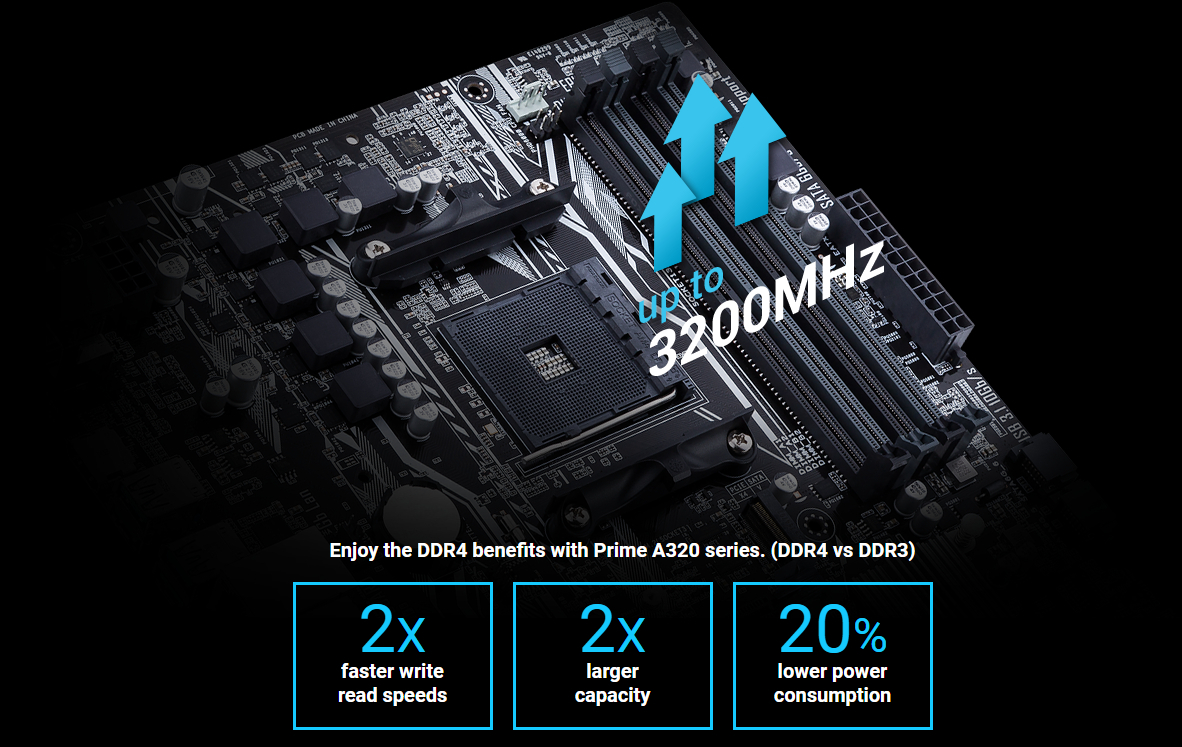 DDR4 MEMORY SUPPORT
With DDR4, you'll accelerate memory frequencies up to an incredible to 3200MHz! And ASUS works with almost every DDR4 memory vendor, so you're assured the best compatibility.
OPTIMISED COOLING
Exclusive Fan Xpert ensures every fan achieves the best balance of cooling performance and low noise - and with Prime A320 series boards and their hardware-level 4-pin/3-pin PWM/DC mode for case fans, a simple BIOS adjustment lets you run your case fan in PWM/DC. Fan Xpert even includes Auto-Tuning mode to scan and detect all fan characteristics for single-click customisation!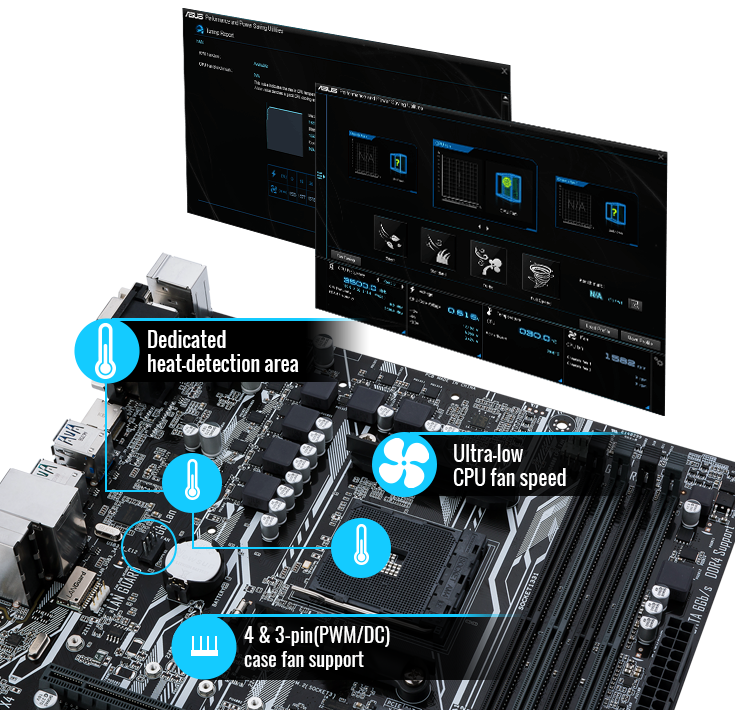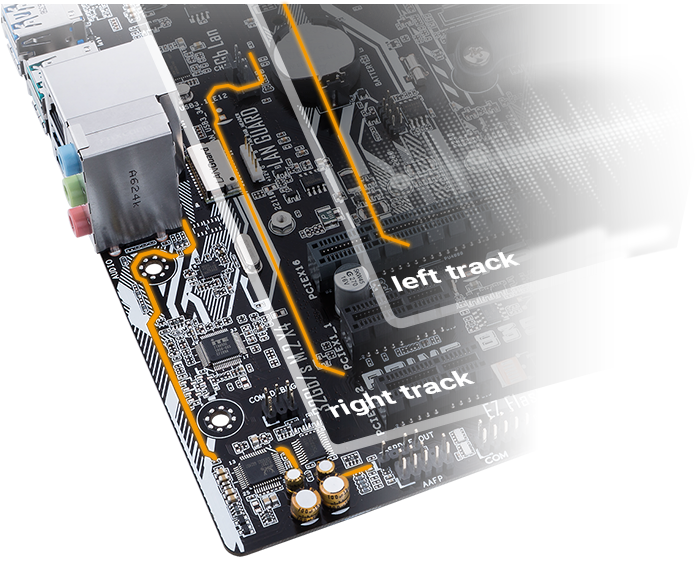 PREMIUM AUDIO
Intelligent design and premium hardware create audio quality unlike anything you've ever experienced! Audio shielding ensures precision analogue/digital separation and greatly reduced multi-lateral interference. Separate layers for left and right tracks ensures both channels deliver consistent, equal quality. Premium Japanese audio capacitors provide warm, natural, and immersive sound with exceptional clarity and fidelity.
SPEED UP WITH ONBOARD M.2 UP TO 32Gb/s
With x4 PCI Express 3.0/2.0 bandwidth, M.2 supports up to 32Gb/s data-transfer speeds. It is the perfect choice for an operating system or application drive, making your whole PC or professional apps work as fast as possible.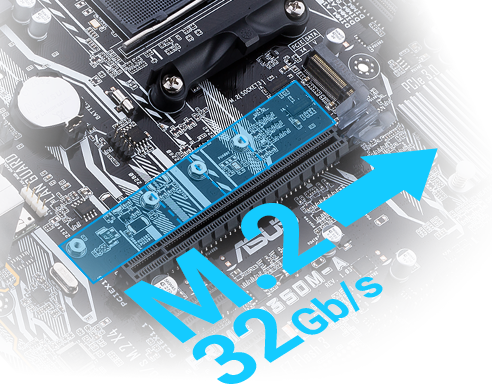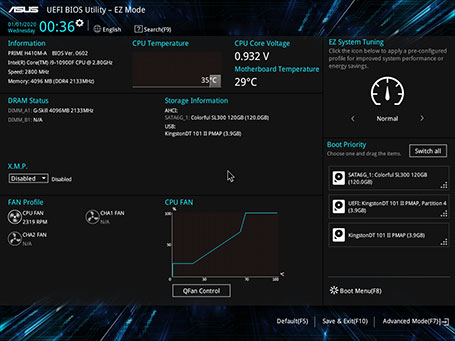 MEDIA-ACCLAIMED UEFI BIOS
The smoothest, slickest mouse-controlled graphical BIOS has been improved to make it even more appealing. Whether you're a PC novice or a seasoned overclocker, EZ and Advanced modes help you find your way, quickly and easily.
AI SUITE 3
ASUS AI Suite 3 offers a brand-new user experience through a clearer and more attractive interface with support for larger monitors. It consolidates all exclusive ASUS features into one simple-to-use package, allowing you to supervise overclocking, energy consumption, fan speeds, voltages and more. This all-in-one app offers diverse and easy-to-use functionality, with no need to switch back and forth between different utilities.