ASUS PRIME Z270-A Intel Z270 (Socket 1151) ATX Motherboard overview



PRIME Z270-A
ASUS Prime is the next evolution of the ASUS motherboard, born of a pedigree that stretches back to 1989. Our team of world-class engineers are passionate about empowering everyone to enjoy the benefits of customization and tuning, and the driving force behind the development of Prime is to make advanced enthusiast controls easily accessible — maximizing performance, stability and compatibility for the very best DIY PC experiences. Simply stated: it's time for Prime.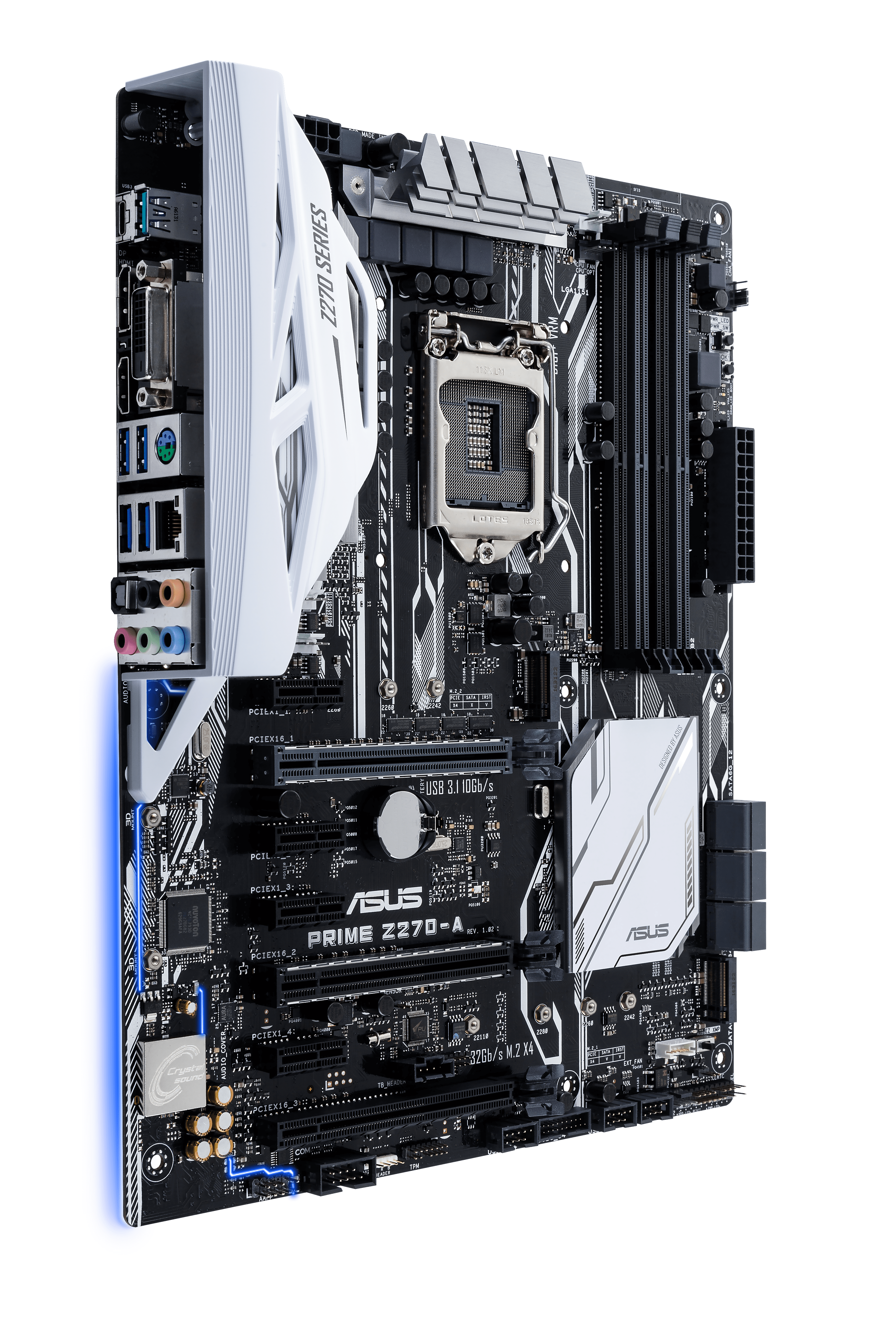 POWER AT YOUR FINGERTIPS
ONE-CLICK OVERCLOCK AND COOLING
Get performance, efficiency, digital power, fan control and even networking audio tuning tailored for you
One click takes care of all that complex tuning. ASUS 5-Way Optimization makes your PC smart. It dynamically optimizes essential aspects of your system based on real-time usage — so you get superb CPU performance, everyday energy savings, ultra-stable digital power, cool and quiet fans, and now networking and audio settings that are tailored to your apps. In short, 5-Way ASUS Optimization ensures that your PC is perfect for gaming, entertainment and productivity!
• Games run swiftly and smoothly with high performance, prioritized bandwidth and vivid sound.
• Fans stay whisper-quiet for everyday computing, and ensure extreme cooling efficiency when gaming.
• Stutter is eliminated for smooth-running apps, even under heavy loading.
• Energy waste is reduced so you'll save money.
Overclock CPU

A dedicated base-clock generator designed for 7th Generation Intel® processors allows overclocked base clock frequencies up to or beyond 425MHz*. This custom solution works in tandem with the ASUS TurboV processing unit to enhance voltage and base-clock overclocking control — providing an exciting new way to boost performance to extreme heights.
Advantages of Pro Clock
Reduced boot time
Lower jitter under extreme conditions for overclocks
Increased stability under heavy overclocking
*BCLK overclocking range will vary according to CPU capabilities, cooling, motherboard support and tuning options. Ranges up to 650MHz are possible under select conditions.
Testing configuration:
Intel® LGA 1151 i7-7700K | PRIME Z270-A | Corsair DDR4 3200 4G*4 | Corsair H110i | Windows 10
DDR4 OVERCLOCKING STRENGTH IN NUMBERS
Third-generation ASUS T-Topology allows memory frequencies that are higher than ever — to 3866MHz and beyond. Refined manufacturing ensures ultra-consistent quality and minimal crosstalk between custom trace paths, so you'll enjoy the thrill of overclocking DDR4 with time-aligned signaling for superior stability and compatibility.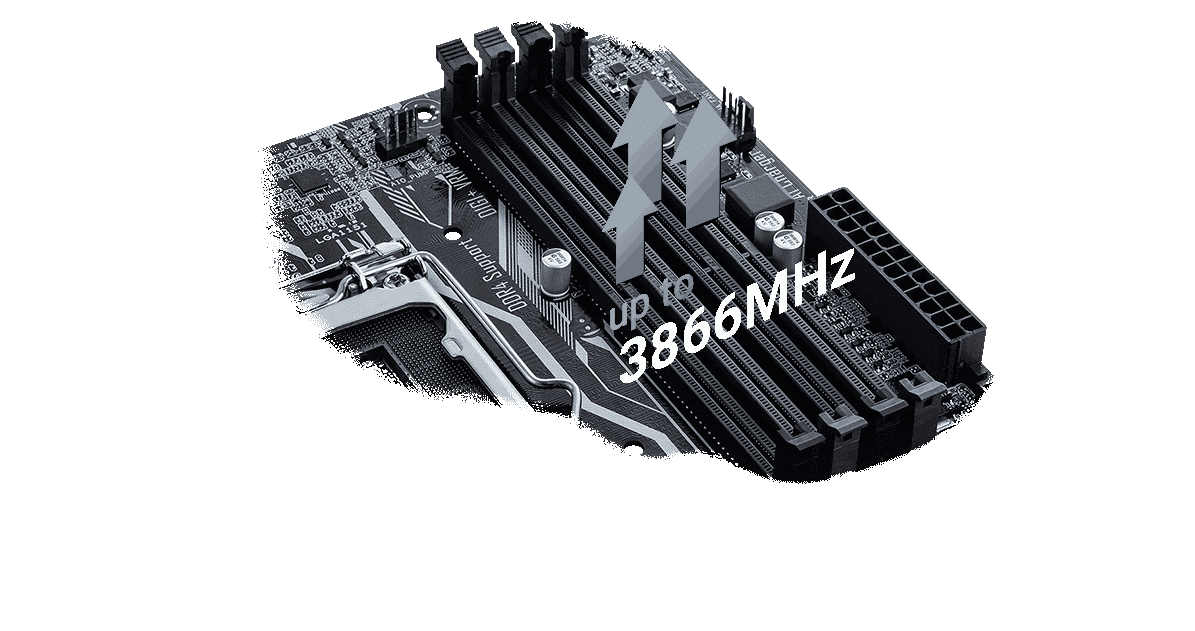 HARDWARE UPGRADE ZONE SLI HB Bridge (2-WAY-M)
The new ASUS SLI HB bridge doubles the available transfer bandwidth to provide silky-smooth surround gaming. Compatible with NVIDIA® Titan X, GeForce GTX 1080 and GeForce GTX 1070 graphics cards, SLI HB bridge is your fast track to gaming greatness.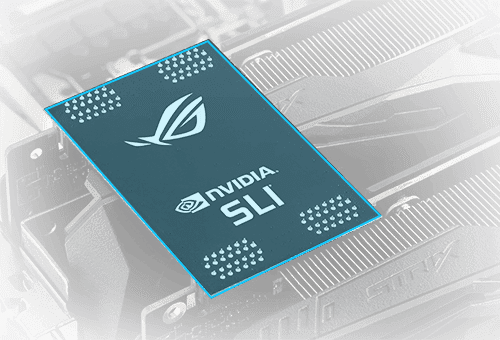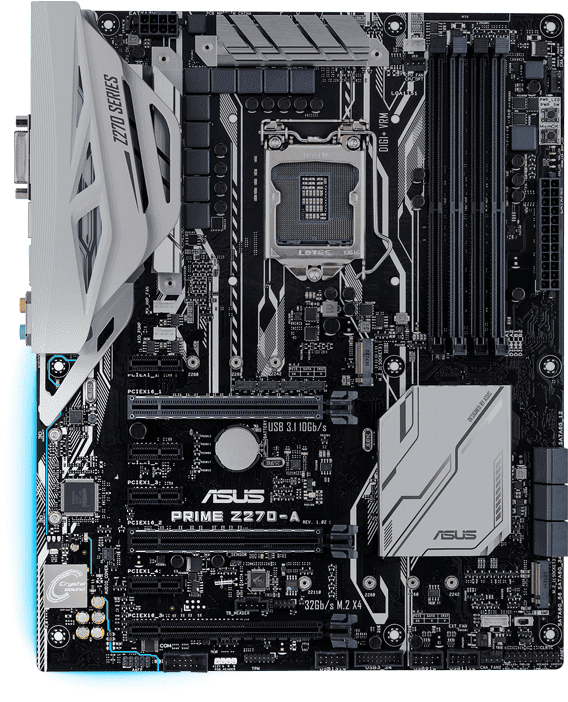 OUTSHINE THE COMPETITION
ASUS Aura Sync technology for distinctive lighting effects
Aura Sync takes RGB lighting beyond the checkbox, combining and controlling the LEDs of your Aura-enabled products from a single application — so you can achieve perfect, synchronized lighting harmony. Aura lets you sync light effects across your graphics card, Prime Z270-A motherboard, and an ever-growing portfolio of Aura-enabled products.
OS Support
The Asus Z270 Chipset Motherboards Support the following Operating Systems:

Windows® 10 64-bit
Windows® 8.1 64-bit*
Windows® 7*


*Windows® 8.1 64-bit and Windows® 7 32/64-bit are only supported when using 6th Generation Intel® Processors