Asus ROG Crosshair VI Hero (Wi-Fi AC) ATX Motherboard overview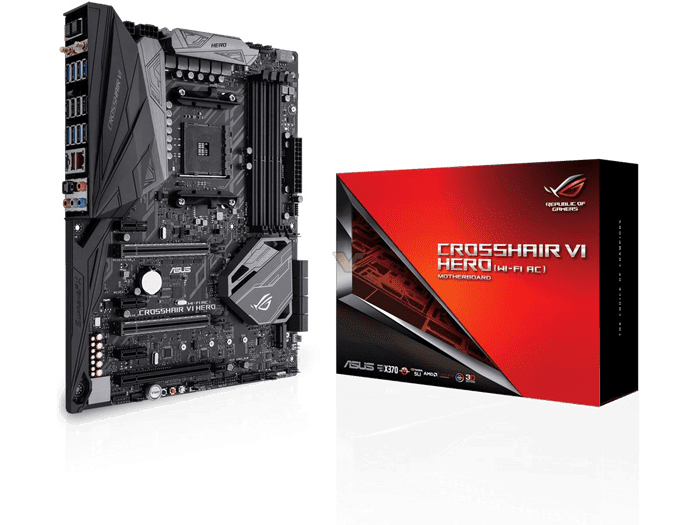 Asus ROG CROSSHAIR VI HERO (WI-FI AC) AMD AM4 Motherboard
ROG CROSSHAIR VI HERO (WI-FI AC)
AURA LIGHTING CONTROL
Customise your own favorite LED effects with Aura, the intuitive lighting-control software, to cast a stunning multi-color glow across your build via the ROG Crosshair VI Hero (WI-FI AC)'s brilliant built-in RGB LEDs or attached RGB strips via the two onboard 4-pin headers - all lights will perform in perfect synchronisation! Fire up Aura and enjoy the creative freedom of nine different lighting schemes.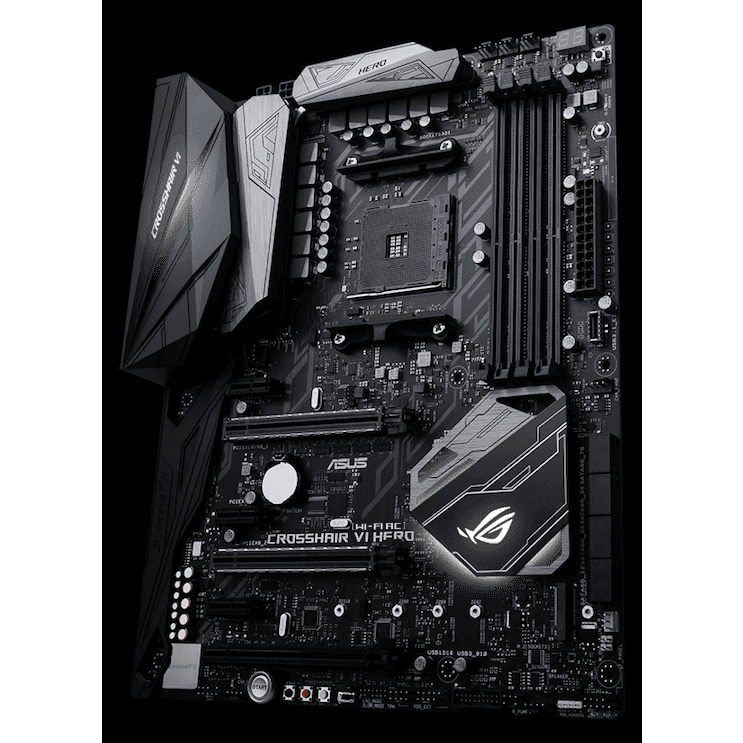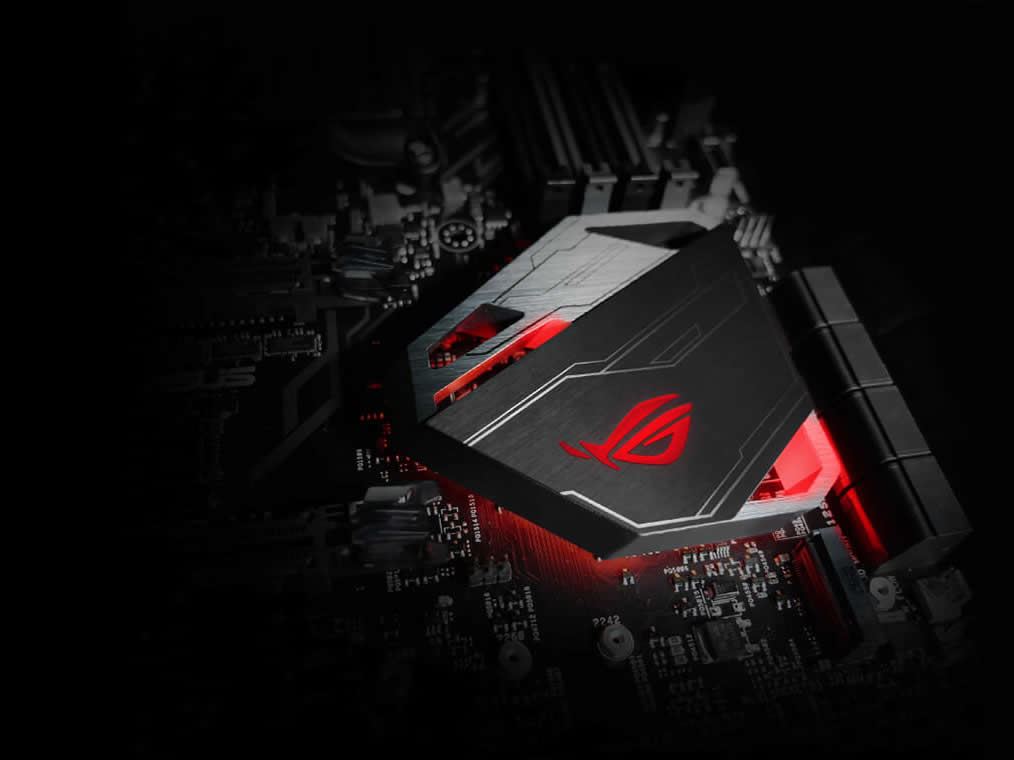 HOLLOW HEAT-SINK WITH RED-HOT STYLE
Our new heat-sink is finely engineered with an innovative perforated design for maximum heat dissipation. On its top are expertly angled facets that allow light from the platform controller hub to penetrate through — so your builds stand out unlike any other!
READY FOR ANY AM4 OR AM3 COOLER!
ROG Crosshair VI Hero (WI-FI AC) has special mounting holes that are compatible with any AM4 or AM3 cooler/LN2 pot. Upgrade to a new AM4 cooler, or extend the life of your existing AM3 kit — the choice is yours!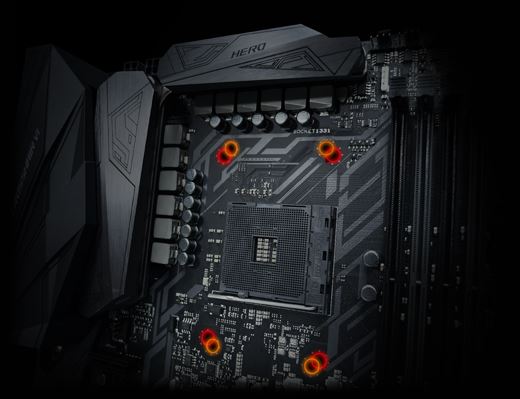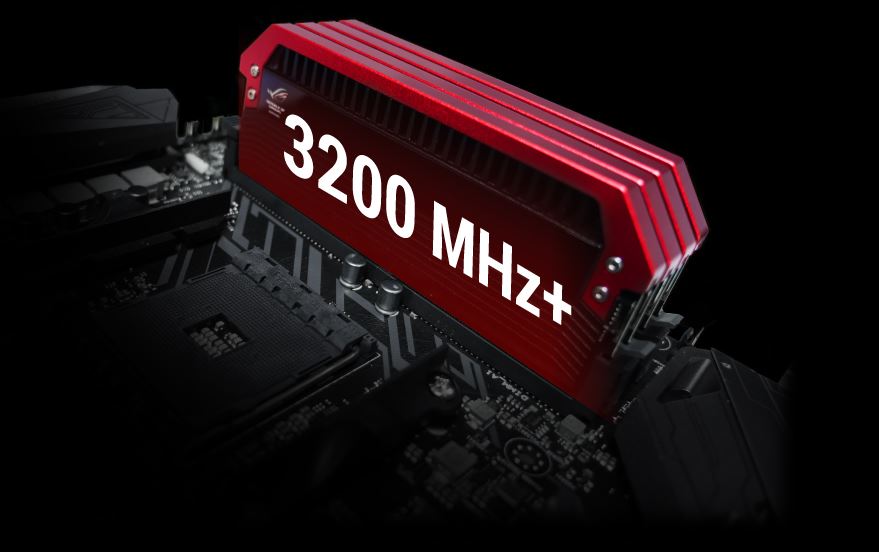 DDR4 OVERCLOCKING STRENGTH IN NUMBERS
With support for DDR4 memory you're able to drive memory frequencies up to 3200MHz (and beyond when overclocked)! ASUS-exclusive T-Topology circuit design provides superb memory-overclocking capability to unleash the full power of DDR4 by minimising coupling noise and signal reflection. With innovative equidistant memory channels, it delivers the most balanced control and powerful overclocking compatibility. ASUS works with almost every DDR4 memory vendor to ensure the best compatibility.
COOLER BY DESIGN
Play quieter and cooler with advanced fan and water-pump controls for the ultimate in undisturbed gaming. With onboard thermal sensors and hardware-level 4-pin/3-pin PWM/DC mode detection, Fan Xpert 4 makes sure every fan achieves the best balance of cooling performance and low noise - so you enjoy all the performance you demand with none of the racket!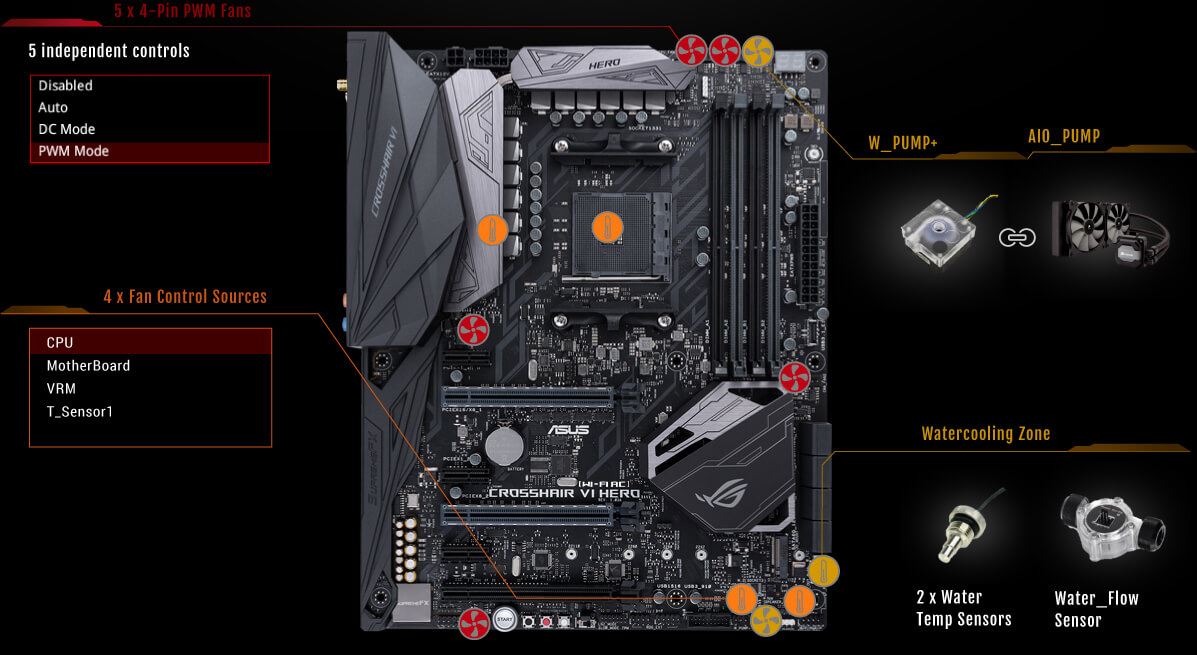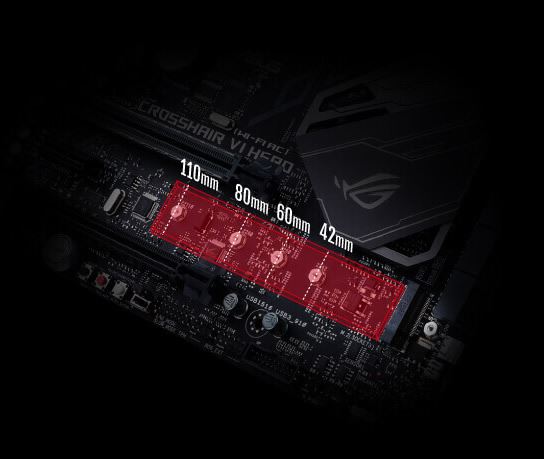 PCIE GEN3 M.2
LET YOUR SSD SCREAM AT TOP SPEED
INTEL ETHERNET
ROG Crosshair VI Hero (WI-FI AC) features the very latest Intel® Ethernet Controller I211-AT for faster, smoother gaming. Intel's LAN has the serious double advantage of reducing CPU overhead and offering exceptionally high TCP and UDP throughput, so there's more power for your game and your gameplay.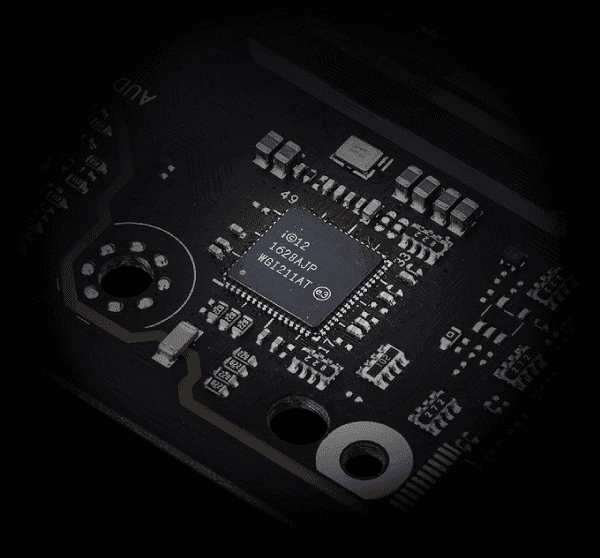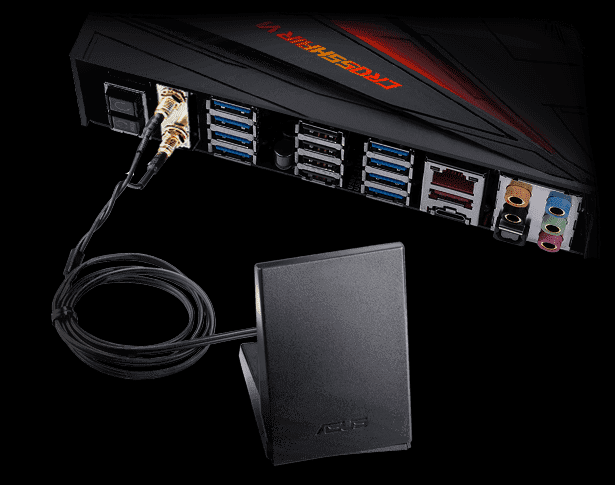 2x2 802.11AC Wi-Fi with MU-MIMO
ROG Crosshair VI Hero (WI-FI AC) has next-level 802.11ac Wi-Fi with 2x2 dual-band 2.4/5GHz antennas for up to 867 Mbps* transfer speeds — and the very latest Multi-User Multiple In Multiple Out (MU-MIMO) technology to ensure that every connected user** experiences the best wireless and online speeds!
VR READY
ROG Crosshair VI Hero (WI-FI AC) isn't just VR Ready — it goes way beyond! The ASUS ROG Beyond VR Ready marque means that ROG Crosshair VI Hero (WI-FI AC) has been tested with loads of class-leading components to ensure that your productivity, gaming and entertainment needs are tuned for maximum performance after you've taken off the headset. ASUS Beyond VR Ready opens up a new way to configure and build your dream system with total confidence.