ASUS ROG Strix Z270I Gaming Mini-ITX LGA1151 Motherboard overview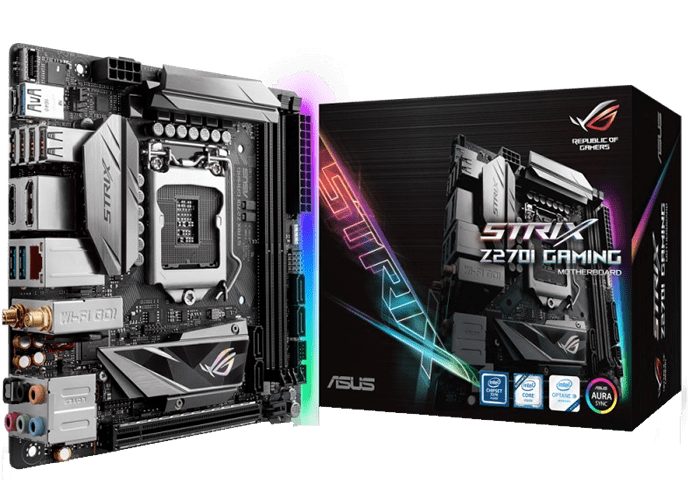 ASUS ROG Strix Z270I Gaming LGA1151 Mini-ITX Motherboard
ROG Strix Z270I Gaming
ROG Strix Z270I Gaming
ROG Strix Z270 motherboards continue the proud legacy of the Pro Gaming series with acclaimed ROG innovations. ROG Strix Z270I Gaming motherboards combine a compact, mini-ITX form-factor with bold aesthetics, premier performance, and incredible audio to deliver gaming experiences with punch and unrivaled style. Support for the latest Intel processors and technologies, plus exclusive ROG innovations — such as the revolutionary double-decker heat sink — take performance to the next level to give you the edge against opponents. ROG Strix Z270I charges every movement of every game with thrilling energy and equips you with epic speed and agility. Join the Republic with ROG Strix Z270I Gaming and dominate your game!
DOUBLE-DECKER HEATSINK
ROG Strix Z270I Gaming has an innovative double-decker heatsink design that allows the M.2 SSD to be stacked atop of the PCH heat sink, which is then topped off with an additional metal heatsink for the M.2 drive. The two heatsinks are thermally isolated to prevent the PCH and M.2 from affecting each other. The double decker design not only cleverly maximises the board space on miniITX board, but also dramatically improves heat dissipation, cooling the M.2 SSD by up to 20°C for better stability and enhanced gaming performance while featuring a stylish angular design to enhance the look of ROG Strix Z270I Gaming builds.
AURA LIGHTING CONTROL
Create your own custom LED lighting effects with the intuitive Aura software. Cast a stunning multi-color glow across your build with the powerful RGB LEDs built in to ROG Strix Z270I Gaming, or attach separate RGB strips using the two onboard 4-pin header. You can even use both at the same time and enjoy perfect lighting synchronisation. Fire up Aura and enjoy the creative freedom of nine different lighting themes.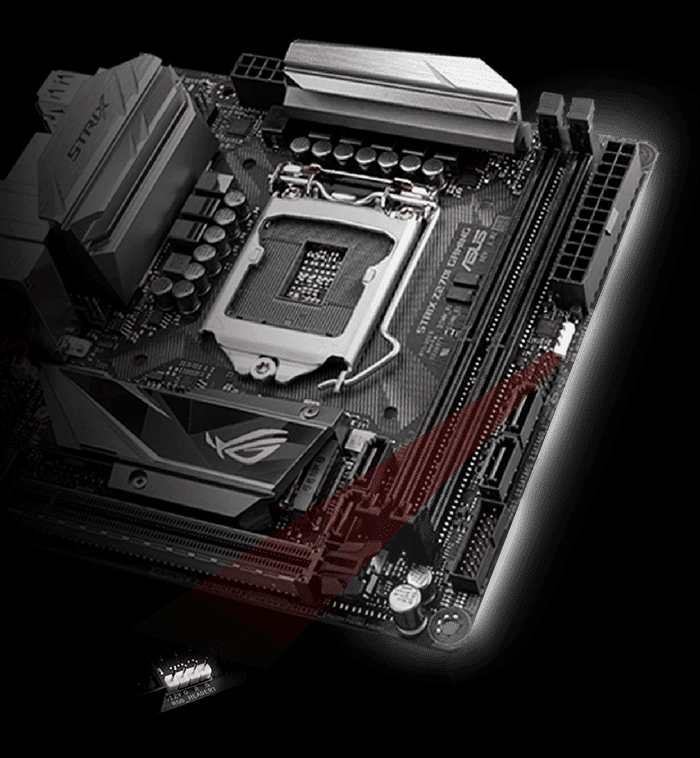 SUPREMEFX
ROG Strix's SupremeFX audio technology has levelled up, delivering an exceptional 113dB signal-to-noise ratio on the line-in connection for best-ever recording quality — and 120dB on line-out for crystal-clear sound! We've also added a low-dropout regulator for cleaner power delivery to the SupremeFX S1220A codec, plus Texas Instruments® RC4580 and OPA1688 op-amps for high gain with low distortion. It all adds up to audio that envelops you as never before!
DDR4 OVERCLOCKING, STRENGTH IN NUMBERS
With support for DDR4 memory, ROG Strix Z270I Gaming lets you drive memory frequencies to 4266+MHz and beyond when overclocked! ASUS-exclusive T-Topology circuit design plus OC Socket provides superb memory-overclocking capability to unleash the full power of DDR4 by minimising coupling noise and signal reflection. With innovative equidistant memory channels, T-Topology delivers balanced control and powerful overclocking compatibility.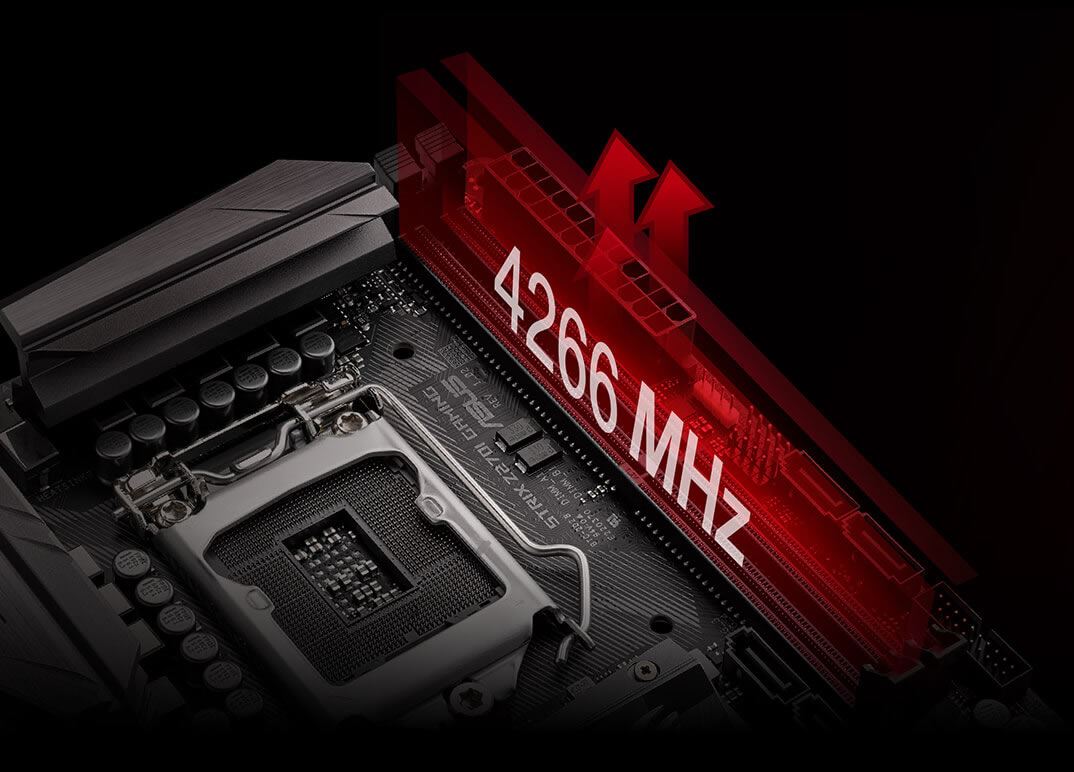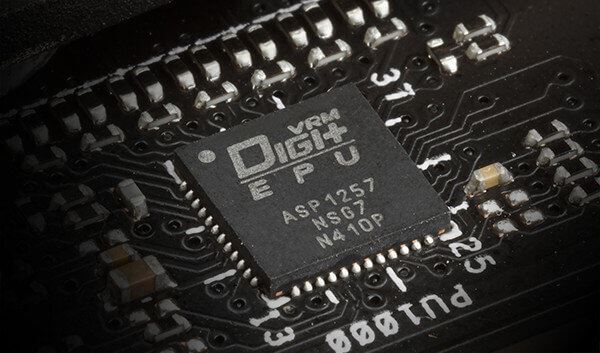 PRECISE DIGITAL POWER CONTROL
To go faster than fast you need ultra-accurate power control — so Maximus IX Z270 series motherboards are kitted out with ASUS Digi+ Power Control for maxed-out overclocking potential, enhanced system stability and superb power efficiency. Digi+ Power Control is the industry's leading digital power controller and it's fully compliant with Intel's IMVP8 specifications, for smoother, safer power.
INTEL GIGABIT ETHERNET
ROG Strix Z270I Gaming features the very latest Intel Ethernet (I219-V) for faster, smoother gaming. Intel's LAN has the serious double advantage of reducing CPU overhead while offering exceptionally high TCP and UDP throughput. This significantly reduces the processor's workload, so there's more power for gaming.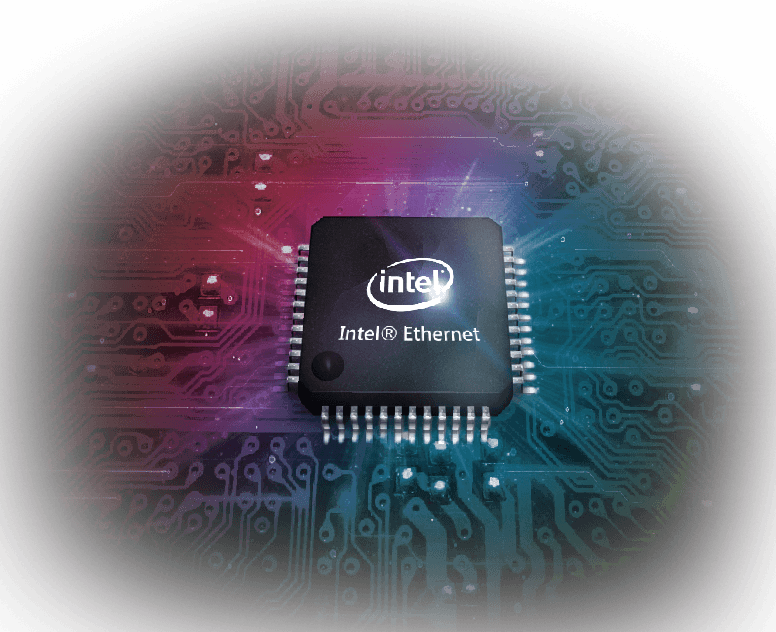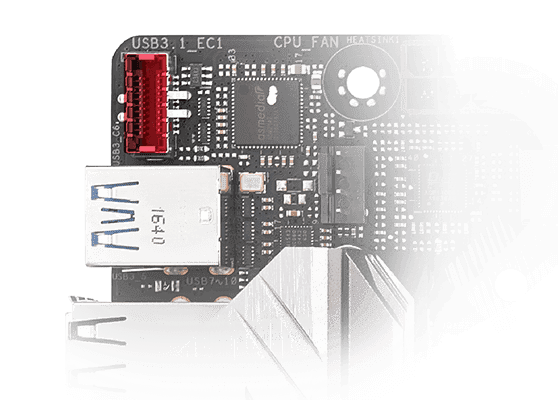 USB 3.1 FRONT-PANEL CONNECTOR
USB-C is the latest USB connector technology — and ROG Strix Z270I Gaming lets you put it right where you need it! With a ASM 2142 USB 3.1 controller running at PCIe 3.0 x2 and featuring an onboard USB 3.1 front-panel connector, you can now achieve the highest data transferring speeds possible - easily.
DUAL PCIE GEN3 M.2
Dual PCIe Gen3 x4 M.2 slots (type 2280) provide NVMe SSD RAID support for an incredible performance boost. Create a RAID configuration with up to two PCIe Gen3 storage devices via two M.2 slots and a to enjoy the fastest data-transfer speeds on the 7th Generation Intel Core platform.