Asus TUF Z390M-Pro Gaming Z390 Chipset LGA 1151 Micro-ATX Motherboard overview
TUF gaming alliance
TUF Gaming Alliance is a collaboration between ASUS and trusted PC-component brands to ensure compatibility with a wide range of parts, such as PC cases, power supplies, CPU coolers, memory kits and more. With more partnerships and components being added regularly, the TUF Gaming Alliance will continue to grow even stronger.
SAFESLOT
SafeSlot is the PCIe slot reinvented by ASUS and engineered to provide superior retention and shearing resistance. Manufactured in a single step using a new insert-molding process, SafeSlot integrates fortifying metal for an inherently stronger slot, which is then firmly anchored to the PCB through additional solder points.
Optimized Thermal Design
The TUF Z390M-PRO GAMING's VRM and inductor array is coupled to a large heatsink that has ample surface area to deal with the thermals of Intel's latest processors.
Optimem II SUPPORT
To provide Intel's latest processors' unfettered access to memory bandwidth, we've reimagined motherboard trace routing from the ground up. Our OptiMem II tech carefully maps memory signal pathways across different PCB layers to reduce vias and also adds shielding zones that significantly reduce crosstalk. And to further enhance overclocking headroom for fully stacked memory configurations, we've employed a highly customized T-Topology layout that delivers time-aligned signaling.
GPU TEMPERATURE SENSING
System temperatures are key to a stable gaming rig ? especially GPU temperatures. TUF Gaming motherboards include Fan Xpert 4 software that's able to intelligently control system fans based upon the input of multiple sensors, including the temperature of ASUS graphics cards*. This ensures that your TUF Gaming system stays perfectly cooled, no matter how long you play.
Intel Ethernet
TUF Z390M-PRO GAMING features the very latest Intel Ethernet. Intel's LAN has the advantage of reducing CPU overhead and offering exceptionally high TCP and UDP throughput for faster, smoother data transfer.
Intel Optane Memory Ready
Intel® Optane™ is a revolutionary non-volatile memory technology supported by TUF Gaming motherboards. Intel Optane memory modules accelerate attached storage to reduce boot and load times, so everything feels faster and more responsive.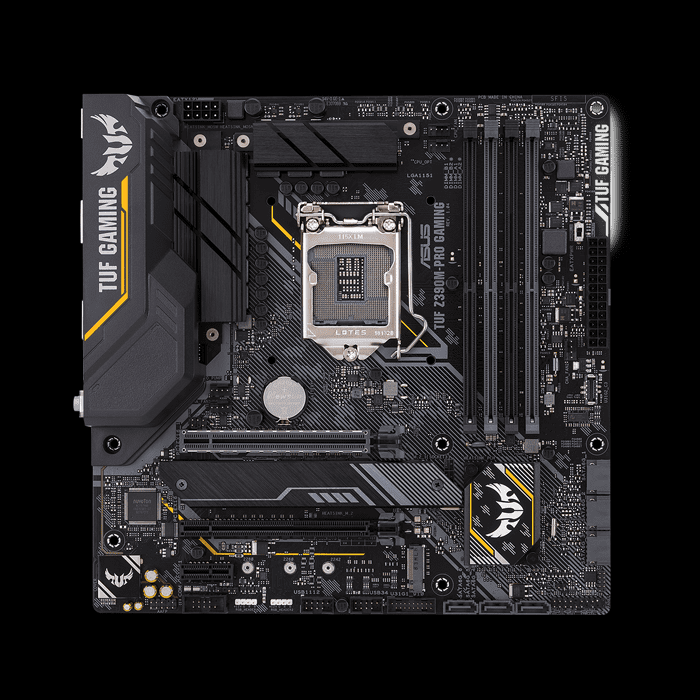 OUTSHINE THE COMPETITION
A well-tuned system deserves a matching aesthetic. ASUS Aura offers full RGB lighting control with a variety of functional presets for the built-in RGB LEDs as well as strips connected to the onboard RGB headers. And it can all be synced with an ever-growing portfolio of Aura-capable hardware.