BenQ GL955A 19 Inch LED Monitor overview
Enjoyment for Your Everyday Home and Work Life
Whether you're catching up on the latest show on the Internet or viewing documents, the BenQ GL955A LED monitor is the perfect choice for you! Featuring a dynamic contrast ratio of 12M:1, response time of 5ms, and BenQ's exclusive Senseye® Technology, this 18.5"W 16:9 LED monitor delivers you the visual enjoyment with best value.
Brilliant Image Quality
LED backlighting offers significant advantages over the CCFL technology used in older LED monitors. These advantages encompass not only performance metrics such as higher dynamic contrast, no light leakage and flicker-free, but also environmental factors, like a manufacturing process and disposal that produces fewer pollutants.
12M:1 Ultra High Dynamic Contrast for Depth and Definition
The GL955A comes with an ultra-high dynamic contrast ratio of 12M:1 to add color depth and definition to darkened and complex motion pictures, so that everything you see, from the brightest white to the darkest black, is perfectly rendered to deliver the clearest, smoothest picture performance during movies and video games.

Superior Response Time
Enjoy high dynamic videos without ghosting or other artifacts with 5ms response time.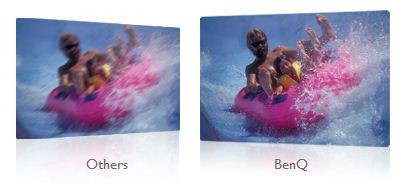 Senseye® Technology
Experience the truest colors of the world with the BenQ Senseye® Human Vision Technology. With the help of its six proprietary calibration techniques, Senseye® 3 delivers only the best viewing quality in each of its six pre-set viewing modes –Standard, Movie, Game, Photo, sRGB, and Eco – with the Eco Mode especially designed to save power and money.