BenQ PV270 27" Rec. 709, DCI-P3 Monitor for Video Post-Production overview
Accurate Colour You Can Count On
Designed to meet the demanding requirements of video post-production and graphic art professionals, the BenQ PV270 provides comprehensive support for industry colour standards including Rec. 709, DCI-P3 and Adobe RGB. Uncompromising colour performance and powerful calibration tools make the PV270 ideal for video post-production workflows.



Reliable Colour Throughout the Workflow
The BenQ PV270's comprehensice and rigorous approach to colour management helps ensure colour is reproduced consistently throughout the video post-production workflow. From the rough cut phase, through the addiction of effects, color correction, and compositing, to the output stage, colour is rendered with pinpoint accuracy so that resluts match intent perfectly.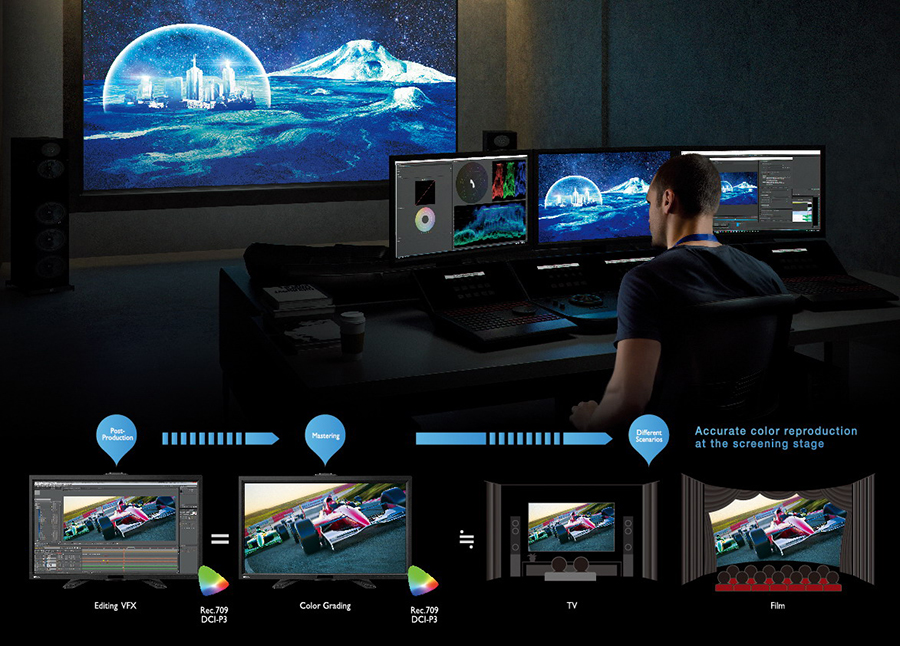 Colour Perfected
Because it's so important to the video post-production workflow, the PV270 goes the extra mile to ensure the fullest range of accurately and consistently rendered colour.

Rec.709 and DCI-P3 Colour Gamut
The PV270 provides 100% coverage of the Rec. 709 and 96% of the DCI-P3 standards, ensuring output for high-definition television and digital cinema matches the colours you have defined. The PV270 also provides 99% coverage of the Adobe RGB colour space designed to encompass most of the colours producible for graphic art professionals.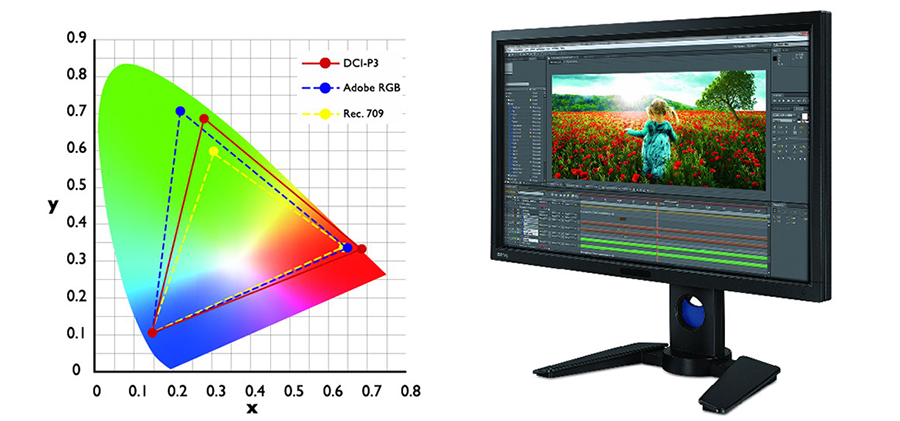 2560x1440 (QHD) Resolution with 27" Wide-screen
The high pixel density of 2560x1440 (QHD) resolution delivers the crisp picture quality you expect for close reviews and detailed editing, and the spacious wide-screen view provides greater comfort and productivity.

Brightness Uniformity
Brightness uniformity is achieved via delicate process involving the utilization of high precision apparatus to meticulously fine-tune hundreds of sub-regions on the entire screen. It offers a more authentic and consistent viewing experience.





Backlight Sensor
Advanced luminance control not only ensures an ideal level of brightness that is quickly achieved after powering on, but also provides consistency both during a session of use and over the lifetime of the display.





Accurate Colour Calibration
Video post-production work calls for fine-grained colour calibration, and with PV270's powerful calibration functions, users are assured a high-precision calibration result.





Hardware Calibration
Hardware calibration allows you to adjust the monitor's image processing chip without changing graphics card output data. Calibration keeps images consistent with originals without being affected by graphics settings. Two monitor preset modes allow calibration results to be saved directly into the monitor