BenQ SW320 31.5" 4K UHD Adobe RGB Colour Management Photographer Monitor overview
Revive the Moment With Adobe RGB wide colour space
The SW320 builds upon the success of its award-winning predecessor and sets a new benchmark for wide gamut monitors taking image quality to the next level with the addition of HDR capabilities. The new 31.5" 4K UHD monitor offers extraordinary clarity of fine details and textures on a true 10-bit panel with 99% Adobe RGB, 100% sRGB colour space coverage as well as supporting HDR 10 content.

Outstanding Colour Accuracy and Resolution 4K UHD Monitor
4K Ultra HD resolution ensures extraordinary clarity of fine details and textures for an optimal viewing and visual-intensive work experience.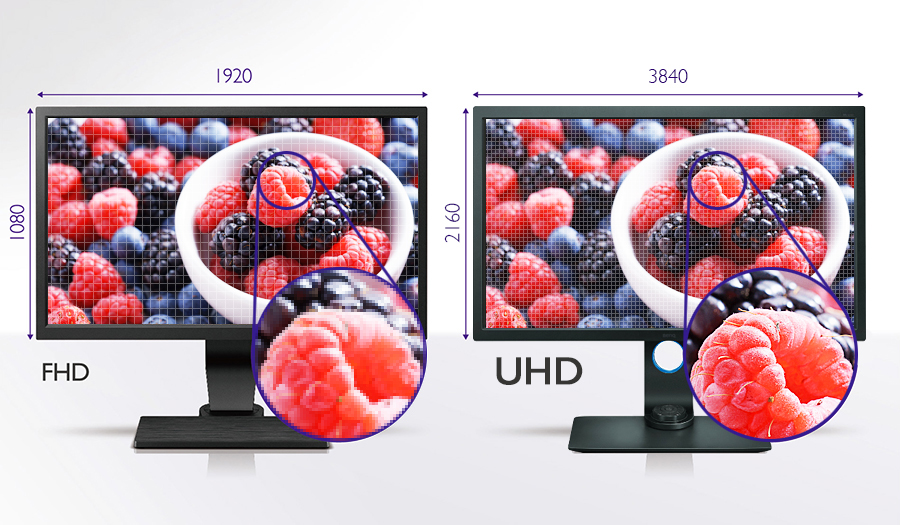 99% Adobe RGB
See the true colours of nature! Adobe RGB colour space offers a greater range of colour reproduction for shades of blue and green, resulting in a more realistic colour representation for outdoor and nature photography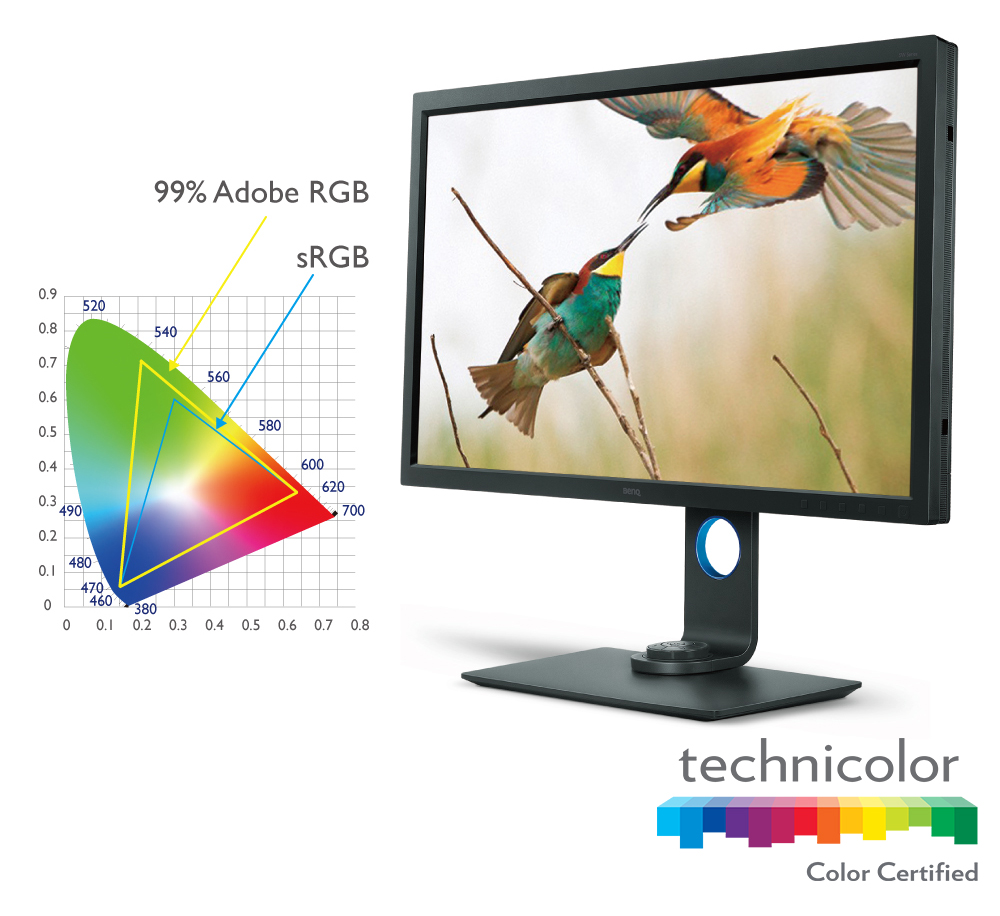 10-bit Colour Display
Enjoy the smoothest colour gradations on a 10-bit display which shows more than one billion colours.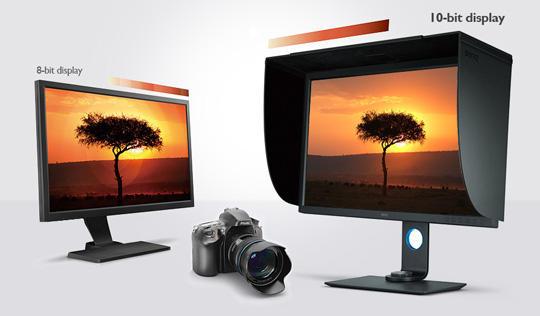 High Dynamic Range (HDR)
High Dynamic Range (HDR) increases the overall dynamic range between black and white so the resulting image appears closer to what your eyes see in the natural world.
*To view HDR content from your device, ensure that you use the HDMI cable provided with the SW320 monitor or an High Speed HDMI Cable or Premium High Speed HDMI Certified Cable.
*HDR function supports HDR 10 content.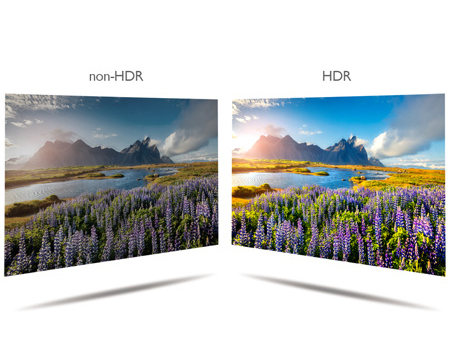 14-bit 3D LUT & Delta E ? 2
The 14-bit 3D Look Up Table (LUT) improves RGB colour blending accuracy, resulting in impeccable colour reproduction. Having Delta E=2 in both Adobe RGB and sRGB color spaces gives you the truest and most representative view of the original image.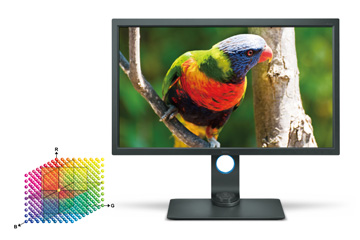 Hardware Calibration
Hardware calibration allows you to adjust the image processing chip in the monitor without changing the graphics card output data. It keeps images consistent with its original copies without being affected by graphic settings.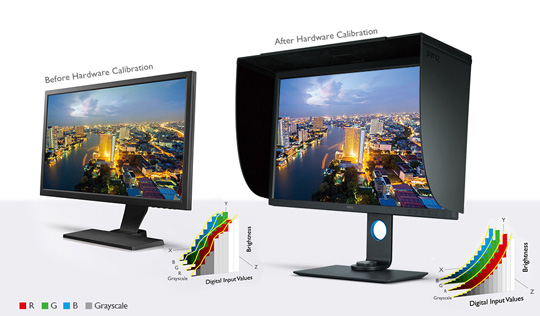 Palette Master Element Calibration Software
With the use of Palette Master Element and a calibrator, you can tune and maintain the colour performance of the monitor at its most optimal state.
*Supported Platforms: Win7 or above, Mac OS 10.6.8 or above
*Supported Calibrators: X-Rite i1 Display Pro / i1 Pro / i1 Pro 2 & Datacolour Spyder 4 / Spyder 5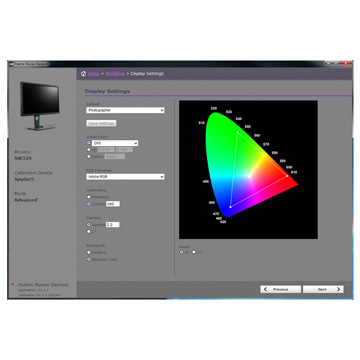 Simple, Functional Design for Greater Efficiency Advanced Black & White Mode
View your photos in a black and white film effect. Choose from three different black and white presets to preview your photos in before you perform actual adjustments in your photo processing program.



GamutDuo
GamutDuo enables you to view content simultaneously in different colour spaces side-by-side for added comparison. Switch to PIP/PBP mode to enable GamutDuo.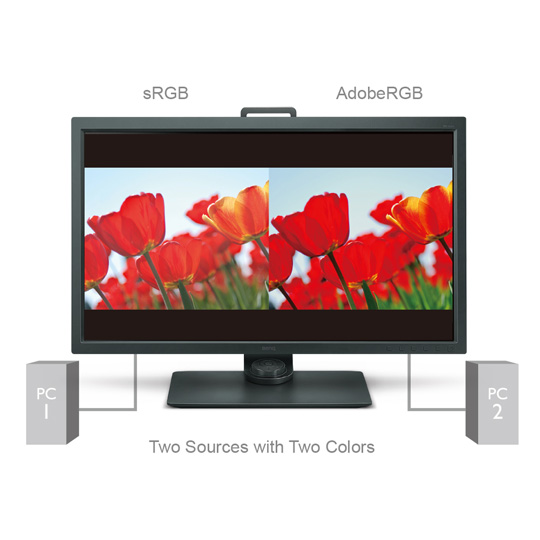 Hotkey Puck
The Hotkey Puck allows the user to switch between Adobe RGB mode, sRGB mode and Black & White mode effortlessly. The buttons can also be customized to map other modes or OSD settings, such as brightness and contrast to bring added convenience to photographers.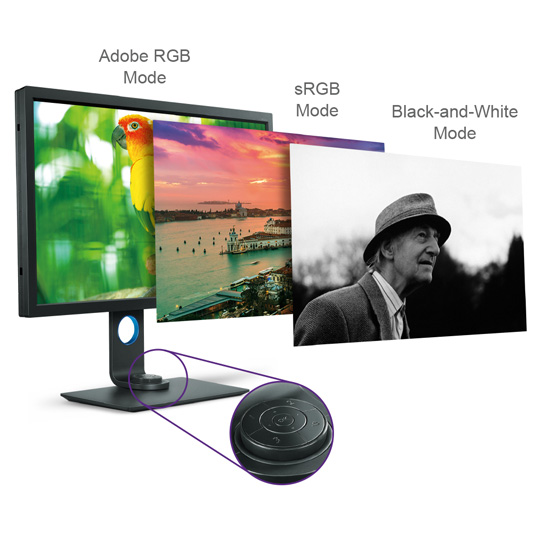 Shading Hood
The SW320 includes a detachable shading hood that effectively reduces the monitor's screen glare resulting from ambient lighting, ensuring superb color accuracy required for professional work. The shading hood can be used in both portrait and landscape orientations.