*Bstock - Ex Display* NETGEAR WNDR4500 900Mbps Wireless-N Dual Band Gigabit Router overview
Ex Display, Warranty - 90 Days
Product Overview
The NETGEAR N900 Wireless Dual Band Gigabit Router delivers the ultimate in WiFi performance and range. Stay connected to the Internet with fast, reliable and secure wireless connections and create a powerful home network for applications, such as streaming 3DHD video and multi-player gaming. The New N900 wireless provides up to 450 + 450 Mbps speed and with simultaneous dual-band technology avoids interference ensuring top WiFi speeds and reliable connections. Improved wireless range delivers better connections for larger homes and multiple devices, while four gigabit Ethernet ports offer ultra-fast wired connections. Two USB ports enable connections to external hard drives and printers for wireless access and sharing with now even faster USB access speeds.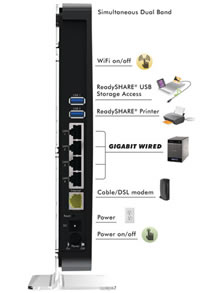 Product Features
Wireless N Technology
Wireless N is the next generation of high-speed Wi-Fi, capable of delivering the range and capacity to support today's most bandwidth-hungry applications, like streaming HD (High Definition) video, voice and music. Wireless N offers you a greater range, signal strength and wireless speed when compared to that of older Wireless G products. Upgrade your wireless network to the power of N today!
Simultaneous Dual Band Technology
Traditionally, most wireless computing and other wireless devices used 2.4 Gigahertz (GHz). This meant that all wireless computing and network devices were using the same 2.4 GHz bandwidth. This can lead to interference and slower performance. Recently, network equipment manufacturers are now offering 2.4 GHz and 5.0 GHz range. The 5.0 GHz band is a relatively new, less used spectrum that is not as crowded. For certain applications like video or where you have many devices, you can split the load between the two bands. It's like having two wires.
ReadySHARE USB Storage Access
Easy shared access from any computer in your home network to 2 external USB devices connected to your router. Simply plug your external USB storage device into one of the USB ports on the router and any computer connected to your network will be able to access the data stored on the USB storage device.
ReadySHARE Cloud
With ReadySHARE Cloud you can access and share files on attached USB hard drive anywhere you have an Internet connection via a web browser or smartphone.
ReadySHARE Printer
Wirelessly print from your home network to a connected USB printer
Time Machine Compatible
Time Machine automatically backs up your entire Mac, including system files, applications, accounts, preferences, email messages, music, photos, movies, and documents.
DLNA Support
Play videos, photos and music stored on an attached USB hard drive to any DNLA connected TV, game console or media player such as an Xbox 360 or Playstation 3.
Netgear Live Parental Controls
Netgear Live Parental Controls, powered by OpenDNS, is a router-based Web filtering solution available on Netgear Wireless-N router and gateway products.
Total home Protection
Live Parental Controls protects all Internet-connected devices through the router. It not only protects computers, but also set-top box, iPhone, iPod, and gaming consoles. You no longer need to worry about phones and gaming consoles not being protected when kids use them in their own rooms. Even guest computers accessing the Internet through your network are protected.
Flexible Settings
You may have your own computer or you may be sharing a computer with other members in the family. Default and per-user settings allow customizable configurations for different computing arrangement and personalize the settings for each person. Per-time setting allows Internet access during scheduled time slots, to help manage work/play balance.
Minimal Software Installation
Installation requires a one-time installation of the Management Utility. Once Live Parental Controls are set up, the software runs in the background and does not protrude normal Internet usage.
Netgear Genie
Netgear Genie is a software tool that allows you to easily monitor and repair your home network. Remotely control all media in your home from your iPad or iPhone, easily setup and monitor Parental controls and many more features. Netgear Genie is free and can be downloaded at
//www.netgear.co.uk/landing/en-us/netgear-genie.aspx
Netgear Green
Netgear is committed to developing innovative new products and new product features that increase energy efficiency, use fewer resources, and meet or exceed global environmental standards. We are setting comprehensive benchmarks for products that carry the Netgear Green logo. Netgear Green means Innovation - a commitment to smarter, greener products, helping businesses and homes use less energy and save money.
WPS - Push 'N' Connect
Wi-Fi Protected Setup (WPS) is a standard for easy and secure wireless network set up and connections. Netgears's products use the name Push 'n' Connect for WPS. To use WPS, your product must support WPS and be compatible with WPA security. WPS can automatically set up a random network name (SSID) and strong WPA wireless security for wireless routers, access points, computers, adapters, Wi-Fi phones, and other consumer electronics devices.