MSI AMD Radeon HD 7850 OC 2GB GDDR5 overview
Product Overview
The AMD Radeon HD 7800 Series is the upgrade gamers deserve. Based on the award-winning GCN Architecture, these cards are engineered for supremacy with the industry's very first 28nm GPU design. Packed with incredible features, such as support for PCI Express 3.0, the ultra-efficient AMD ZeroCore Power technology and gaming at resolutions up to 7680x3200 with AMD Eyefinity technology, serious gaming starts here.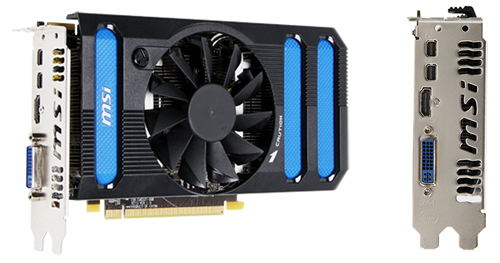 MSI Exclusive Features


9cm PWM Fan Design
- 9cm PWM fan for better head dissipation and low noise.
- Propeller Blade technology for 20% more airflow.




MSI Afterburner Utility
Afterburner is a co-development by MSI and Rivatuner and is the ultimate graphics card tuning utility. This utility enables all MSI graphics card users to boost performance and to monitor all kinds of critical information in real-time. Afterburner is a completely free utility which is compatible with almost all MSI graphics cards.




MSI Solid Capacitor Graphic Cards
MSI Graphics Cards utilise high quality solid capacitors. For the gamers and high-end users, this feature not only means that the product has better quality components within, but also provides much stronger support for users that want to engage in hard-core tuning.




Live Update 5
MSI Live Update 5 is a single utility software that automatically checks BIOS, driver and utility updates and installs them for you, which saves your time and lowers the risk of downloading the wrong file.
AMD Features


AMD Graphics Core Next (GCN) Technology
Available on select, high-performance AMD Radeon HD 7000 Series graphics products, the Graphics Core Next (GCN) Architecture is a radically new approach to the design of a consumer GPU. Most importantly, it is the world's first 28nm GPU architecture, which enables AMD to fit up to 4.3 billion transistors-the most basic building blocks of a GPU-into approximately the same space once needed to fit 2.6 billion. Increasing transistor density by greater than 60% is more than just a feat of engineering-it's responsible for the world's most powerful and advanced GPU. Designed to push not only the boundaries of DirectX 11 gaming, the GCN Architecture is also AMD's first design specifically engineered for general computing. Equipped with up to 32 compute units (2048 stream processors), each containing a scalar coprocessor, AMD's 28nm GPUs are more than capable of handling workloads-and programming languages-traditionally exclusive to the processor. Coupled with the dramatic rise of GPU-aware programming languages like C++ AMP and OpenCL, the GCN Architecture is truly the right architecture for the right time.




AMD ZeroCore Power Technology
AMD ZeroCore Power Technology leverages AMD's leadership in notebook power efficiency to grant our desktop GPUs the ability to power down when your monitor is off, also known as the "long idle state." This is great for those times when you've stepped away from your PC to take a call, watch TV, or pop down to the store. Furthermore, AMD ZeroCore Power allows additional GPUs in an AMD CrossFire technology configuration to shut off when they're not in use-even the fan stops spinning! An AMD-exclusive technology, AMD ZeroCore Power ensures that unused or idle GPUs are as efficient as possible. Even the most hardcore gamer with an AMD CrossFire multi-gpu configuration benefits from AMD ZeroCore Power. Unused or idle GPUs are shut down until needed to conserve power.




AMD HD3D Technology
AMD HD3D Technology is supported by an advanced and open ecosystem that, in conjunction with specific AMD hardware and software technologies, enables 3D display capabilities for many PC applications and experiences. Your PC has evolved, offering unprecedented amount of games, photos and movies for you to play, watch, design, create, share and download in 3D. With the arrival of the latest in 3D technology you can now enjoy an enhanced visual experience on Stereo 3D-capable desktops and notebooks powered by AMD HD3D Technology.




AMD App Acceleration
Groundbreaking AMD App Acceleration technology helps you to enjoy beautifully rich and clear video playback when streaming from the web. Take in your favorite movies in stunning, stutter-free HD quality. Run multiple applications smoothly at maximum speed. Enjoy lightning fast game play and realistic physics effects




AMD CrossFireX Multi-GPU Technology
AMD CrossFireX technology is the ultimate multi-GPU performance gaming platform. Unlocking game-dominating power, AMD CrossFireX harnesses the power of two or more discrete graphics cards working in parallel to dramatically improve gaming performance. With AMD CrossFireX-certified AMD Radeon HD graphics cards ready for practically every budget and the flexibility to combine two, three or four GPUs, AMD CrossFireX is the perfect multi-GPU solution for those who demand the best




AMD PowerPlay Technology
AMD PowerPlay technology is designed to enable power saving profiles that help reduce power consumption when the GPU is idle or in minimal use in comparison to previous AMD products. This dynamic power management enables the GPU to automatically adjust power between low, medium and high states for a tremendous power efficiency advantage. For example, when receiving and composing emails little demand is on the GPU and it runs in a low state, whereas when gaming, there is high demand on the graphics engine and the GPU runs in a high state.




AMD PowerTune Technology
AMD PowerTune technology helps deliver higher performance that is optimized to the thermal limits of the GPU by dynamically adjusting the clock during runtime based on an internally calculated GPU power assessment. AMD PowerTune technology also improves the mechanism to deal with applications that would otherwise exceed the GPU's TDP. By dynamically managing the engine clock speeds based on calculations which determine the proximity of the GPU to its TDP limit, AMD PowerTune allows for the GPU to run at higher nominal clock speeds in the high state than otherwise possible




AMD Eyefinity 2.0 Multi-Display Technology
The next generation of AMD Eyefinity technology is here, featuring all-new support for stereo 3D, universal bezel compensation and brand new display configurations. Face it: the best just got better: The enhancements for AMD Radeon HD7000 series include: Stereo 3D-multi-display stereoscopic 3D support via DisplayPort 16K X 16K maximum display group resolution-output up to 268 megapixels per GPU.




AMD Catalyst
The AMD Catalyst Control center has been designed from the ground up to give you a stable, reliable experience and also allow you to control every aspect of your GPU quickly and easily. Quickly and easily add and configure additional displays to your GPU. Make your games look better and run faster. Enhance the quality of playback of your movies and online video content. Unlock new performance , features, and improvements with each driver release