MSI Radeon R9 380 ARMOR 2X OC 2GB GDDR5 overview
Building on the success of the previous generation, the new Radeon R300 series features the latest Graphics Core Next architectures from AMD, paired with larger frame buffers and the evolution of our award winning cooler solutions to deliver the very best performance ratings and support for the latest technologies including DirectX 12, AMD FreeSync, TrueAudio, Liquid VR, VSR scaling and support for Ultra HD.
>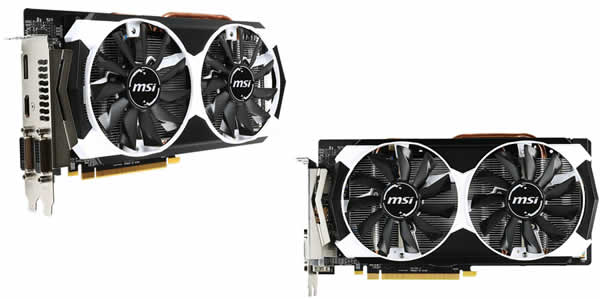 MSI Features



Armor 2X Thermal Design

MSI's Armor 2X Thermal Design deliveres more airflow than a traditional single fan thermal design. The Dual fans feature Propeller Blade Technology which increases airflow by 20% and produces less noise than a standard fan design. A larger heatsink with Airflow Control Technology efficiently reduces heat from GPU allowing greater overclocking headroom.





Military Class 4 Components

One of the deciding factors in performance is the quality of the components used. That is why MSI only uses MIL-STD-810G certified components for its Gaming cards because only these components have proven to be able to withstand the torturous circumstances of extreme gaming and overclocking.





MSI Afterburner App

MSI Afterburner is world's favorite the favorite cross-vendor GPU overclocking tool. The easy interface gives access to the most detailed information about your graphics card and allows for tinkering with pretty much anything available on your graphics card. Compatible with 64-bit Apps, available in many languages, including, Russian, Spanish, Chinese and Korean and completely customizable with many user-generated skins, everyone feels at home. You can also run Afterburner on your iOS or Android smartphone and the built-in benchmarking utility Kombustor gives you insight in your Graphics Cards' true performance.
AMD Features



AMD Graphics Core Next (GCN) Technology

Designed to push not only the boundaries of DirectX 11 gaming, the GCN Architecture is also AMD's first design specifically engineered for general computing. Representing the cutting edge of AMD's graphics expertise, GCN GPUs are more than capable of handling workloads-and programming languages-traditionally exclusive to the main processor. Coupled with the dramatic rise of GPU-aware programming languages like C++ AMP and OpenCL, the GCN Architecture is the right architecture at the right time.





Mantle Optimisation

There's optimisation, and then there's Mantle. Games enabled with Mantle speak the language of the Graphics Core Next architecture to unlock revolutionary performance and image quality. It's a game-changing innovation developed by AMD.





AMD Virtual Super Resolution (VSR) Technology

AMD Virtual Super Resolution (VSR) allows you to enable the detail of 4K monitors on a 1080p display. VSR produces smoother images by rendering the game at a high resolution, then downscaling it to the native resolution of the display using advanced filtering.





AMD LiquidVR Technology

LiquidVR is an AMD initiative dedicated to making VR as comfortable and realistic as possible by creating and maintaining what's known as "presence" — a state of immersive awareness where situations, objects, or characters within the virtual world seem "real." Guided by close collaboration with key technology partners in the ecosystem, LiquidVR uses AMD's GPU software and hardware sub-systems to tackle the common issues and pitfalls of achieving presence, such as reducing motion-to-photon latency to less than 10 milliseconds. This is a crucial step in addressing the common discomforts, such as motion sickness, that may occur when you turn your head in a virtual world and it takes even a few milliseconds too long for a new perspective to be shown.





AMD FreeSync Technology

Putting an end to choppy gameplay and broken frames with fluid, artifact-free performance at virtually any framerate. Behold the next breakthrough in PC gaming performance. The FreeSync technology in select AMD APUs and GPUs resolves the communication issues between processor and monitor, eliminating image tears and choppiness for effortlessly smooth gameplay. PC gaming has always been a contest between GPU rendering and monitor update rates. Even solutions like "v-sync" don't always fix jerkiness, and come with associated downsides like reduced mouse responsiveness and lower frames per second. AMD FreeSync technology resolves those issues, delivering perfectly smooth gameplay and peak performance.





AMD TrueAudio Technology

Introducing a new level of immersion. GPUs aren't just for graphics any more. With more acoustic bandwidth and capabilities for developers to play with, plus a healthy slug of extra audio performance, you get a richer in-game soundscape. You'll hear your opponents coming with breathtaking audio realism. It's your game taken to an entirely new dimension.





AMD ZeroCore Power Technology

AMD ZeroCore Power Technology leverages AMD's leadership in notebook power efficiency to grant our desktop GPUs the ability to power down when your monitor is off, also known as the "long idle state." This is great for those times when you've stepped away from your PC to take a call, watch TV, or pop down to the store. Furthermore, AMD ZeroCore Power allows additional GPUs in an AMD CrossFire technology configuration to shut off when they're not in use-even the fan stops spinning! An AMD-exclusive technology, AMD ZeroCore Power ensures that unused or idle GPUs are as efficient as possible. Even the most hardcore gamer with an AMD CrossFire multi-gpu configuration benefits from AMD ZeroCore Power. Unused or idle GPUs are shut down until needed to conserve power.





AMD HD3D Technology

AMD HD3D Technology is supported by an advanced and open ecosystem that, in conjunction with specific AMD hardware and software technologies, enables 3D display capabilities for many PC applications and experiences. Your PC has evolved, offering unprecedented amount of games, photos and movies for you to play, watch, design, create, share and download in 3D. With the arrival of the latest in 3D technology you can now enjoy an enhanced visual experience on Stereo 3D-capable desktops and notebooks powered by AMD HD3D Technology.





AMD App Acceleration

Groundbreaking AMD App Acceleration technology helps you to enjoy beautifully rich and clear video playback when streaming from the web. Take in your favorite movies in stunning, stutter-free HD quality. Run multiple applications smoothly at maximum speed. Enjoy lightning fast game play and realistic physics effects





AMD XDMA CrossFireX Technology

AMD CrossFireX technology is the ultimate multi-GPU performance gaming platform. Unlocking game-dominating power, AMD CrossFireX harnesses the power of two or more discrete graphics cards working in parallel to dramatically improve gaming performance. AMD CrossFireX technology supports up to four graphics cards to be used in a single system. AMD CrossFire™ Direct Memory Access (XDMA) graphics cards have the ability to support AMD CrossFire Technology mode without the need for a hardware strap or "CrossFire ribbon", while maintaining the same quality and performance that AMD CrossFire Technology is known to deliver.





AMD PowerPlay Technology

AMD PowerPlay technology is designed to enable power saving profiles that help reduce power consumption when the GPU is idle or in minimal use in comparison to previous AMD products. This dynamic power management enables the GPU to automatically adjust power between low, medium and high states for a tremendous power efficiency advantage. For example, when receiving and composing emails little demand is on the GPU and it runs in a low state, whereas when gaming, there is high demand on the graphics engine and the GPU runs in a high state.





AMD PowerTune 2.0 Technology

AMD PowerTune technology helps deliver higher performance that is optimized to the thermal limits of the GPU by dynamically adjusting the clock during runtime based on an internally calculated GPU power assessment. AMD PowerTune technology can dynamically adjust the performance profile in real time to fit within the TDP envelope.





AMD Eyefinity 2.0 Multi-Display Technology

The next generation of AMD Eyefinity technology is here, featuring all-new support for stereo 3D, universal bezel compensation and brand new display configurations. Face it: the best just got better: The enhancements for AMD Radeon HD7000 series include: Stereo 3D-multi-display stereoscopic 3D support via DisplayPort 16K X 16K maximum display group resolution-output up to 268 megapixels per GPU.





AMD Catalyst

The AMD Catalyst Control center has been designed from the ground up to give you a stable, reliable experience and also allow you to control every aspect of your GPU quickly and easily. Quickly and easily add and configure additional displays to your GPU. Make your games look better and run faster. Enhance the quality of playback of your movies and online video content. Unlock new performance , features, and improvements with each driver release