Asus P8Z68-V Intel Z68 (Socket 1155) Motherboard overview
P8Z68-V Product Overview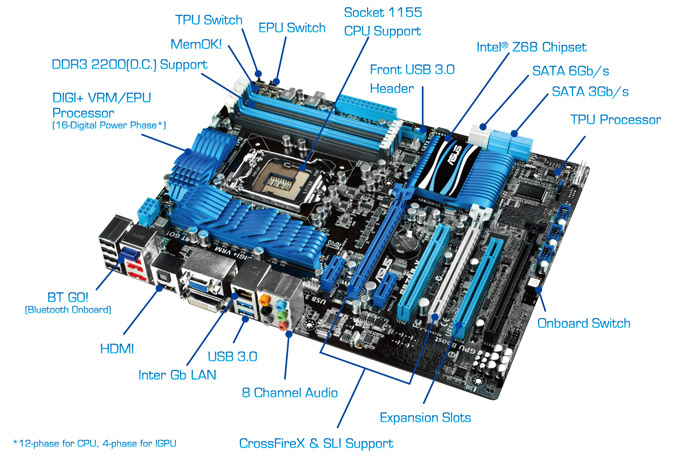 CPU, Chipset and Graphics Features


LGA1155 Intel Second Generation Core i7/Core i5/Core i3 Processors Ready
This motherboard supports the latest Intel second generation Core i7/Core i5/Core i3 processors in the LGA1155 package, with memory and PCI Express controllers integrated to support 2-channel (4 DIMM) DDR3 memory and 16 PCI Express 2.0 lanes. This provides great graphics performance. Intel second generation Core i7/Core i5/Core i3 processors are among the most powerful and energy efficient CPUs in the world.


Intel Z68 Express Chipset
The Intel Z68 Express Chipset is a single-chipset design to support socket 1155 Intel second generation Core i7/Core i5/Core i3 processors. It provides improved performance by utilizing serial point-to-point links, allowing increased bandwidth and stability. Additionally, Z68 chipset provides 2 SATA 6Gb/s and 4 SATA 3Gb/s ports for faster data retrieval at double the bandwidth of current bus systems. Moreover, Intel Z68 Express Chipset also supports iGPU function, letting users enjoy the latest Intel integrated graphic performance.


LucidLogix Virtu
Perfect Fit for Graphics and Multimedia. LucidLogix Virtu is designed for the Intel Sandy Bridge platform's powerful integrated graphics. Its GPU virtualization dynamically assigns tasks to the best available graphics resources based on power, performance and system load on Windows 7 based PCs. It allows users to fully utilize the unique capabilities of advanced Sandy Bridge multimedia features alongside the high end 3D rendering performance provided by installed graphics cards. When no discrete graphics are needed, the graphics card is put in idle mode to lower utilization, heat, fan speed and power draw down to near zero, making the system more environmentally-friendly. For users with diverse needs, LucidLogix Virtu GPU virtualization provides great flexibility and efficiency.


HDMI Support
Enjoy Full HD 1080p Multimedia Home-Theater Entertainment. High-Definition Multimedia Interface (HDMI) is a set of digital video standards that delivers multi-channel audio and uncompressed digital video for full HD 1080p visuals through through a single cable. Supporting HDCP copy protection such as Blu-ray Discs, HDMI provides you with the highest-quality home theater experience.


Quad-GPU SLI and Quad-GPU CrossFireX Support!
Flexible Multi-GPU solutions, Your Weapon of Choice! P8Z68-V brings you the multi-GPU choice of either SLI or CrossFireX. The motherboard features the most powerful Intel Z68 platform to optimize PCIe allocation in multiple GPU configurations. Expect a brand-new gaming style you've never experienced before!
Memory Features
Dual-Channel DDR3 2200(O.C.)/2133(O.C.)/1866(O.C.)/1600/1333/1066 MHz support
The motherboard supports DDR3 memory that features data transfer rates of DDR3 2200(O.C.)/2133(O.C.)/1866(O.C.)/1600/1333/1066 MHz to meet the higher bandwidth requirements of the latest 3D graphics, multimedia and Internet applications. The dual-channel DDR3 architecture enlarges the bandwidth of your system memory to boost system performance.


MemOK!
Any Memory is A-OK! MemOK! quickly ensures memory boot compatibility. This remarkable memory rescue tool requires a mere push of a button to patch memory issues. MemOK! determines failsafe settings and dramatically improves your system boot success. Get your system up and running in no time!
Overclocking Features
Auto Tuning
Auto Tuning is an intelligent tool that automates overclocking to achieve a total system level up. This tool also provides stability testing. Even O.C. beginners can achieve extreme yet stable overclocking results with Auto Tuning!


TurboV
Accessible Performance on Demand. This intutive performance-improvement tool allows users to adjust the system performance paramaters with just a few clicks through its user-friendly interface. ASUS TurboV also allows users to save several profile settings to suit system performance scenarios as well.


GPU Boost
Go to the Limit with iGPU Level Up! GPU Boost accelerates the integrated GPU for extreme graphics performance. The user-friendly interface facilitates flexible frequency adjustments. It easily delivers stable system-level upgrades for every use.
Transfer Features
SATA 6Gb/s support
The Intel Z68 Express Chipset natively supports the Serial ATA (SATA) interface, delivering up to 6.0 Gb/s data transfer. Additionally, get enhanced scalability, faster data retrieval, double the bandwidth of current bus systems.


Complete USB 3.0 Integration
Double USB Access, Double Convenience. ASUS facilitates strategic USB 3.0 accessibility for both the front and rear panels - 4 USB 3.0 ports in total. Experience the latest plug & play connectivity at speeds up to 10 times faster than USB 2.0. The P8Z68-V affords greater convenience with high speed connectivity.
Dual Intelligent Processors II
Dual Intelligent Processors 2 with DIGI+ VRM
Digital Power Design: The New Standard. ASUS' new generation Dual Intelligent Processors 2 with DIGI+ VRM launch motherboard power control into a whole new digital era. The 12+2 digital architecture provides the highest power efficiency, generating less heat to enhance longer component lifespan and ensure minimal power loss. With ASUS DIGI+ VRM, users can easily adjust power phase performance, enabling new PWM voltage and frequency modulation controls. Digital 12+2 power phase design also expands the modulation spectrum for improved stability and lower VRM switching noise by dynamically detecting system load, empowering users with superior flexibility and perfect precision to ensure optimized performance, extreme system stability, and greater power efficiency.


ASUS TPU
The Ultimate Turbo Processor. Unleash your performance with ASUS' simple onboard switch or AI Suite II utility. The TPU chip offers precise voltage control and advanced monitoring through Auto Tuning , GPU Boost and TurboV functions. Auto Tuning offers a user friendly way to automatically optimize the system for fast, yet stable clock speeds, while TurboV enables unlimited freedom to adjust CPU frequencies and ratios for optimized performance in diverse situations.


ASUS EPU
Energy Efficiency All Around. Tap into the world's first real-time PC power saving chip through a simple onboard switch or AI Suite II utility. Get total system-wide energy optimization by automatically detecting current PC loadings and intelligently moderating power consumption. This also reduces fan noise and extends component longevity!
ASUS Digital Power Design
DIGI+ VRM
Herald the Arrival of a New Digital Power Design Era. VRM, or voltage regulator modules, are considered among the most essential motherboard design components. They supply the voltage demanded by the CPU, and a good VRM must intelligently detect actual CPU power draw to provide precise power accordingly. ASUS DIGI+ VRM is an innovative, industry-leading technology that fully integrates Intel VRD12 specifications on a native level, greatly enhancing power to go far beyond the limits of analog designs. Unlike previous VRD versions, Intel VRD12 uses digital signals (SVID). To ensure perfect power delivery, ASUS specially designed DIGI+ VRM to sync completely with this new technology. ASUS DIGI+ VRM delivers intelligent power management to balance loadings for each power phase by detecting VRM temperatures to ensure longer component lifespan and better cooling.
Cooling Features
ASUS Fanless Design - Heat-sink solution
The streamline-shaped heatsink features 0-dB thermal solution that offers users a noiseless PC environment. Not only the beautifully curved fins upgrade the visual enjoyment for motherboard users, but also the special Streamline Airflow Guiding design lowers the temperature of the north bridge chipset through high efficient heat-exchange. Combined with usability and aesthetics, the ASUS streamline-shaped heat-sink will give users an extremely silent and cooling experience with the elegant appearance!


Fan Xpert
Active Quiet & Cool. ASUS Fan Xpert intelligently allows users to adjust both the CPU and chassis fan speed according to different ambient temperature, which is caused by different climate conditions in different geographic regions and system loading. Built-in variety of useful profiles offer flexible controls of fan speed to achieve a quiet and cool environment.
Audio Features
S/PDIF-out on Back I/O Port
This motherboard provides convenient connectivity to external home theater audio systems via optical S/PDIF-out (SONY-PHILIPS Digital Interface) jacks. It allows to transfer digital audio without converting to analog format and keeps the best signal quality.
Other Features
Intel Smart Response Technology
Faster Access, Bigger Storage Intel Smart Response Technology boosts overall system performance. It uses an installed fast SSD (min 18.6GB available) as a cache for frequently accessed operations, speeding up hard drive/main memory interaction. Key benefits are expedited hard drive speeds, reduced load and wait times and maximized storage utilization. Power consumption also goes down by reducing unnecessary hard drive spin, an important part of Green ASUS eco-friendly computing.


BT GO!
Diverse BT Enjoyment, New Technology Lifestyle. Onboard Bluetooth wireless design enables smart connectivity to Bluetooth devices with no additional adapter. ASUS BT GO! comes with 7 special functions that offer a significant breakthrough in Bluetooth evolution, including Folder Sync, BT Transfer, BT Turbo Remote, BT-to-Net, Music Player, Shot and Send, and Personal Manager. All are accessible through the exclusive, user-friendly ASUS interface.


AI Suite II
One-stop Access to Innovative ASUS Features. With its user-friendly interface, ASUS AI Suite II consolidates all the exclusive ASUS features into one simple to use software package. It allows users to supervise overclocking, energy management, fan speed control, voltage and sensor readings, and even interact with mobile devices via Bluetooth. This all-in-one software offers diverse and ease to use functions, with no need to switch back and forth between different utilities.





UEFI BIOS (EZ Mode)
Flexible & Easy BIOS Interface. ASUS UEFI BIOS offers a user-friendly interface that goes beyond traditional keyboard-only BIOS controls to enable more flexible and convenient mouse input. Users can easily navigate the UEFI BIOS with the smoothness of their operating system. Quick and simple overclocking and setup sharing is facilitated by the F12 hotkey BIOS snapshot feature. The exclusive EZ Mode displays frequently-accessed setup info, while the Advanced Mode is for experienced performance enthusiasts that demand far more intricate system control, including detailed DRAM information.





ASUS Q-Design
DIY quickly, DIY easily! ASUS Q-Design enhances your DIY experience. All of Q-LED, Q-Slot and Q-DIMM design speed up and simplify the DIY process!





Intel LAN Support
P8Z68-V features Intel Gigabit LAN which complies with 802.3az Energy Efficient Ethernet (EEE) standard and reduces power consumption during normal operation and enhances faster transfer speed through dual interconnection between the Integrated LAN controller and Physical Layer (PHY).





GreenASUS
The motherboard is European Union´s Energy-related Products (ErP) ready, and ErP requires products to meet certain energy efficiency requirements in regards to energy consumptions. This is in line with ASUS vision of creating environment-friendly and energy-efficient products through product design and innovation to reduce carbon footprint of the product and thus mitigate environmental impacts.