MSI GeForce GT 630 4GB GDDR3 overview
Product Overview
Every PC deserves dedicated graphics. Bring your multimedia performance to life with an NVIDIA GeForce GT 630 graphics card. Step up to NVIDIA dedicated graphics for a faster, more immersive experience in your favourite applications - every time.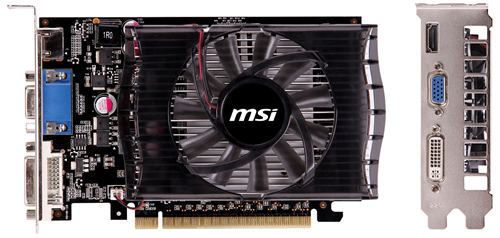 MSI Exclusive Features


MSI All Solid Capacitors
MSI All Solid Capacitor graphics cards utilise Solid capacitors to provide increased lifespan and performance under the most extreme gaming environments.




HTPC Ready
HDMI and DVI are the most comprehensively used interfaces for high definition video display. MSI adopts both interfaces to provide a complete solution for users to enjoy the latest HD movies and games.




MSI Predator Utility
Predator is a built-in screen and video capturing tool which captures your screen as still images or videos with the push of a button and allows you to capture and record your coolest, goofiest and most awesome gaming moments on your PC!




MSI Afterburner Utility
MSI Afterburner has quickly become the favourite overclocking software for media, overclockers and end-users. Because of its simple interface, it's easy to learn, but it packs a lot of powerful features like an integrated benchmark utility called Kombustor that can check your system performance in benchmarking mode, or run as a stability test.
NVIDIA Features


NVIDIA GeForce Experience
Want to know the best settings to play your games? GeForce Experience will figure it out for you. GeForce Experience connects you to NVIDIA's cloud datacenter to download optimal game settings tailored to your PC based on your CPU, GPU and monitor. Optimal settings maximize image quality while maintaining great performance so you get the best experience. A built-in interactive screenshot viewer helps you learn more about each setting and their benefits. The GeForce Experience application automatically notifies you of new driver releases from NVIDIA. With a single click, you'll be able to update the driver directly, without leaving your desktop.




NVIDIA PhysX Technology
PhysX is designed specifically for hardware acceleration by powerful processors with hundreds of cores. Combined with the tremendous parallel processing capability of the GPU, PhysX will provide an exponential increase in physics processing power and will take gaming to a new level delivering rich, immersive physical gaming environments.




NVIDIA CUDA Technology
NVIDIA CUDA technology is the world's only C language environment that enables programmers and developers to write software to solve complex computational problems in a fraction of the time by tapping into the many-core parallel processing power of GPUs. With millions of CUDA-capable GPUs already deployed, thousands of software programmers are already using the free CUDA software tools to accelerate applications—from video and audio encoding to oil and gas exploration, product design, medical imaging, and scientific research.




NVIDIA 3D Vision
NVIDIA 3D Vision brings a fully immersive, stereoscopic 3D experience to the PC. A combination of high-tech wireless glasses and advanced software, 3D Vision transforms hundreds of PC games into full stereoscopic 3D. Get up to 2x monitor and keyboard brightness with NVIDIA 3D LightBoost technology. In addition, you can enjoy 3D movies and 3D digital photographs from 3DVisionLive.com in eye popping, crystal-clear quality.




NVIDIA PureVideo HD Technology
Blu-ray and HD DVD movies are bringing a new level of movie-viewing experience; with high-definition image quality far surpassing standard-definition DVDs. NVIDIA PureVideo HD2 technology provides unsurpassed Blu-ray and HD DVD movie picture quality.