ASUS GeForce GTX 970 STRIX OC 4GB GDDR5 overview
The GeForce GTX 970 is powered by the next generation NVIDIA Maxwell architecture, giving you incredible performance, unmatched power efficiency and cutting edge features. Maxwell is the most advanced GPU architecture ever made, designed to be the engine of next generation gaming.
ASUS Features



DirectCU II with 0dB Fan Technology

Exclusive DirectCU II cooling technology outperforms reference designs with an exclusive 10mm heatpipe that transports 40% more heat away from the GPU — a first for the industry! The design also includes 220%-larger heat-dissipation: this means performance that's 30% and three-times (3X) quieter than reference for ultra-stable hardcore gaming with very low noise. And Strix ups the ante still further with 0dB fan technology that lets you enjoy games like League of Legends and StarCraft in complete silence — because the fan stops completely when the GPU temperature remains below a set level.





DIGI+ VRM with Super Alloy Power

Acclaimed DIGI+ VRM has been applied via a 6-phase power design that uses digital voltage regulators to minimize power noise by 30%, enhance power efficiency by 15%, widen voltage modulation tolerance, and improve overall stability and longevity by 2.5 times over reference.





GPU Tweak

Overclocking is made real-time and intuitive with ASUS GPU Tweak utility. It not only allows you to optimize clock speeds, voltage and fan speeds on up to four graphics cards independently or simultaneously, you can also select between GPU Tweak's Standard or Advanced modes depending on your level of experience. For gamers out there, GPU Tweak enables instantaneous in-game video recording up to 720p resolution so you can share clips with the community easily.
NVIDIA Features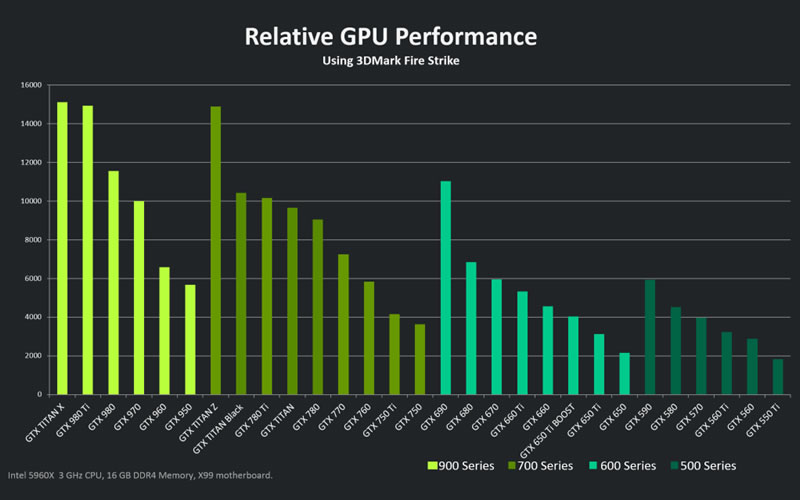 GeForce Experience

Want to know the best settings to play your games? GeForce Experience will figure it out for you. GeForce Experience connects you to NVIDIA's cloud datacenter to download optimal game settings tailored to your PC based on your CPU, GPU and monitor. Optimal settings maximize image quality while maintaining great performance so you get the best experience. A built-in interactive screenshot viewer helps you learn more about each setting and their benefits. The GeForce Experience application automatically notifies you of new driver releases from NVIDIA. With a single click, you'll be able to update the driver directly, without leaving your desktop.





NVIDIA Maxwell Architecture

This is NVIDIA's most advanced architecture ever, delivering incredible performance and unmatched power efficiency. Plus, it offers cutting-edge features like advanced sampling and Dynamic Super Resolution technology that delivers 4K-quality gaming—even on 1080p displays.





NVIDIA VR Ready

GeForce GTX graphics cards provide a powerful next-generation platform for the ultimate immersive virtual reality experience. Rigs and cards marked with "GeForce GTX VR Ready" ensure that your VR games will be optimized with a best-in-class GPU. Immersive VR requires seven times the graphics processing power of traditional 3D apps and games. NVIDIA's unique set of features—such as multi-res shading—mean you get the right level of performance, image quality, and latency to ensure your VR experience is nothing short of amazing.





Dynamic Super Resolution (DSR)

With Dynamic Super Resolution Technology (DSR) you can enable the detail of 4K monitors on a 1080p display. DSR produces smoother images by rendering the game at a high resolution, then downscaling it to the native resolution of the display using advanced filtering.





Voxel Global Illumination (VXGI)

Maxwell is the most advanced GPU architecture ever made, designed to be the engine of next generation gaming. Inspired by light, it was designed to solve some of the most complex lighting and graphics challenges in visual computing. For the first time, gaming GPUs can dynamically render indirect light using the new VXGI technology. Scenes are significantly more lifelike as light interacts more realistically in the game environment.





NVIDIA TXAA Technology

Film studios invest enormous resources in developing advanced technologies and post-production effects to deliver visually spectacular experiences for movie-goers. For games to achieve this level of fidelity, developers need new anti–aliasing technologies that deliver a viewing experience that eliminates the distraction of unrealistic, jagged lines ("jaggies") and aliased shimmering–without compromising performance. NVIDIA is making this happen today, bringing cinema-quality graphics to life in blockbuster gaming titles with an innovative new temporal antialiasing technology called TXAA. Available exclusively on GeForce GTX Kepler-powered GPUs, TXAA is designed to be directly integrated into game engines. Plus, it combines the raw power of MSAA (multi–sample anti–aliasing) with a temporal filter and sophisticated resolve filters similar to those used in CG films. The end result is a smoother, more lifelike image than any other comparable technique.





NVIDIA FXAA Technology

FXAA is a NVIDIA-developed post-processing technique that selectively blurs a game's graphics to tackle unsightly jagged edges and high-contrast pixel deviation. Gaining popularity amongst developers due to its low performance impact and its ability to anti-alias transparent textures and details, FXAA is highly recommended for low-end and mid-range systems.





NVIDIA G-SYNC Technology

NVIDIA G-SYNC is a groundbreaking new innovation that casts aside decades-old thinking to create the smoothest, most responsive computer displays ever seen. A monitor module you can install yourself, or buy pre-installed in gamer-focused monitors, NVIDIA G-SYNC waves goodbye to the days of screen tearing, input lag, and eyestrain-inducing stuttering caused by decades-old tech lazily carried over from analog TVs to modern-day monitors.





NVIDIA GPU Boost 2.0 Technology

Up until now, GPUs have operated at a fixed clock speed when playing 3D games, even if they have the potential to run faster. GPU Boost 2.0 intelligently monitors graphics work load and increases the clock speed whenever possible. The result is that the GPU always performs at its peak and you get the highest framerate possible. With NVIDIA GPU Boost 2.0 Enjoy new levels of customization with advanced controls like GPU temperature target, overclocking, and overvoltage.





NVIDIA Adaptive V-Sync Technology

Nothing is more distracting than framerate stuttering and screen tearing. The first tends to occur when framerates are low, the second when framerates are high. Adaptive V-Sync is a smarter way to render frames. At high framerates, V-sync is enabled to eliminate tearing, at low frame rates, it's disabled to minimize stuttering. It gets rid of distractions so you can get on with gaming.





NVIDIA PhysX Technology

PhysX is designed specifically for hardware acceleration by powerful processors with hundreds of cores. Combined with the tremendous parallel processing capability of the GPU, PhysX will provide an exponential increase in physics processing power and will take gaming to a new level delivering rich, immersive physical gaming environments.





NVIDIA CUDA Technology

NVIDIA CUDA technology is the world's only C language environment that enables programmers and developers to write software to solve complex computational problems in a fraction of the time by tapping into the many-core parallel processing power of GPUs. With millions of CUDA-capable GPUs already deployed, thousands of software programmers are already using the free CUDA software tools to accelerate applications—from video and audio encoding to oil and gas exploration, product design, medical imaging, and scientific research.





NVIDIA Surround with up to 4 Monitors

Nothing is as breathtaking as playing your favorite games across three monitors. At 5760 x 1080, the expanded field of view fully engages human peripheral vision and provides for the most immersive experience in racing and flight simulators. Add in a fourth display to keep tabs on chat, email or web while you are gaming.





NVIDIA 3D Vision

NVIDIA 3D Vision brings a fully immersive, stereoscopic 3D experience to the PC. A combination of high-tech wireless glasses and advanced software, 3D Vision transforms hundreds of PC games into full stereoscopic 3D. Get up to 2x monitor and keyboard brightness with NVIDIA 3D LightBoost technology. In addition, you can enjoy 3D movies and 3D digital photographs from 3DVisionLive.com in eye popping, crystal-clear quality.





NVIDIA SLI Technology

Used by the most demanding gamers worldwide, SLI lets you link up to three GeForce GTX 970's together for astounding performance. And with NVIDIA's track record for fast and frequent software updates, you'll not only get the best performance in existing games, but future games too.