XFX ProSeries 550W Core Edition Power Supply - 80 PLUS Bronze Certified overview
ProSeries 550W PSU

One Rail, One Setup
Unique, continuous EasyRail™ technology enables you to maximize available power and make set-up easy. Stack numerous power-hungry components without fear of crashing. It's also a perfect solution for hardcore gamers.
Key Features
The Wattage you see isn't always the wattage you get.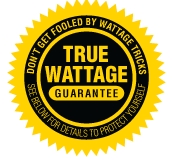 Some brands tweak tests to get great wattage ratings, but in reality, they deliver much lower max wattages. Don't be fooled by wattage tricks. Below are examples of how we guarantee our wattage.
Continuous Power
Wattage and heat go hand-in-hand. Other PSUs claim a certain wattage by using unrealistic testing environments like 25°C, but in real settings, they might reach much lower wattages. XFX PSUs guarantee the advertised wattage, even at well above standard operating conditions at 50°C.
Clean Power
Power drawn from your AC outlet is typically dirty with voltage spikes and fluctuations, which can harm vital PC components. XFX PSUs are designed to deliver tight DC voltage regulation with minimal AC ripple, giving you safer, cleaner power.
Efficient Power Use
80 Plus (Bronze, Silver, Gold & Platinum) certified means that this XFX PSU has an 88% to 95% power efficiency. Compare that to non-certified PSUs, which lose at least 20% of power drawn. With the XFX PSU, get every watt you pay for.
Extreme Heat Tested Capacitors
Internal PC operating temperature is around 35°C but the internal PSU temperature can be much higher. XFX uses all high-quality Japanese brand capacitors rated to withstand up to 105°C. While some competitors claim to use Japanese capacitors, they may only be rated for 85°C, which can shorten the usable life of a PSU.
Automatic Protection Sensors
All XFX PSUs come with automatic output protection systems to protect you and your computer. This includes Total Power Protection (OPP), Over Voltage Protection (OVP), Over Current Protection (OCP) and Short Circuit Protection (SCP)
Hybrid Fan Control - Conserves Power & Quieter
Hybrid mode, when activated, allows the PSU to operate silently until it reaches 30% load or 25°C. Then it switches to Quiet Mode (only 16dBA) until reaching 50% load which switches to Cooling Mode to cool the PSU appropriately.
Other Features
DC to DC Converter Design
Conductive Polymer Aluminum Solid Electrolytic Capacitors
Active Power Factor Correction [99% PF Typical]
High +12V Output
Ultra Ventilation [Grid Structure]
Multi-GPU Technologies Supported
All-in-One DC Cabling Design
Universal AC Input [Full Range]
2 Year Limited Warranty