DrayTek Vigor 2110Vn Wireless-N VoIP Router overview
Product Features
Broadband Router/Firewall for Cable-modem users or 3G
Compatible with VirginMedia (Telewest/NTL)
Up to 95Mb/s WAN Throughput - ideal for new 50Mb/s services
WiFi - 802.11n Wireless LAN
Twin VoIP Phone Ports with POTS passthrough
3G Cellular Modem compatible
Compatible with Orange, T-Mobile, Vodfone, O2, & Three
NAS Facility - Add a USB memory key for shared LAN storage/access
Universal Plug'n'Play (uPnP)
Object based Firewall
Content Filtering & Access Control
4-Port 10/100BaseT Autosensing Ethernet Switch
Wireless On/Off & WPS Buttons
WMM - WiFi multimedia
Easy configuration, monitoring & control from web-interface
Dial-Out VPN Facilities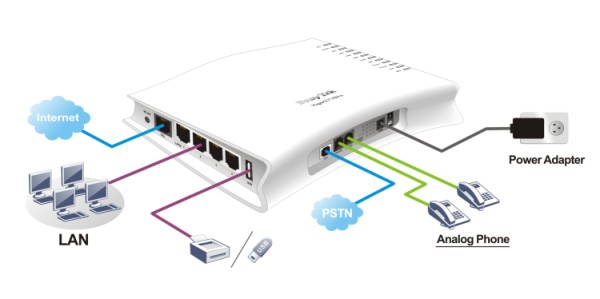 Product Overview
The DrayTek Vigor 2110 Series routers are designed to be the ideal cable-broadband sharing and firewall device for the SoHo (Small Office / Home) user. They combine compatibility with the latest cable modem connections (from Virginmedia) and other Ethernet fed Internet connections together with performance, features and price into an attractive, relible and easy-to-use product, with the pedigree and thoughtful design DrayTek are renowned for.

VoIP Capability
The Vigor 2110 Voice-over-IP equipped models provides a phone port allowing you to connect any regular telephone (cordless or corded) to make and receive voice calls using your Internet connection. Using industry standard SIP-protocols, this enables you to make free Internet calls to any other compapible SIP user, or calls to the regular phone network (PSTN / Landlines / Mobiles) via a VoIP gateway service such as DrayTEL (or any other SIP compliant service).





You can make free calls to or from other compatible VoIP users worldwide and via a PSTN gateway, such as DrayTEL you can make calls to any regular telephone line or mopbile phone worldwide, at low DrayTEL rates. DrayTEL will also allocate you your own normal phone number for anyone to call you on. (Note : DrayTEL is operated independently of DrayTek Corp.). You can use any other VoIP providers too, as long as they are "SIP compliant". Pre-set 'QoS assurance' automatically gives priority to VoIP traffic so that call quality is maximised from your available Internet bandwidth. Selectable codecs allow you to tune your ideal VoIP parameters for best call quality and bandwidth use.

POTS & VoIP Access from one phone
In addition to VoIP calls, the Vigor2110Vn model connects to your regular analogue phone line ("POTS") too so with just a single phone on your desk, you can choose to make calls using VoIP via the Internet or switch over to your POTS line (your normal phone line) and dial out via the PSTN (the conventional phone network). By setting up the LCR (Least Cost Routing) facility, you can automate this process so that the router automatically sets your preferred route for calls, according to your own rules. Then, depending on the destination dialled, the router will use either your POTS line or one of up to 6 VoIP/SIP providers/gateways (for example DrayTEL). Incoming calls can be received too - either from POTS or VoIP - the phone will ring on either. With automatic failover, in the event of power loss, the Vigor automatically switches your phone over to the POTS line so that you can still make/receive calls. Additionally, if you have a VoIP phone number (SIP Address) in the speed dial memory, you can also specify a backup phone number for each entry, so in the event of Internet loss, the router will automatically dial an alternative number via your regular telephone line.





Network Attached Storage (NAS)
The Vigor 2110 Series's USB port can also be used to add storage memory to the unit in the form of a USB memory key or for higher capacity a USB hard drive. The Vigor 2110 then provides FTP access file uploading/downloading which can be from the local LAN or from anywhere on the Internet - ideal for a simple to deploy file depository. Access can be 'public' or using usernames and passwords, each of which can have their own directories and/or file access rights. As well as FTP, file sharing is available as a Windows 'network drive'. Using Internet Explorer, you can access, read and write the contents of the USB drive.

3G Cellular Data Features
All major cellphone networks within Europe now support '3G data'; this uses the latest 3G networks for high-speed data connections to the internet in addition to regular phone calls. The latest 'HSDPA' version provides speeds up to 7.2Mb/s download, which is comparable with fixed broadband lines but with added flexibility, mobility and convenience. All of the networks supply USB 3G modems; these are typically available 'free' on most monthly data contracts, or to buy on PAYG ('Pay as You Go') packages. In addition, many 3G phone handsets also have a 'modem' facility with a USB cable which is compatible with the DrayTek routers. The 3G USB modem connects directly into a DrayTek router/firewall and provides shared Internet connectivity to all PCs and other devices on your network, including wireless laptops.