Fractal Design ION+ 660P, 660W Fully Modular Power Supply, UK Cord overview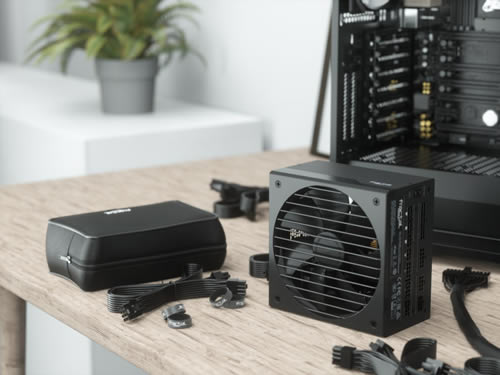 The power of silence
A user selectable semi-passive Zero RPM mode maintains pure silence under light loads, and under heavy use the custom-tailored 140 mm fan with FDB bearings barely breaks a whisper. The revolutionary UltraFlex cable bends and twists effortlessly to make installation and cable-routing a breeze, thanks to an ultra-high strand count wire and special insulation.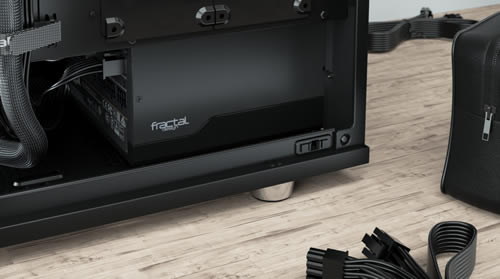 Power with a plus
Fully modular design for reduced clutter and maximum ease of installation
Equipped with a custom-tailored Fractal Design Dynamic Series 140 mm fan with exceptionally low minimum speed and true long-life FDB
Extensive 10 year warranty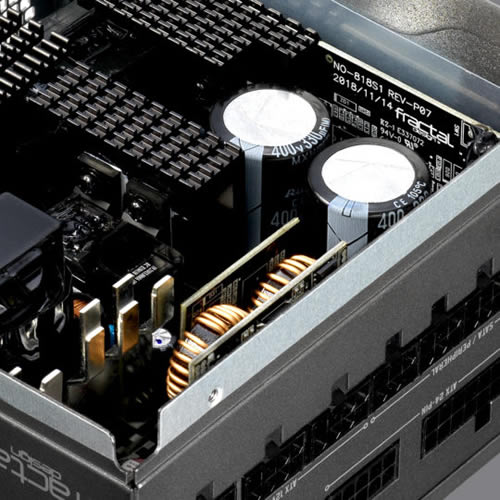 Japanese capacitors
Premium Japanese 105°C capacitors provide enhanced reliability and durability
UltraFlex Cables
Fractal Design UltraFlex DC wires have game-changing flexibility for effortless cable-routing and connectors that twist and bend to fit your installation — not fight it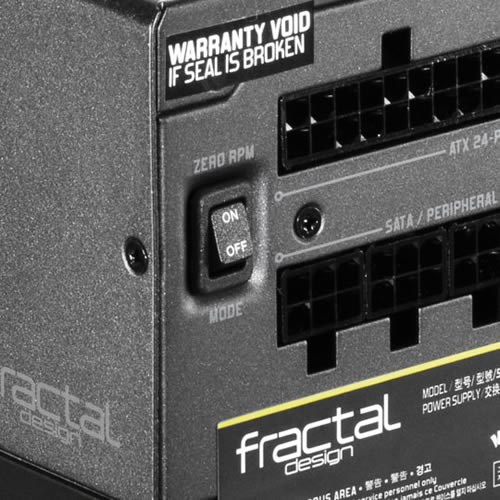 Zero RPM
User selectable Zero RPM mode allows for either silent, passive operation in low load situations or continuous low speed fan operation for additional cooling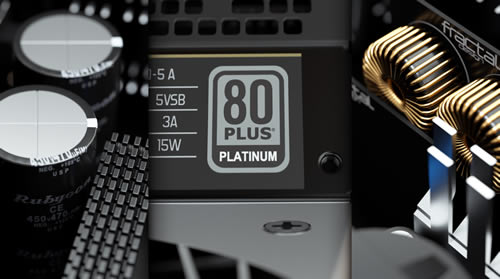 More power, less heat
The Ion+ Platinum is rated 80 PLUS® Platinum Efficiency for its ability to offer electrical output of the highest quality, while generating as little heat as possible.
80 PLUS® Platinum Efficiency for optimized electrical performance and reduced heat generation
Outstanding output quality with tight voltage regulation and extremely low noise and ripple
Over Power Protection, Over Voltage Protection, Short Circuit Protection, Under Voltage Protection, Over Current Protection and Over Temperature Protection
General specifications
80 PLUS® Certification Platinum
Modular cables
Fully modular
Cable type
Modular 24-pin: Braided sleeve UltraFlex wire Others: Flat UltraFlex wire
Fan type
Customized 140 mm FDB bearing Fractal Design Dynamic Series fan
Maximum operating temperature at full load
50° C
Semi-passive operation
Yes, user selectable (Zero RPM)
Sleep State Compliance
C6/C7
Warranty
10 years
Capacitors
Japanese
Protection features
Over voltage protection. Under voltage protection. Over power protection. Short circuit protection. Over current protection. Over temperature protection
Approvals & Certifications
CE, FCC, TUV, cTUVus, EAC, RCM, CCC, BSMI, CB, RoHS, WEEE
Life expectancy (MTBF) at max output load
100,000 hours
Input voltage
100-240V AC
Input frequency
50-60 Hz
Input current
10A/5A
Number of 12V rails
1
PSU specification compliance
ATX12V 2.4 / EPS12V 2.92
Standby efficiency
ErP 2013 (<0.45W @230 VAC, 45 mA load on +5Vsb)
Unit measurements
150 x 150 x 86 mm
Unit weight (unit only)
1.61 kg
Connectors
ATX 24-pin
1
ATX12V 4+4 pin / EPS12V 8-pin
1
PCIe 6+2 pin
4
SATA
10
Peripheral
4
Cable configuration (length between connectors)
ATX 24-pin
600
ATX12V 4+4 pin
700
EPS12V 8-pin
N/A
PCIe 6+2 pin
550+120 mm x2
SATA
400+120+120+120, 650+120
Peripheral
400+120+120+120
DC output
3.3 V
20A
5V
20A
3.3 V and 5 V combined
110W
12 V
55 A
-12 V
0.3A
5 V Standby (+5 Vsb)
3A
Total Power
660W
Other
Package contents
Ion+ PSU with protective bag, Modular cables in a convenient storage bag, Screw pack with Velcro cable ties, AC power cord (localized), User manual
EAN
7340172701941
Package dimensions (W x H x D)
325 x 110 x 210 mm
Package weight
2.65 kg
UPC
843276101947
Product code
FD-PSU-IONP-660P-BK
Why not Tell A Friend about this product, all you need to do is fill out their information below and click send.
Delivery Options
Next Working Day Delivery
Get your order delivered the next working day for £5.99, available when ordering Monday - Thursday and before 17:00 on that day if the product is in stock and your payment has cleared.
Pre 12 Next Working Day Delivery
Get your order delivered the next working day before 12:00pm for £10.98, available when ordering Monday - Thursday and before 17:00 on that day if the product is in stock and your payment has cleared. Some orders if via PayPal and the first customer order may not clear in time.
Weekend Delivery - Saturday & Sunday
If you need your order at the weekend, for £12.58, you can specify the day you wish to have it delivered to you, Saturday or Sunday providing your order has been placed by 17:00 on the Friday before.
Economy Delivery
Economy delivery is available on all orders of any value being shipped within the UK.
About Fractal Design
The concept of Fractal Design is to provide products with an extraordinary level of design, without compromising the important factors of quality, functionality and pricing. Today's computer has evolved into playing a central role in most homes, creating a demand for appealing design of the computer itself and its accessories. Their main product areas are Computer Cases, Power Supplies and Water Cooling units amongst other related accessories.