Gigabyte A520M S2H AMD A520 Chipset (Socket AM4) Micro-ATX Motherboard overview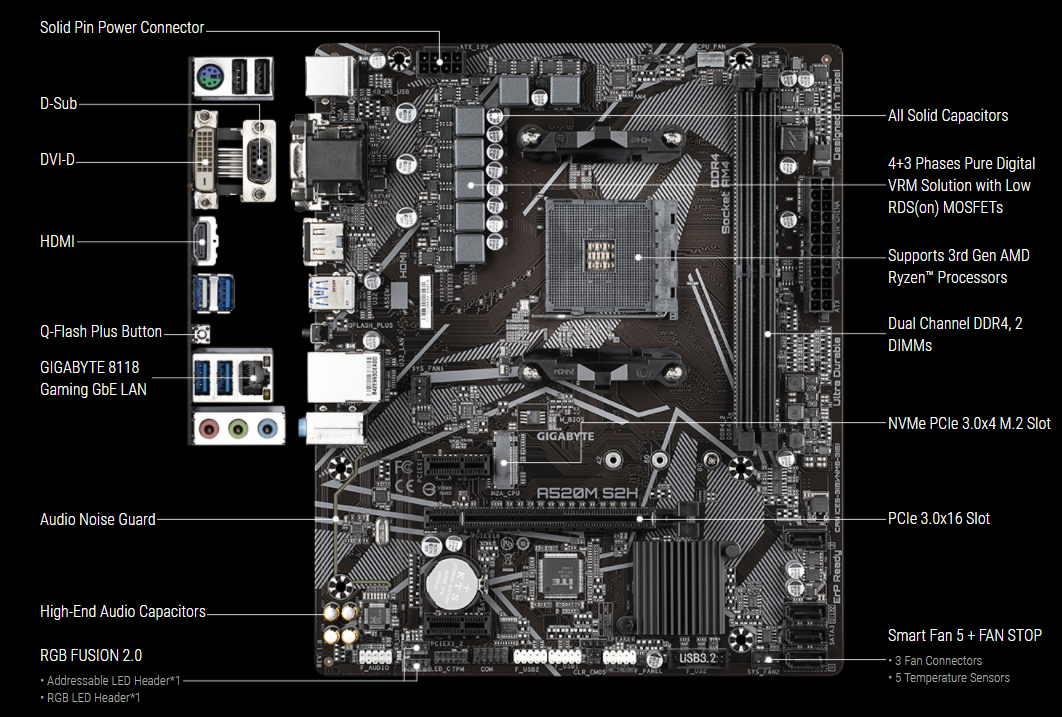 PURE DIGITAL VRM SOLUTION
GIGABYTE UD series motherboards use a 4+3 phases pure digital PWM + Low RDS(on) MOSFETs design to support the 3rd Gen AMD Ryzen™ CPUs by offering incredible precision in delivering power to the motherboard's most power-hungry and energy-sensitive components as well as delivering enhanced system performance and ultimate hardware scalability.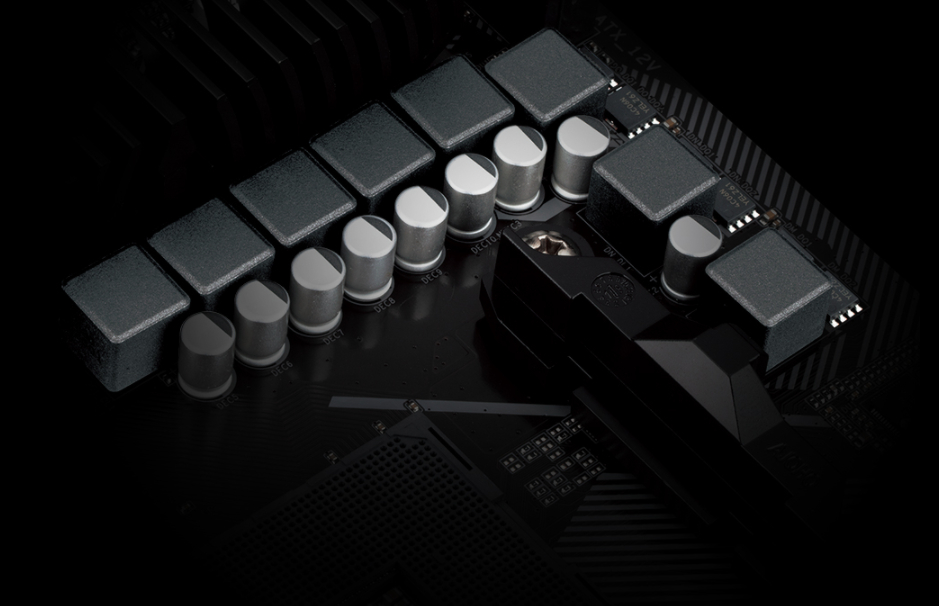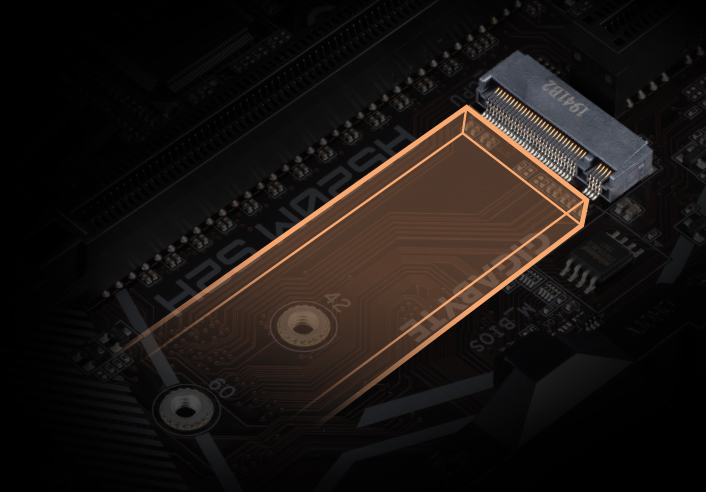 NVME PCIE GEN3 x4 M.2 CONNECTOR
GIGABYE Motherboards are focused on delivering M.2 technology to enthusiasts who want to maximise their systems potential. GIGABYTE A520M S2H features NVMe PCIe Gen3 x4 M.2 with speeds of up to 32Gb/s.
EXLUSIVE REALTEK 8118 GAMING LAN
Realtek 8118 LAN is a high performance and friendly network chip for gaming players with automatic bandwidth allocation to ensure the highest network priority of the game or application. It can provide users the most comprehensive features and the fastest and smoothest Internet experience.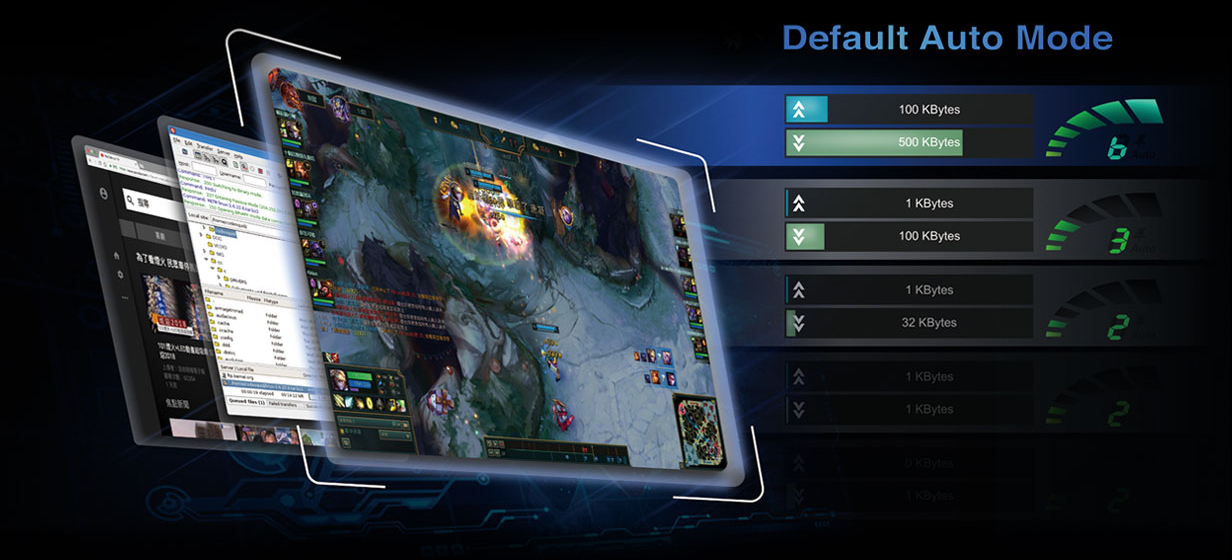 HDMI 2.1 FOR 4K / 60P / 21:9 / HDCP 2.3 SUPPORT
HDMI 2.1, which is backwards compatible with HDMI 2.0/ 1.4 and offering 48 Gb/s of bandwidth – twice times more than previous generation. This unlocks the potential for users to transfer multiple video streams, as well as a native cinematic 21:9 ratio (which most movies are shot in), Full HDR and HDCP 2.3 support, to offer the best visual experience for viewers.
INDUSTRY LEADING LAN STATIC ELECTRICITY AND SURGE PROTECTION
GIGABYTE motherboards use ICs with up to 3 times the ESD resistance levels compared to traditional ICs. This helps to better protect the motherboard and its components against potential damage caused by static electricity. GIGABYTE motherboards also feature special anti-surge ICs that protect your motherboard, and your PC from any surge in power delivery that may occur, helping to ensure that your PC is equipped to deal with any potentially irregular and inconsistent power delivery.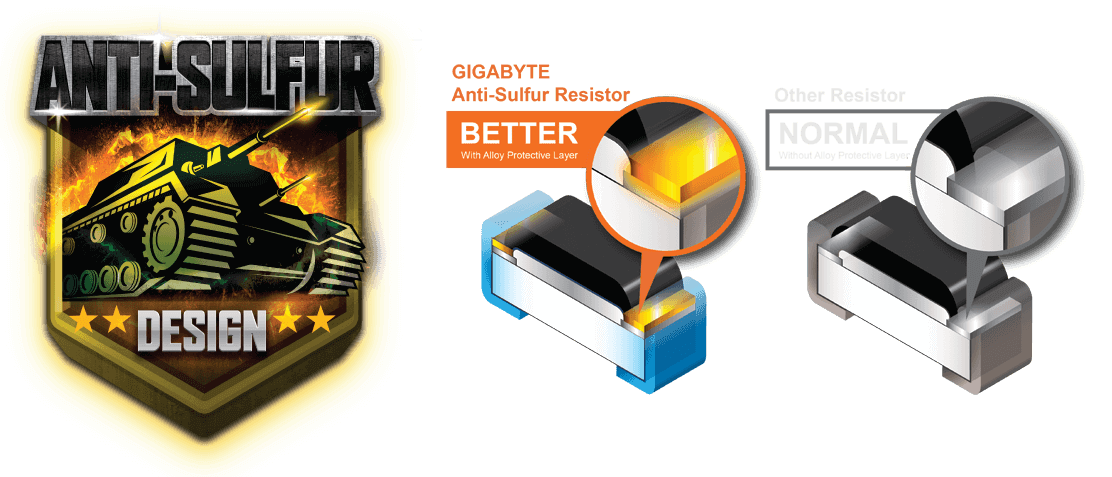 ANTI SULFUR CAPACITOR DESIGN
Sulfur compounds in the air can penetrate tiny onboard resistors creating chemical change and causing these resistors to open or short. If either of these occurs the motherboard will fail to function. By equipping resistors with an Anti-Sulfur Design GIGABYTE gives Ultra Durable Motherboards a whole new meaning.
HIGH QUALITY AUDIO DESIGN
GIGABYTE motherboards use high-end audio capacitors. These high quality capacitors help deliver high resolution and high fidelity audio to provide the most realistic sound effects for gamers. GIGABYTE motherboards feature an audio noise guard that essentially separates the board's sensitive analog audio components from potential noise pollution at the PCB level.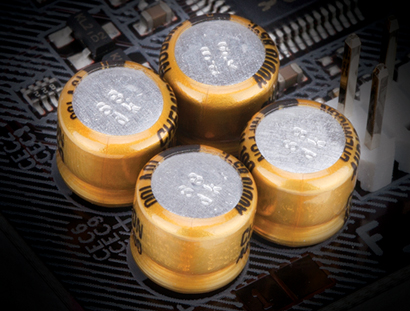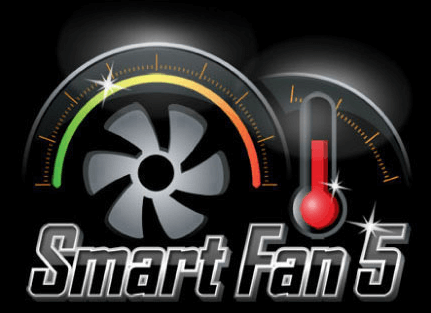 SMART FAN 5
With Smart Fan 5 users can ensure that their gaming PC can maintain its performance while staying cool. Smart Fan 5 allows users to interchange their fan headers to reflect different thermal sensors at different locations on the motherboard. Not only that, with Smart Fan 5 more hybrid fan headers that support both PWM and Voltage mode fans have been introduced to make the motherboard more liquid cooling friendly.
ALL HYBRID FAN HEADERS
All Hybrid Fan Headers can automatically detect the type of cooling device whether it be fan or pump with different PWM or Voltage mode. Supports up to 2 amps with built-in overcurrent protection—a must for high-end high current fans.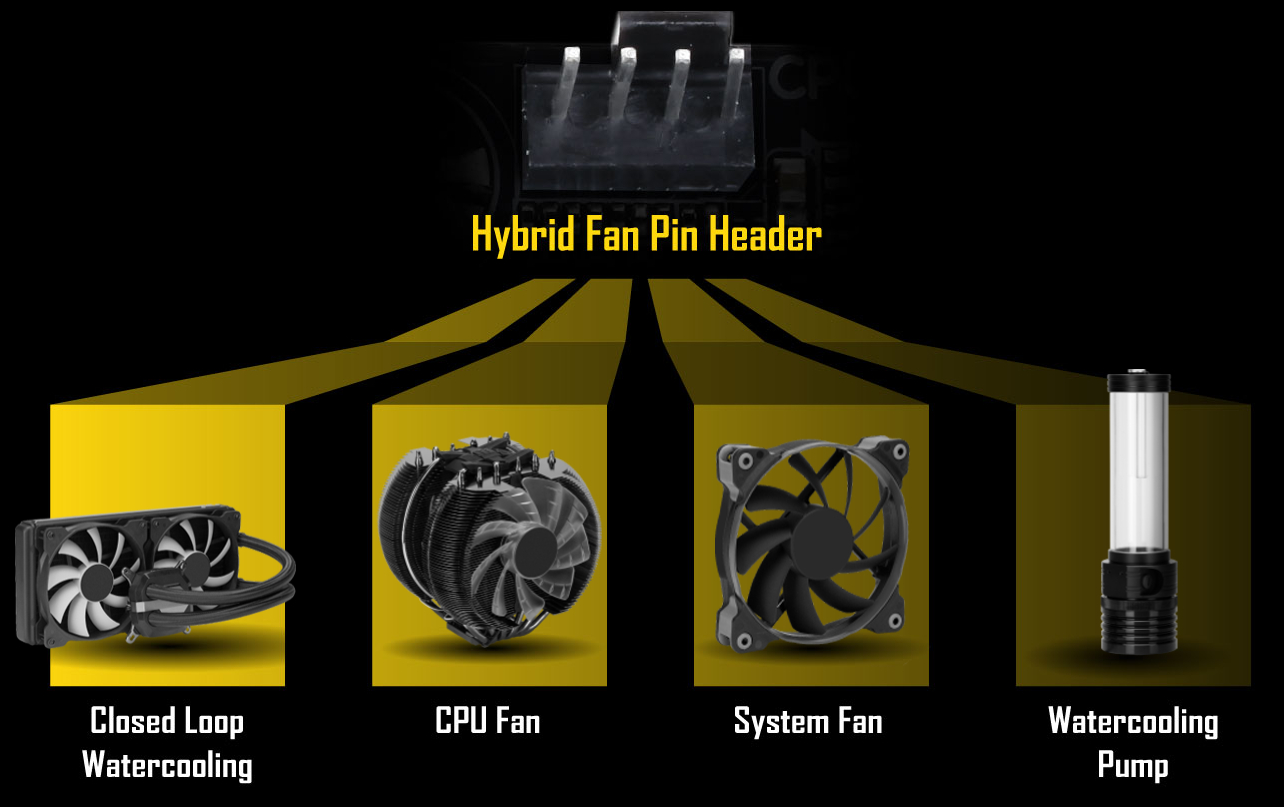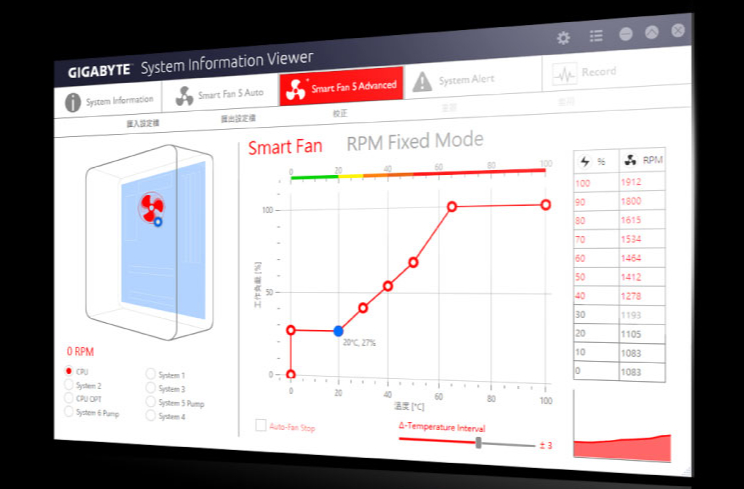 NEW SMART FAN 5 SOFTWARE
Choose from different modes, Quiet to Full Speed, to match your system usage scenario. For each fan or pump, you can use the intuitive fan curve to define trigger thresholds and corresponding fan speeds. Each fan can be customized to operate at different speeds according to any defined temperature source input (except the CPU fan).
RGB FUSION 2.0
With A520 Motherboards, RGB Fusion 2.0 is even better with Addressable LEDs. RGB Fusion 2.0 offers users the option to control onboard RGB and external RGB / Addressable LED light strips for their PC build. Already feature filled with colors and patterns, RGB Fusion 2.0 has been upgraded to improve the Addressable LED support. With external Addressable LED strips, where each LED is digitally addressable that users can experience even more patterns, styles, and illuminations. GIGABYTE A520 Motherboards support external 5V Addressable LED lighting strips and up to 300 LED lights. RGB Fusion 2.0 with Addressable LEDs comes with new patterns and various speed settings with more to come.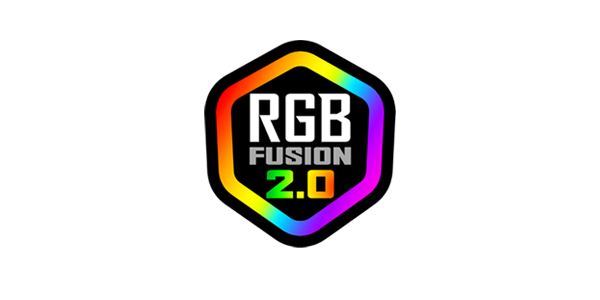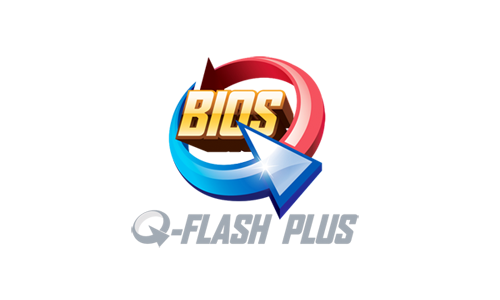 Q-FLASH PLUS
With GIGABYTE Q-Flash Plus, you don't need to install the CPU, memory and graphics card nor enter the BIOS menu to flash the BIOS. Just download and save a new BIOS file (rename to gigabyte.bin) on the USB flash drive, then press the dedicated Q-Flash Plus button and you're good to go!
GIGABYTE BIOS
The BIOS is essential for users during initial setup to allow for the most optimal settings. With a new GUI and easier to use functionalities, GIGABYTE has been able to reinvent the BIOS to give users a better experience while setting up their new system.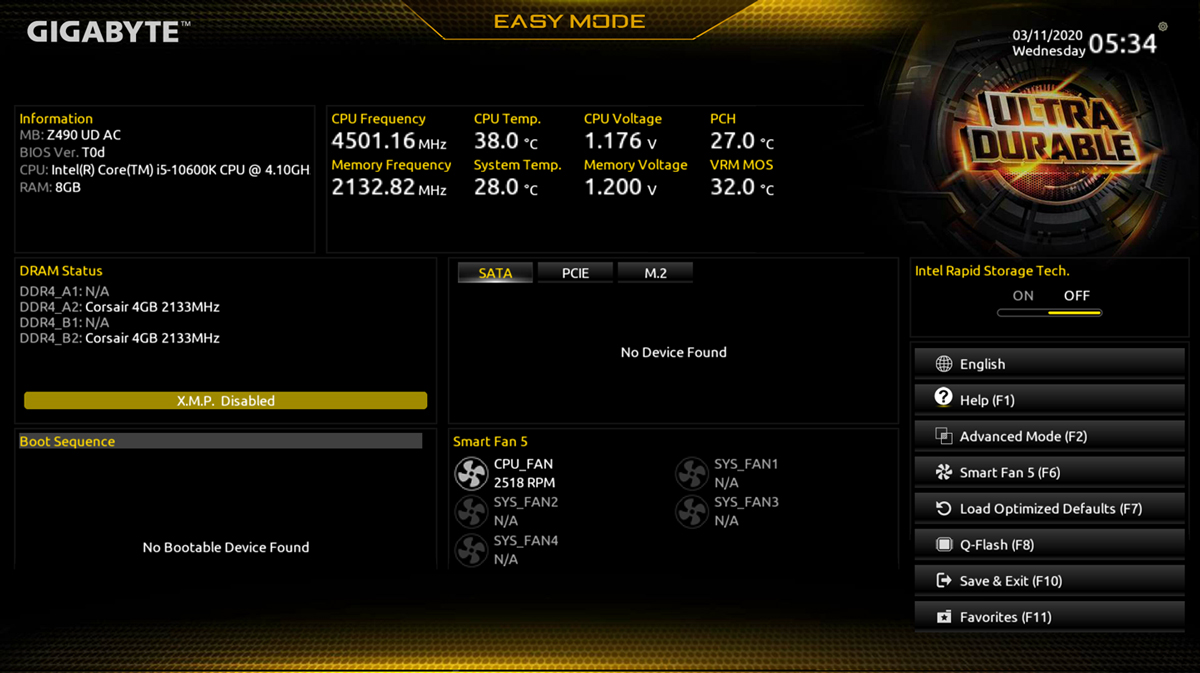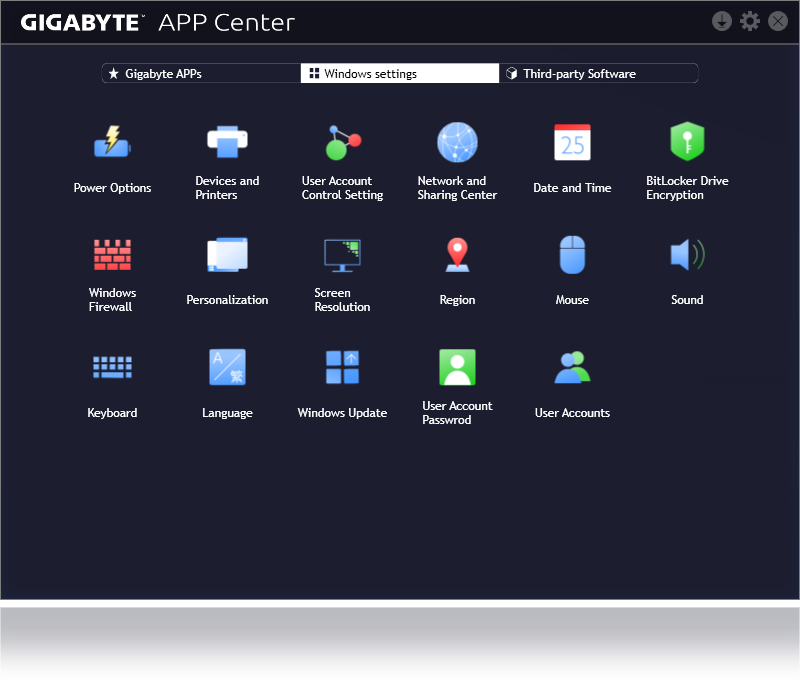 APP CENTER
GIGABYTE APP CENTER is an useful portal of all GIGABYTE MB utilities and drivers, you can choose any utility you want to install from APP CENTER and keep you updated with latest utilities and drivers version.
EASYTUNE
GIGABYTE's EasyTune™ is a simple and easy-to-use interface that allows users to fine-tune their system settings or adjust system and memory clocks and voltages in a Windows environment. With Smart Quick Boost, one click is all it takes to automatically overclock your system, giving an added performance boost when you need it the most.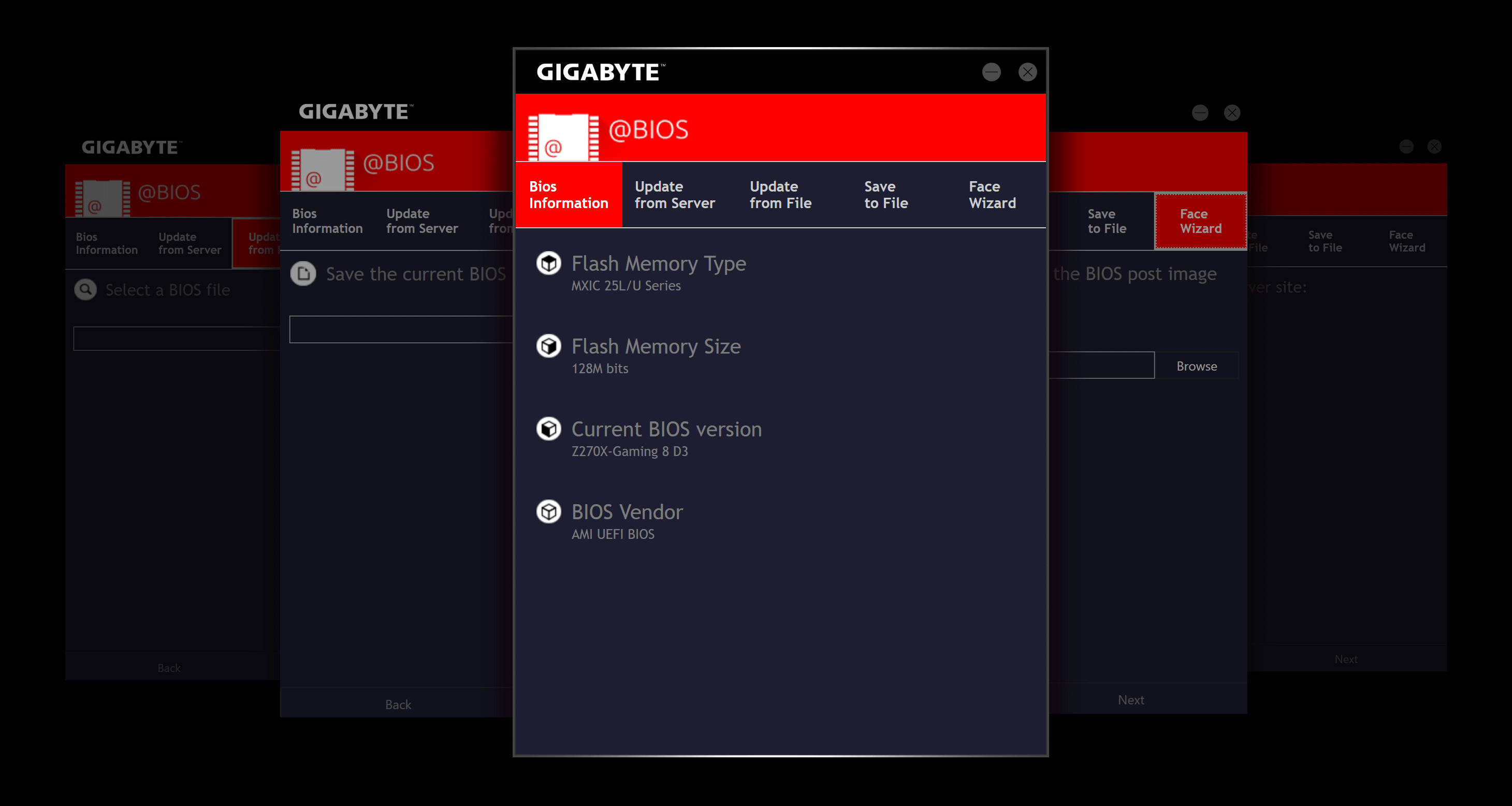 @BIOS
The GIGABYTE @BIOS app allows you to update your system's BIOS from within Windows using a simple and slick graphical user interface. @BIOS can automatically download the latest version from the GIGABYTE servers or you can update your BIOS from a file on your computer. @BIOS also allows you to save your current BIOS to a file, recover your previous BIOS from an image and backup your BIOS to an image.
SYSTEM INFORMATION VIEWER
GIGABYTE System Information Viewer is a central location that gives you access to your current system status. Monitor components such as the clocks and processor, set your preferred fan speed profile, create alerts when temperatures get too high or record your system's behavior; these are the possibilities of the System Information Viewer.