Gigabyte AORUS GeForce® GTX 1080 8G 10Gbps (rev. 2.0) overview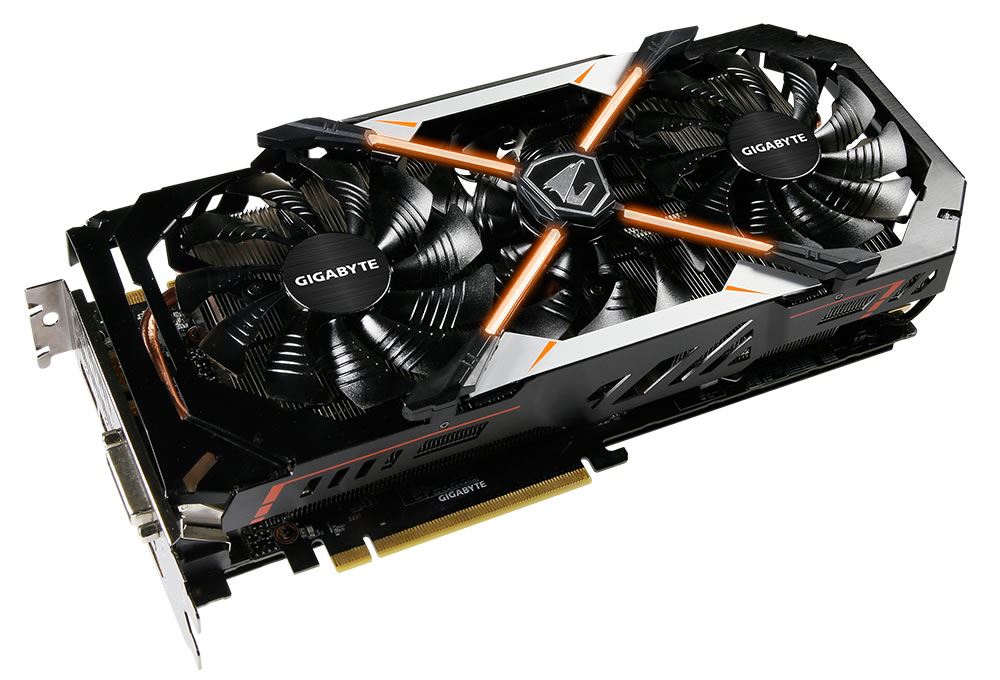 AORUS graphics cards are crafted for perfection in pursuit of the ultimate graphics experience for gaming enthusiasts. Based on the revolutionary NVIDIA® Pascal™ GPU architecture, AORUS graphics card brings you incredible gaming experience.
AORUS ALL-AROUND COOLING SOLUTION
AORUS provides the all-around cooling solution for all key components of the graphics card. We take care not only GPU but also VRAM and MOSFET, to ensure a stable overclock operation and longer life. On the front side, the large copper base plate dissipates the most heat from the GPU and VRAM. On the back side, the copper back plate dissipates the heat from the GPU back side. All other key components are taken care of very well by the WINDFORCE cooling module. AORUS ensures the customer a better cooling solution in many ways.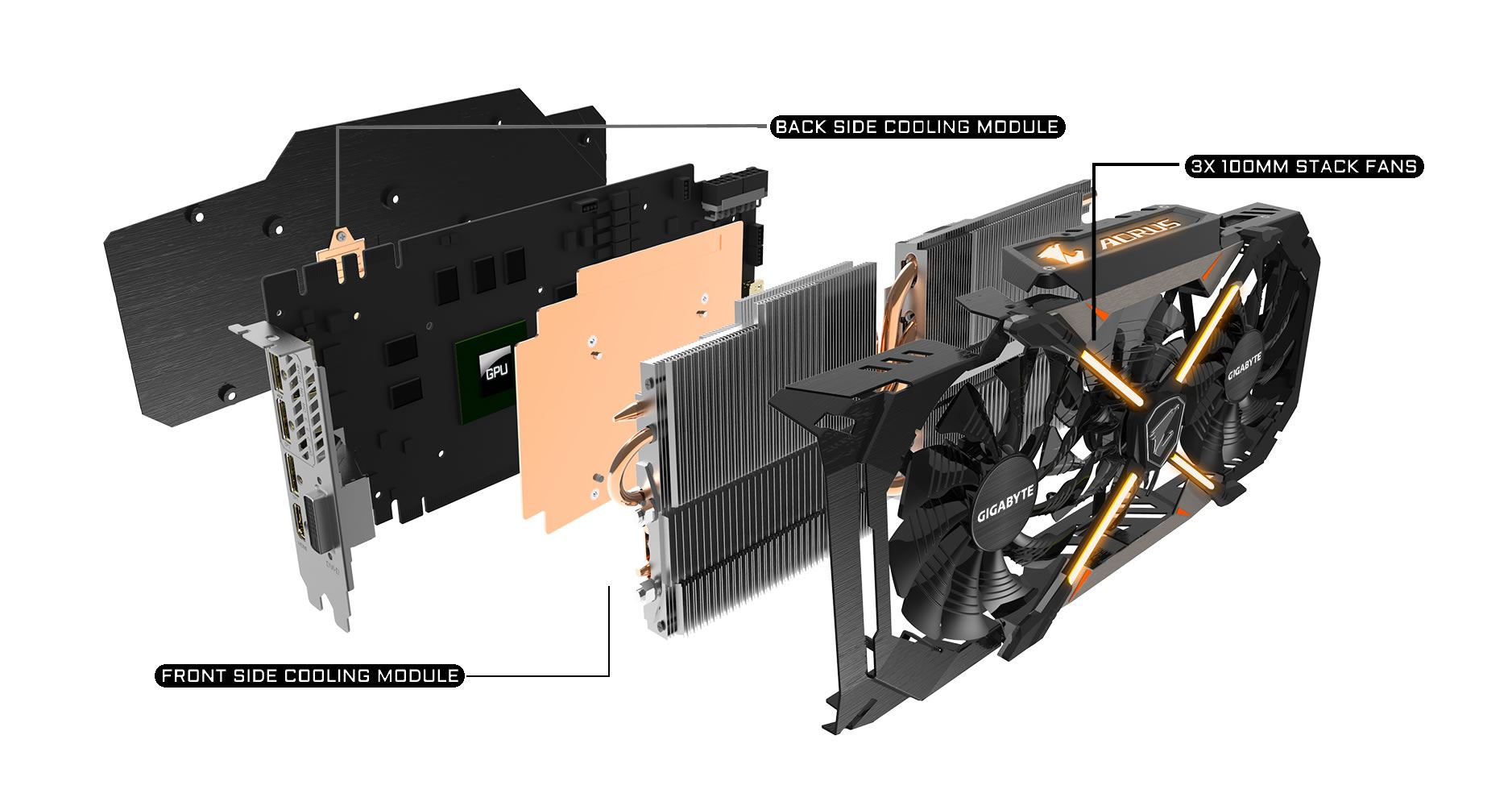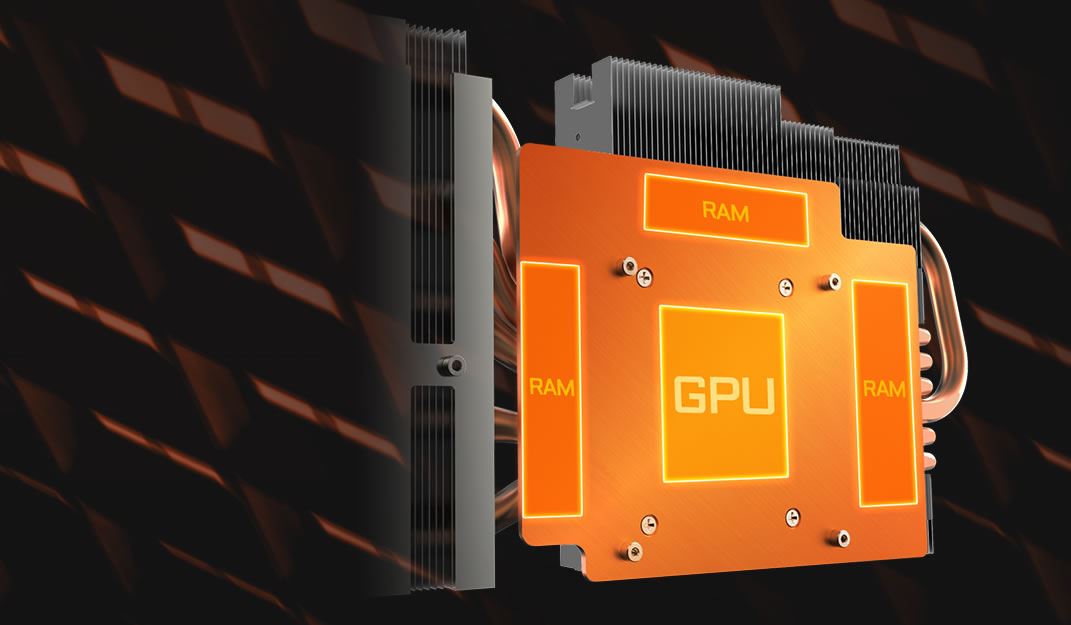 LARGE COPPER BASE PLATE
With direct contact to the GPU and VRAM, the large copper base plate combines the composite heat pipes to efficiently transfer heat generated from the interior cores to the heat sink.
AORUS COOLING
WINDFORCE STACK COOLING SYSTEM
WINDFORCE STACK
All new WINDFORCE Stack cooling with 3X 100mm fans in an innovative stacking structure for enhanced heat dissipation.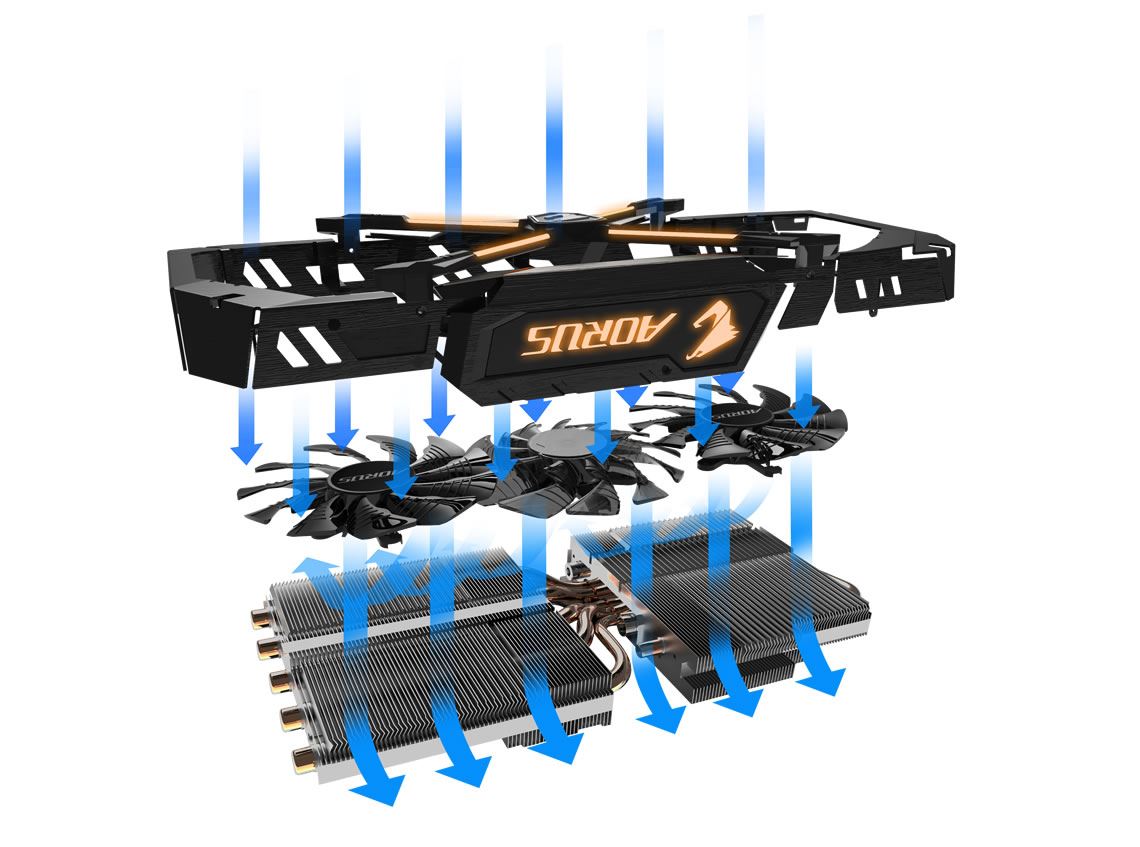 <300MM
Make 3x 100mm stack fans into less than 300mm length area. To concentrate and enlarge the airflow on the whole heatsink for the most efficient heat dissipation.
THE STRIPE MATTERS
With the better system airflow, the direction of the copper plate will help to increase the cooling performance.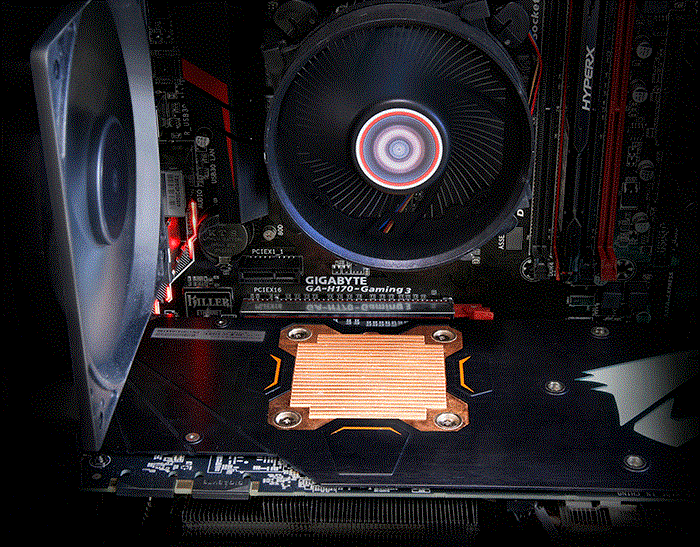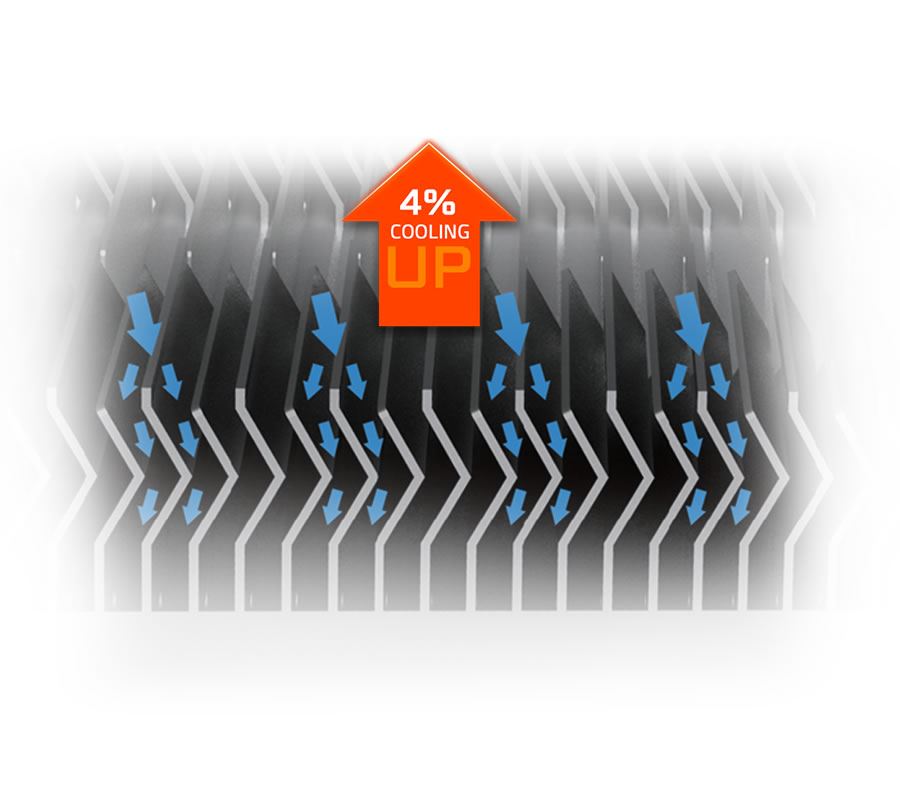 ANGULAR FIN DESIGN
The angular and unequal fins height does not only channel the airflow through the fins and enlarge the contact surface but also results in a lower noise level and better cooling capacity.
COMPOSITE HEAT-PIPES
The composite heat-pipes combines both thermal conductivity and phase transition for efficiently managing the transfer of heat between two solid interfaces which increases 29% of cooling capacity.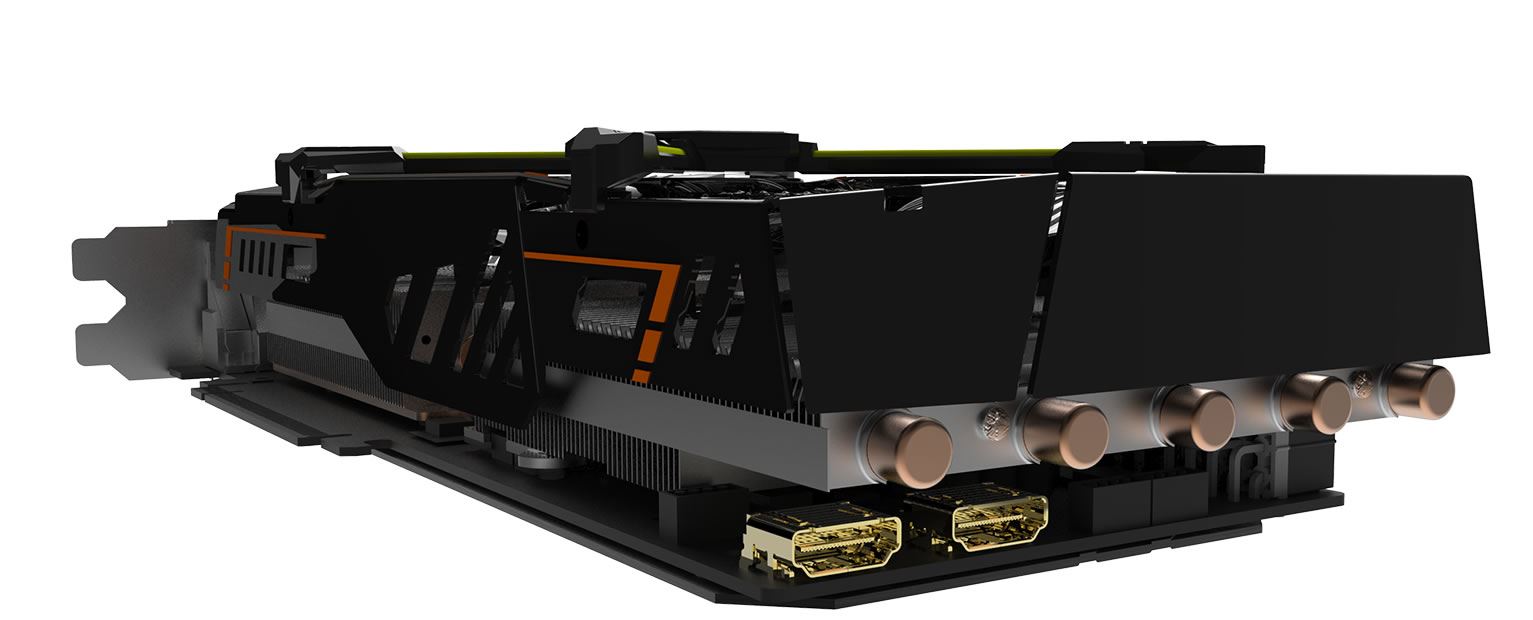 AORUS VR LINK
With 2 extra HDMI ports, AORUS VR Link innovatively provides the most flexible output connectivity. Connect up to 4 monitors and/or VR devices at the same time with a total of 3 native HDMI, 1 DisplayPort and 1 DVI-D that could be used interchangeably under VR Mode for all types of gaming configuration. Outputs are automatically detected upon restarting PC with no further setting required.
RGB FUSION
With 16.7M customizable color options and numerous lighting effects, you could now choose the right scheme for your gaming rig through AORUS graphics engine.