Gigabyte Z490 Aorus Extreme LGA 1200 Z490 Chipset EATX Motherboard overview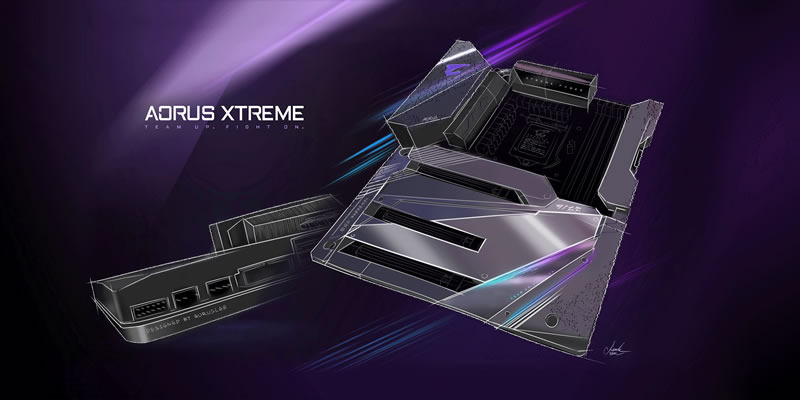 Arous Xtreme
Showcasing a state-of-the-art design, excellent functionality, an impressive thermal design, next generation network connectivity, a Hi-Fi level audio system, and AORUS aesthetics, the flagship Z490 AORUS XTREME motherboard dominates the competition.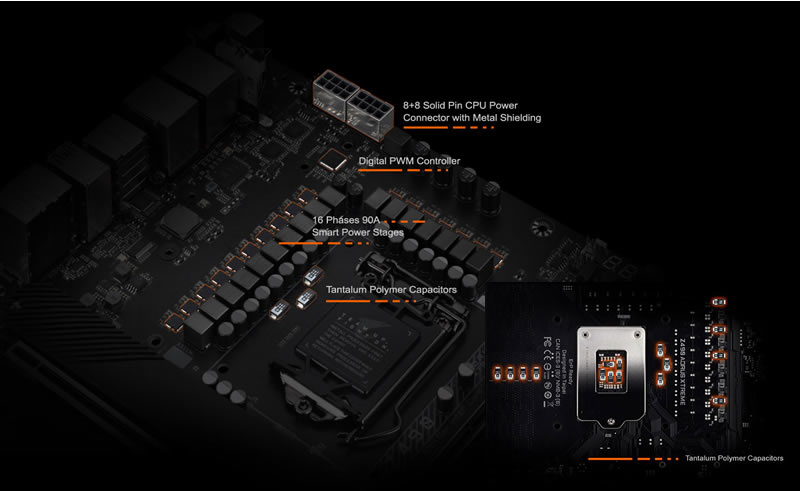 Extreme Power Design
To unleash the full potential of the new Intel 10-core CPU, the motherboard requires the best CPU power design. With the best quality components and GIGABYTE R&D design capability, Z490 AORUS XTREME is a true beast among motherboards.

- 90A Smart Power Stage for Each vCore Phase
- High Current Capacity MOSFET
- Tantalum Polymer Capacitors Array
- Lower Temperatures
- Improved Transient

Z490 AORUS XTREME motherboard uses an pure digital CPU power design which includes a digital PWM Controller with Smart Power Stages and is capable of providing 90A of power from each phase for a total of 1440A. This 100% digital controller, new Tantalum Polymer Capacitors array, and additional 8+8 Solid-pin CPU Power Connectors offer incredible precision and stability in delivering power to the motherboard's most power-hungry and energy-sensitive components, allowing enthusiasts to get the absolute maximum overclocking performance from the new 10-core 10th Gen. Intel® Core™ processors.

* Doubled from 8 phases with current balancing.

Due to the lower resistance of the polymer materials, tantalum polymer caps generally have better ESR and ripple current specifications, as well as better performance at high frequency.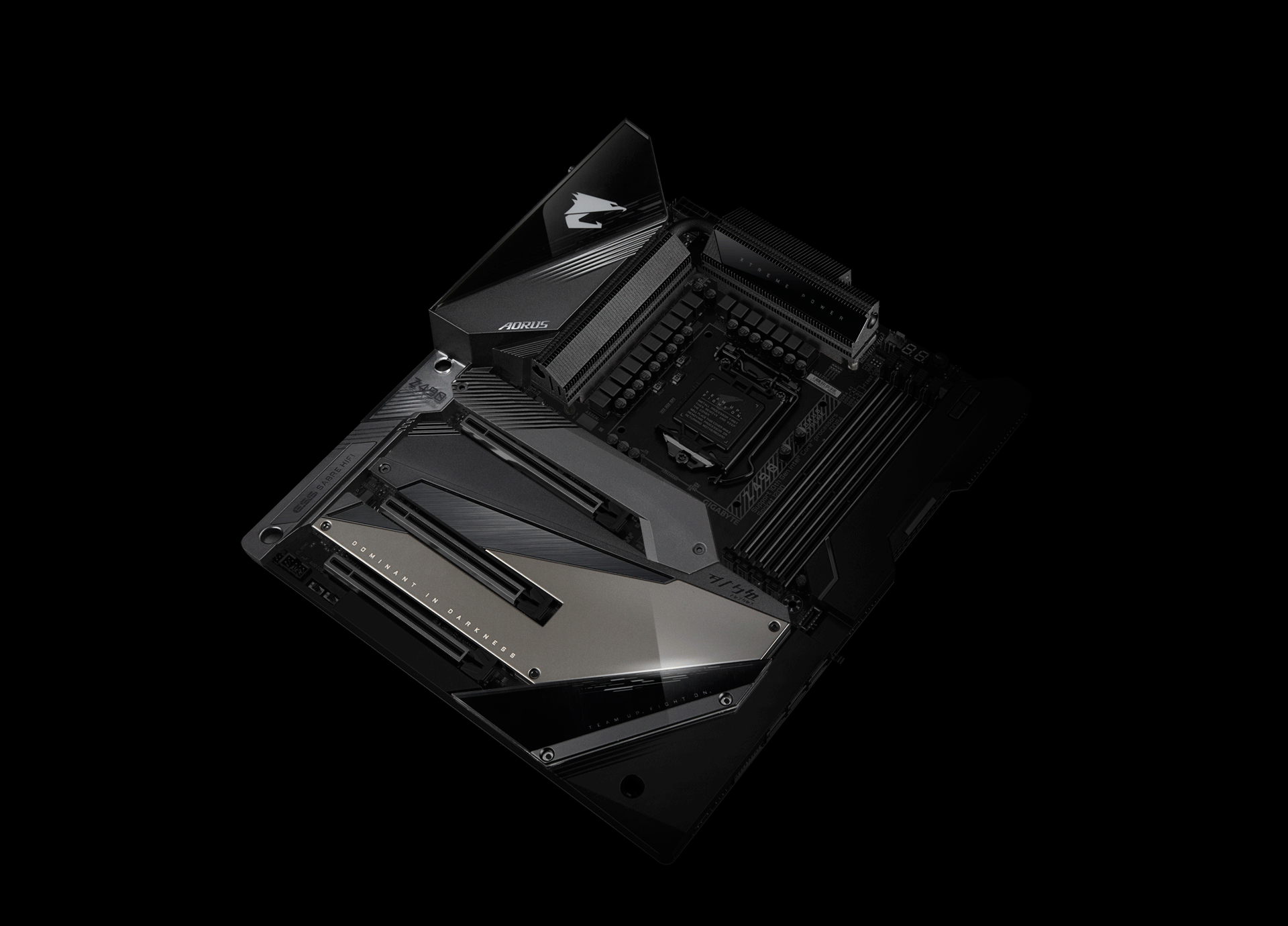 THERMAL REACTIVE ARMOR
Z490 AORUS XTREME uses an unprecedented and innovative thermal design to ensure the best CPU, Chipset, SSD stability and low temperatures under full load application and gaming.

- Thermal Design
Fins-Array II & Direct-Touch Heatpipe II
Right-Angled Connectors
NanoCarbon Baseplate/Coating
M.2 Thermal Guard II
8x Hybrid Fan Header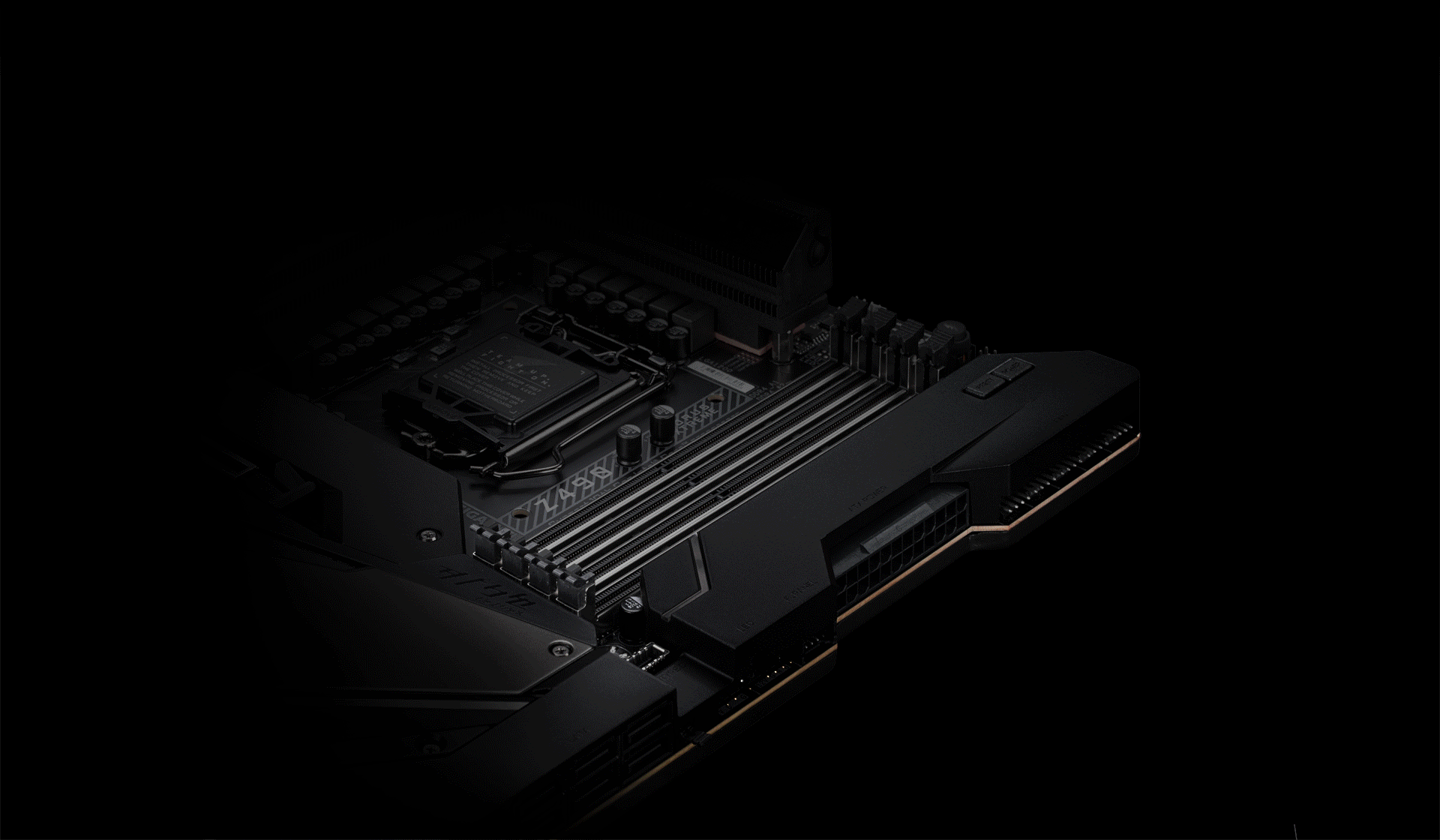 Unparalleled Performance
Hungry for better performance? Z490 AORUS XTREME has a full PCIe 4.0 hardware design, supports high frequency memory, and comes with full SSD thermal guards to make sure you get the maximum full system performance.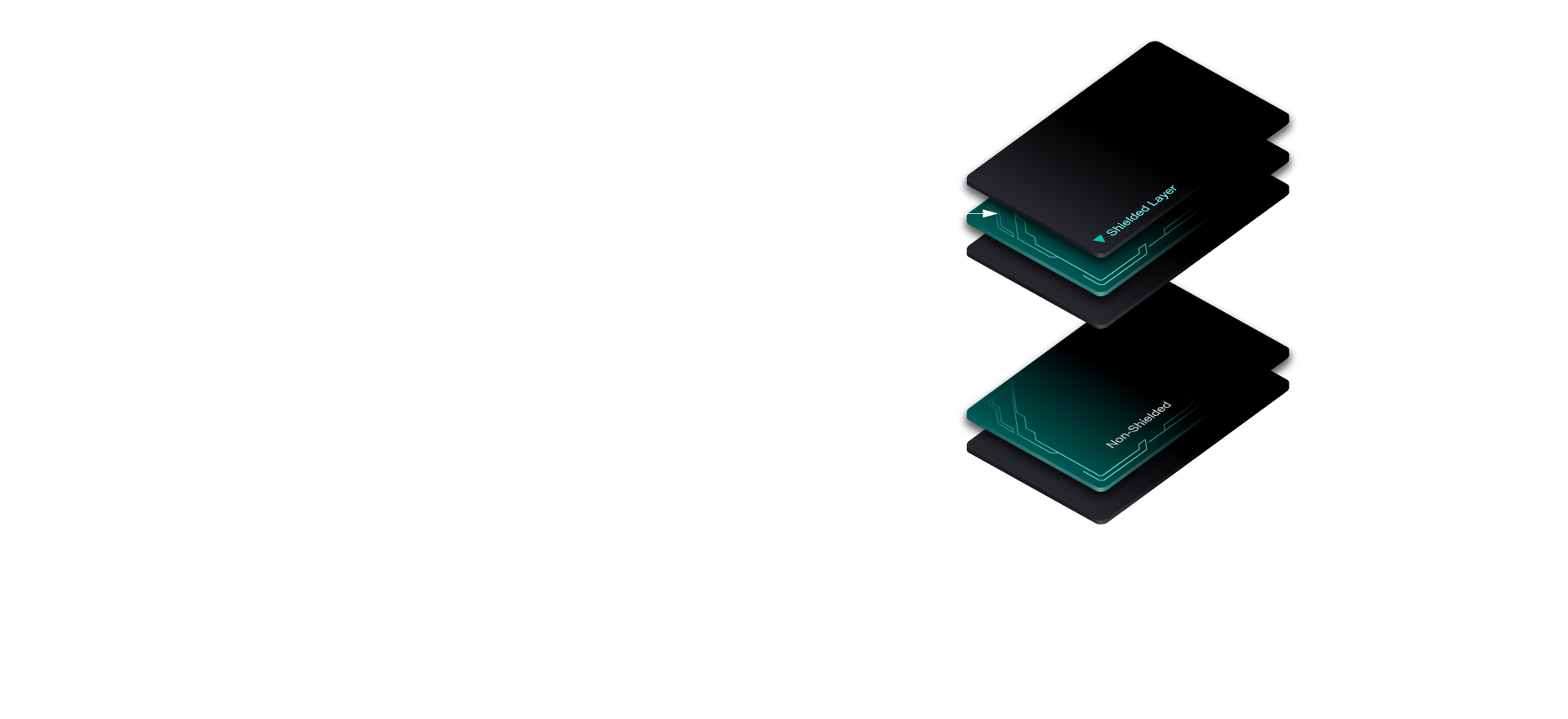 XTREME MEMORY
Z490 AORUS XTREME uses revolutionary "XTREME MEMORY" technology, which includes Shielded Memory Routing, SMT DIMM, and Tantalum Polymer Capacitors Array to minimize all noise and electrical interference and reach the highest memory clock.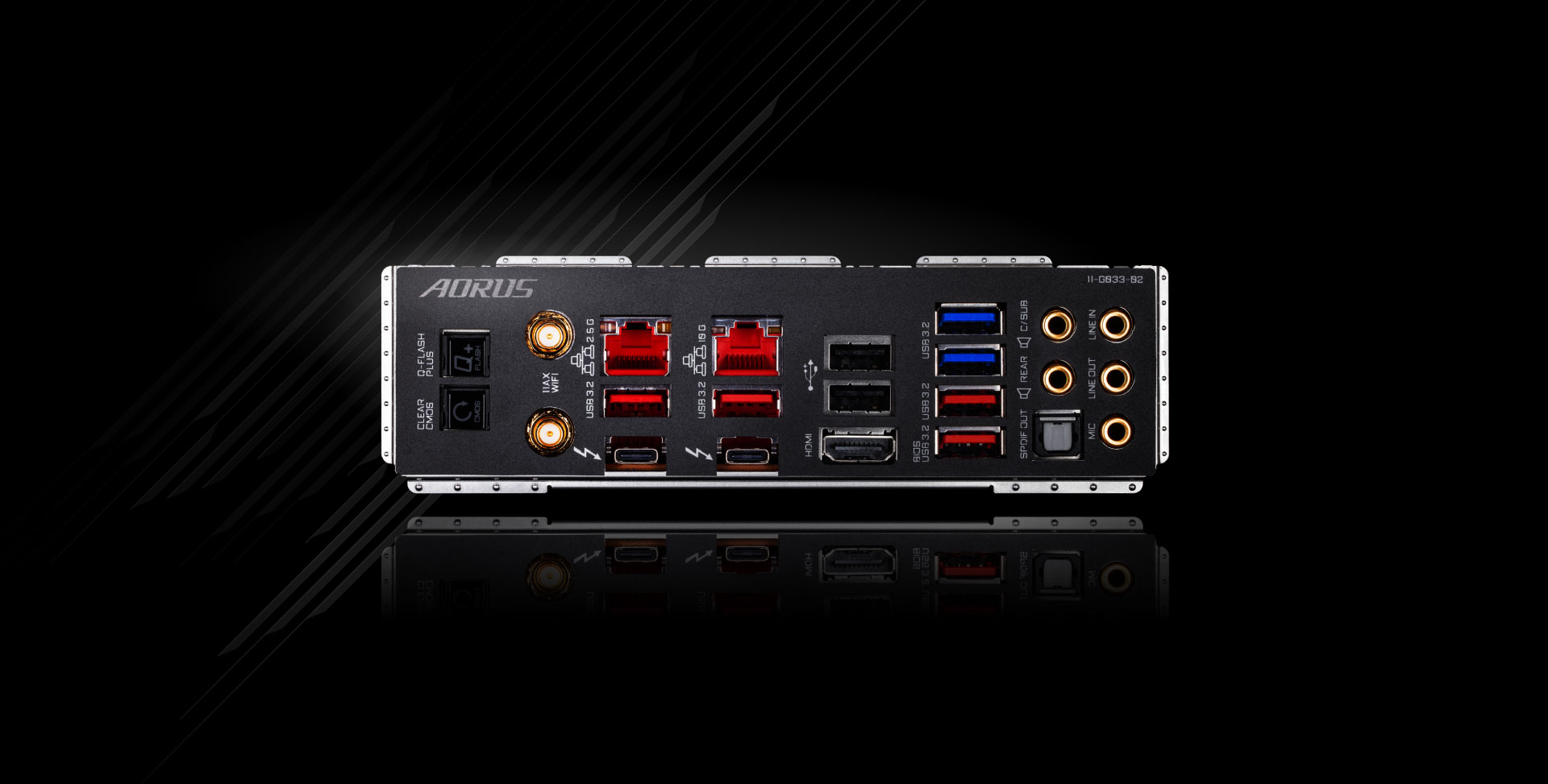 Next Generation Connectivity
A Flagship product needs to be future-proofed so your system stays up-to-date with the latest technology. Z490 AORUS XTREME provides all next generation network, storage, and WIFI connectivity to keep you up to speed.

- 10 GbE LAN
- Intel® Thunderbolt™ 3
- WIFI 6 802.11AX
- AORUS Antena
- USB Turbo Charger

Next Generation Multi-Gig Gaming
he AQUANTIA ® AQC107 is a high-performance, backward compatible with 10GBASE-T/ 5GBASE-T/ 2.5GBASE-T/ 1000BASE-T/ 100BASE-TX Ethernet Controller which is able to provide up to 10 GbE network connectivity, with 10 times faster transfer speeds compared to general 1GbE networking and is perfectly designed for media centers, workstations and gamers.

Multi-Gigabit Support
- Ultimate online gaming experience with faster connection speed
- Backward compatible with 5/2.5/1Gbps network
- No re-wiring needed

Hi-Fi Audio
Still think motherboard audio is just "basic sound output"? We put a 100% full Hi-Fi sound card and all audio-grade components into the Z490 AORUS XTREME to ensure the best, crystal clear sound quality. Furthermore, an exclusive bundled ESSential USB DAC means users not longer have to endure bad audio quality from ancient Front Audio interfaces.
Essential USB DAC
ESS Sabre HiFi
DTX X Ultra
ESSential USB DAC
Complete Digital to Analog Signal processing on front-access USB Type-C ports gets rid of any possibility of distortions and provides superb sound stage recreation so users can experience the vocal cohesion. Enjoy the depth of the music and the immersive sound profile.

- USB Type-C for PC, Laptop and Android Devices
- Replace Ancient Front Audio Interfaces
- Powered by ESS SABRE HIFI DAC
- Premium Power Processing
- Left/Right Separation Routing
- Superior Sound Stage by WIMA Capacitors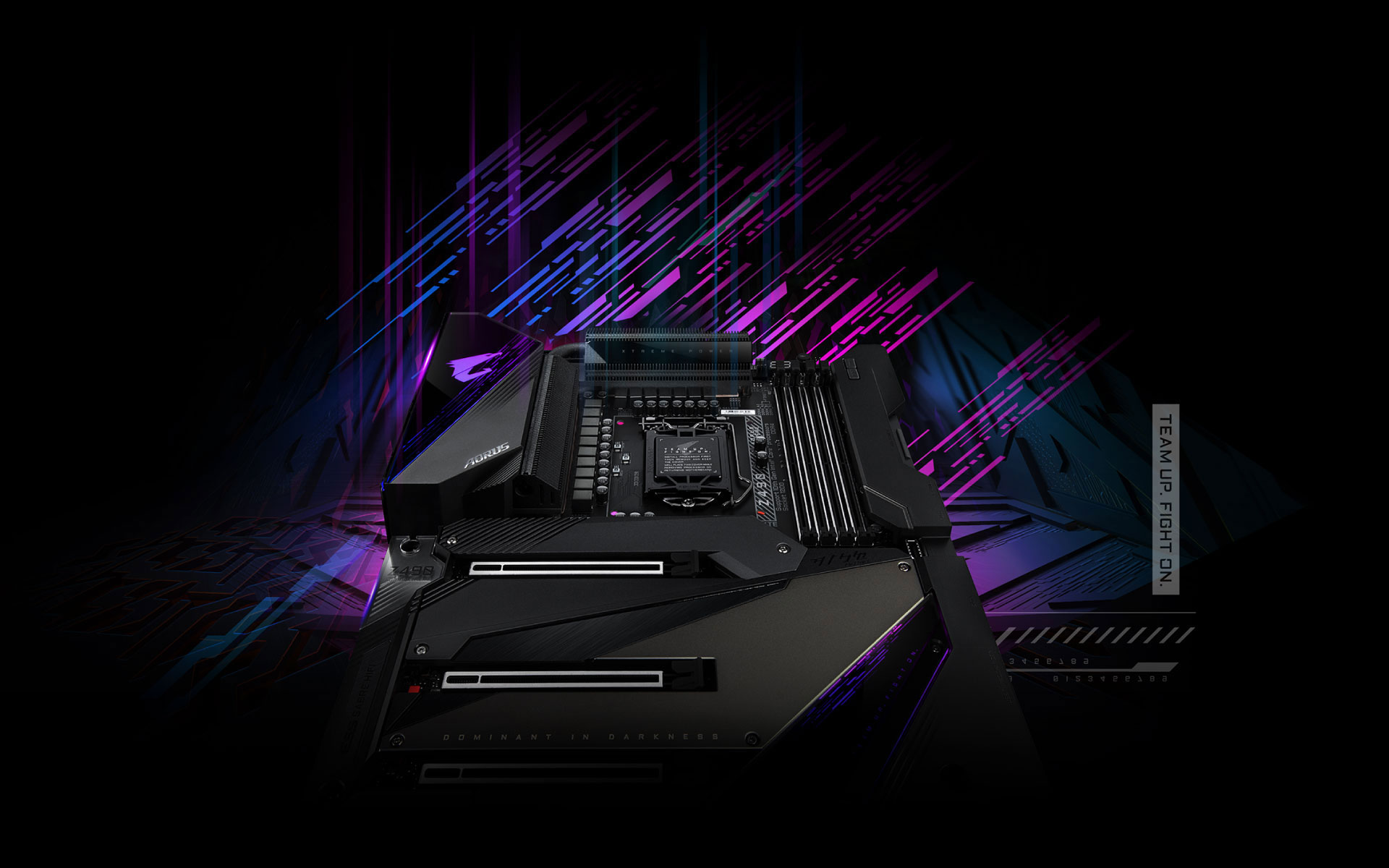 Definitive Aesthetics
GIGABYTE ID team designs Z490 AORUS XTREME from the drawing board. After countless hours of conceptualizing ideas, fine tuning details, and engaging in discussion, GIGABYTE has produced a board that is equal parts beast and beauty.

- RGB Fusion 2.0
- RGB Fusion Software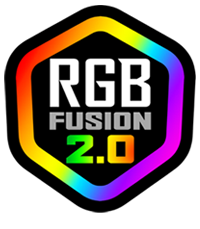 Multi-Zone Light Show Design
Now offering more LED customizations than ever, users can truly adapt their PC to represent their lifestyle. With full RGB support and a redesigned RGB Fusion 2.0 application, the user has complete control over the LEDs which surround the motherboard.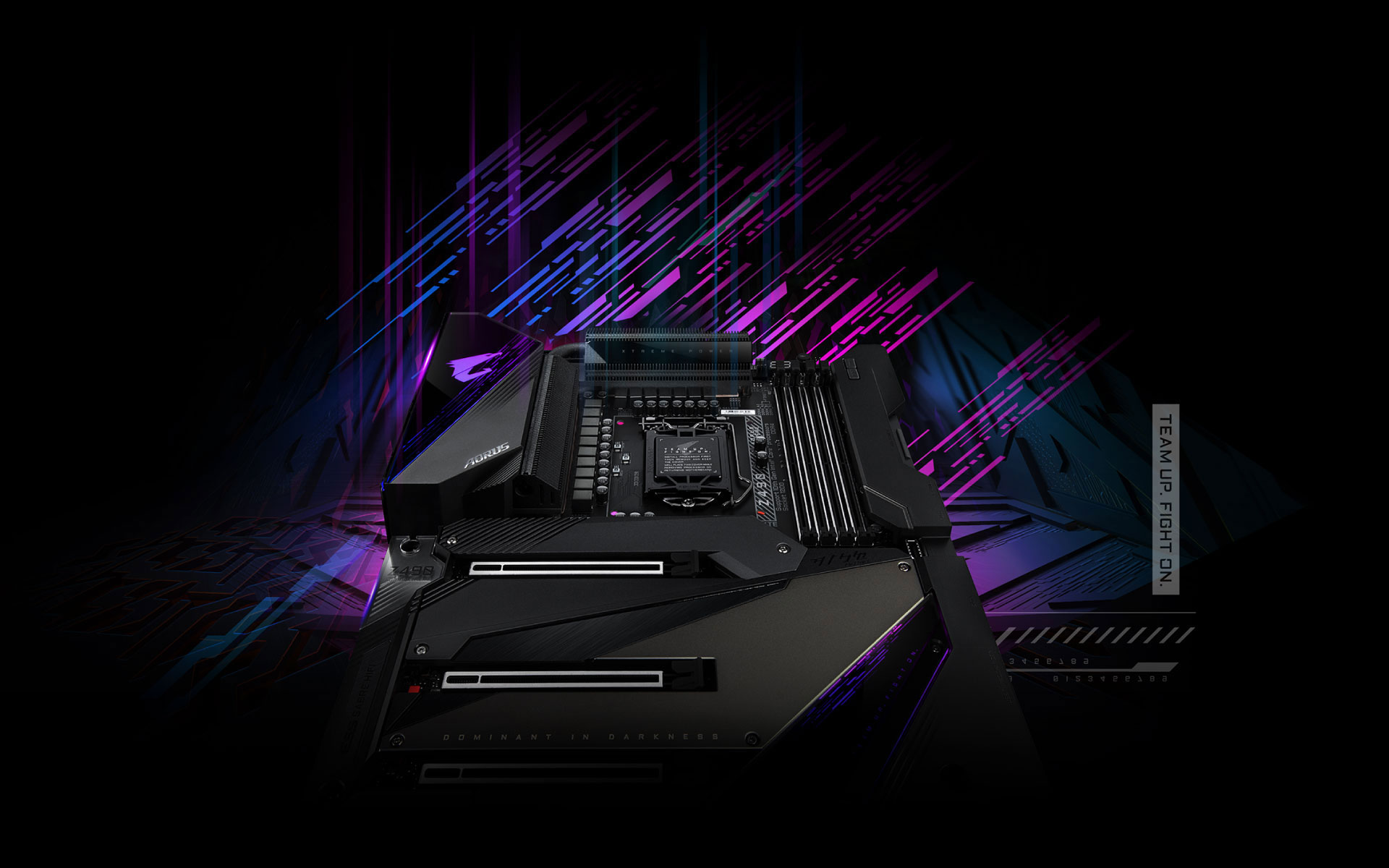 Ultra Durable
GIGABYTE is reputable for its product durability and high quality manufacturing process. Needless to say, we use the best components we can find for the Z490 AORUS XTREME and reinforce every slot to make each of them solid and durable.
- 3X PCIe Armor
- 4X Memory Armor
- Solid Pin
- Q-Flash Plus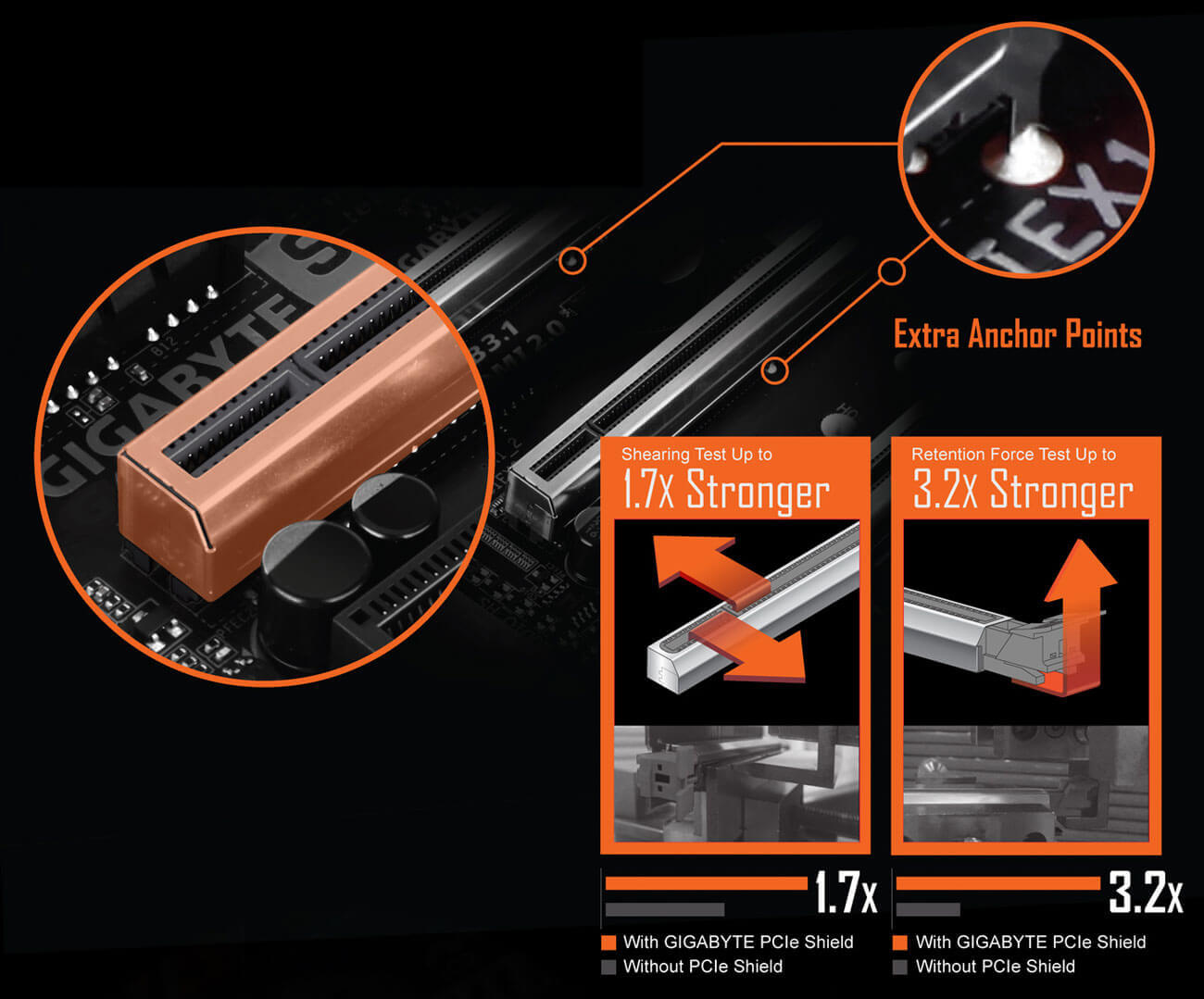 Industry Leading Ultra Durable™ PCIe Armor
The innovative one piece stainless steel shielding design from GIGABYTE reinforces the PCIe connectors to provide the extra strength required to support heavy graphics cards.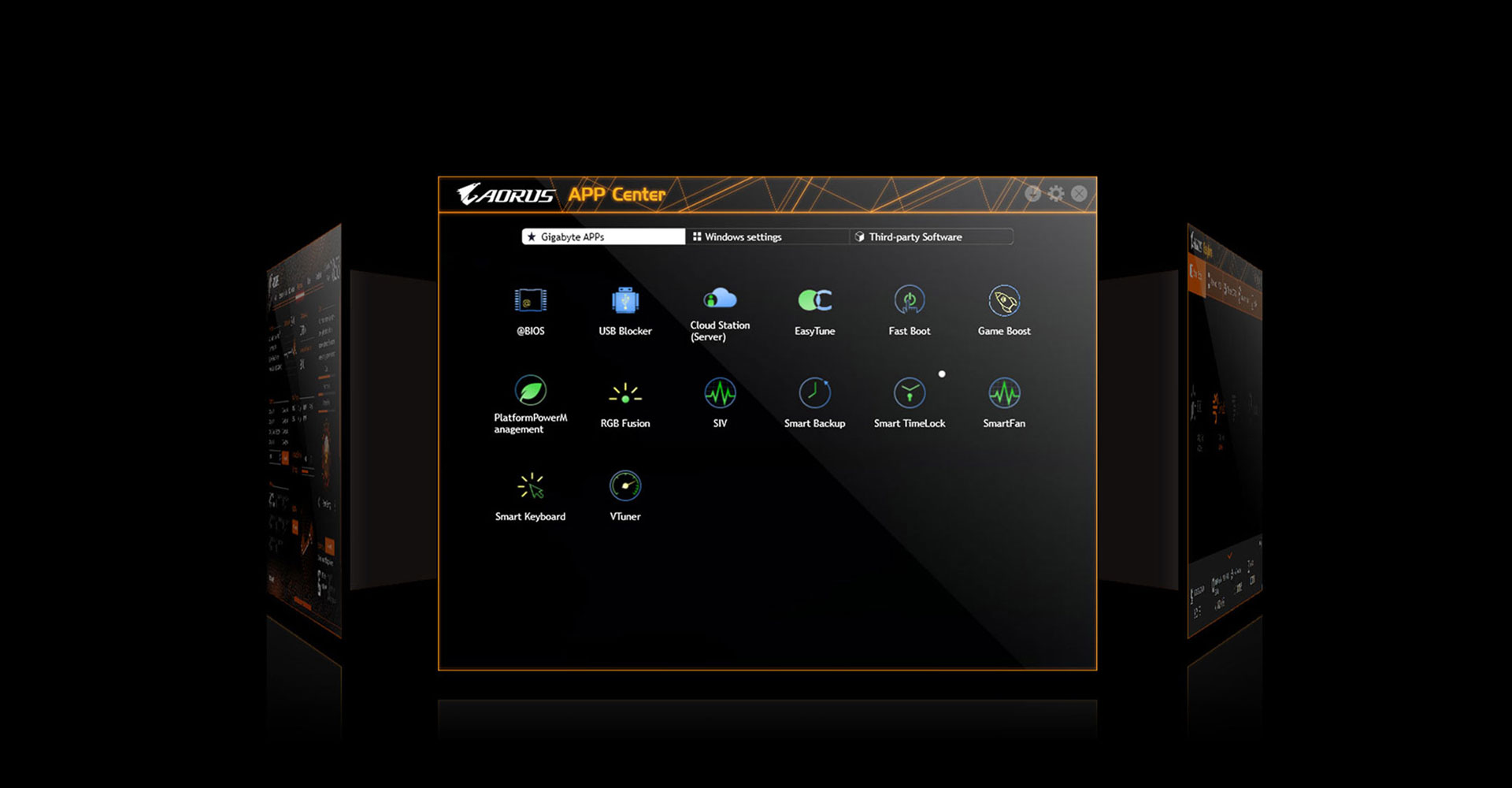 GIGABYTE BIOS & APP CENTER
Good software goes hand in hand with perfect hardware. Z490 AORUS XTREME bundled several useful and intuitive software to help users to control every aspect of motherboard.
- BIOS
- APP Center
- Easy Tune
- System Information Viewer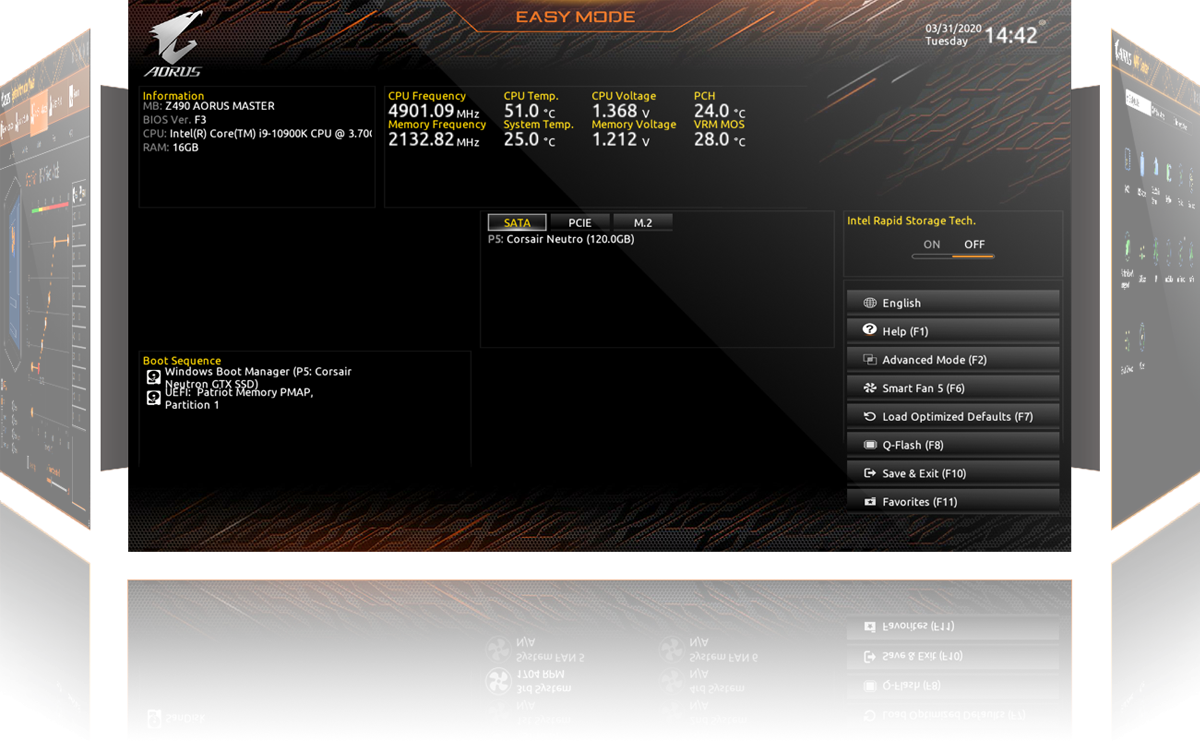 BIOS
New User Interface
All new EASY MODE shows important hardware information in one page including CPU clock, Memory, Storage, Fan.

My Favourites
Add constantly used items into the favorite menu for quick access.

Storage Information
Show all kinds of storage information including SATA, PCIE and M.2 interface.

Changelog
List all changes before saving and exiting bios. Quickly review overall settings modification.

Intuitive Load Line Curve
Clearly show each loadline calibration setting in an intuitive curve graph.