Noctua NH-U12S TR4-SP3 Ryzen Threadripper Epyc CPU Cooler overview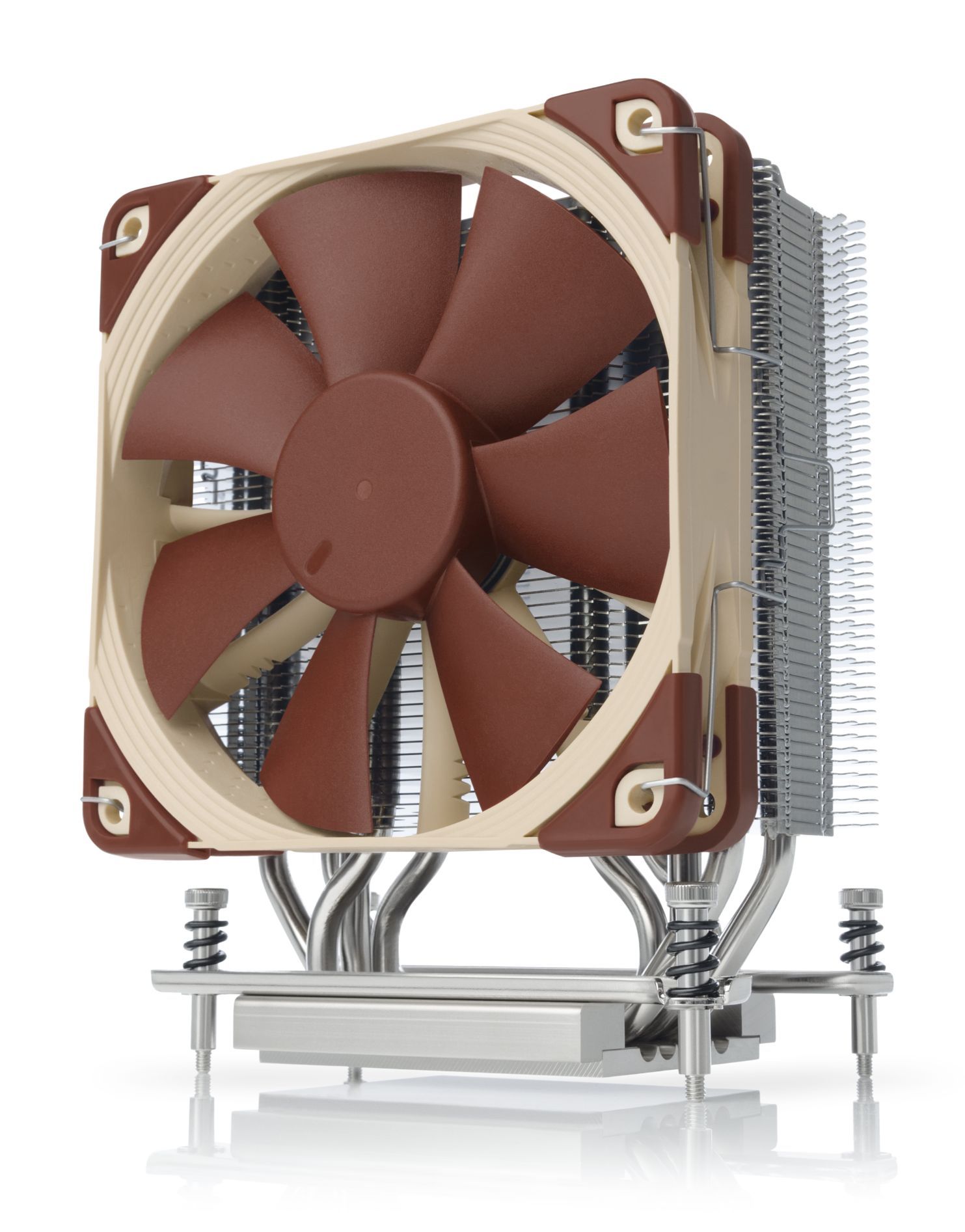 Continuing the legacy of Noctua's classic NH-U-series, which has received more than a thousand awards and recommendations from international hardware websites and magazines, the NH-U12S has become a benchmark for slim, highly compatible 120mm single tower coolers. The TR4-SP3 version is a tailored custom model for AMD's sTRX4/sWRX8/TR4/SP3 platform (Ryzen Threadripper / Epyc) and features a larger contact surface as well as the latest SecuFirm2™ mounting system for socket sTRX4/sWRX8/TR4/SP3. Topped off with the renowned quiet NF-F12 PWM 120mm fan, Noctua's proven NT-H1 thermal compound and a full 6-year manufacturer's warranty, the NH-U12S TR4-SP3 forms a complete premium-quality solution that combines outstanding performance, superb acoustics and excellent compatibility for high-end sTRX4/sWRX8/TR4/SP3 systems.
Award-winning NH-U12 cooler
Tens of thousands of enthusiast users all over the world swear by the NH-U12S's quality and performance. Recommended by more than 200 international hardware websites and magazines, it is renowned as being one of the best 120mm coolers on the market.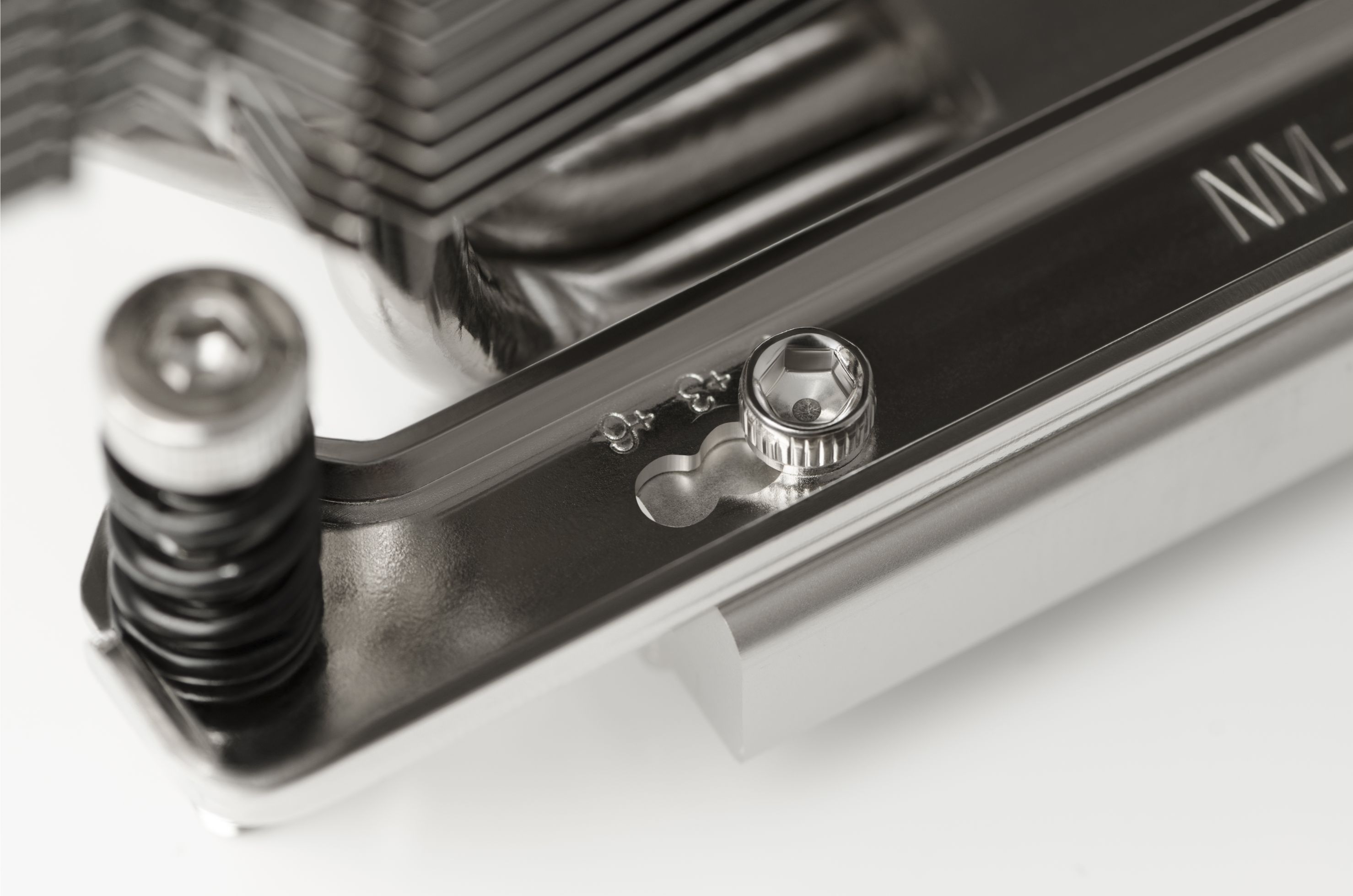 Tailored custom version for sTRX4/TR4/SP3 (Ryzen Threadripper / Epyc)
At 70x56mm, the copper contact surface of the TR4-SP3 version is more than double the size of the standard model. Tailored to fit the enormous integrated heat-spreaders (IHS) of AMD's sTRX4/TR4/SP3-based processors, this customised design allows for an optimal heat flow from the CPU over the base to the heatpipes and on to the cooling fins.
120mm size for excellent performance and compatibility
With five heatpipes and the powerful NF-F12 120mm fan, the NH-U12S achieves outstanding cooling performance while maintaining excellent compatibility: At 158mm height and 125mm width, it is short enough to fit most modern tower cases and stays clear of the top PCIe slot on most motherboards.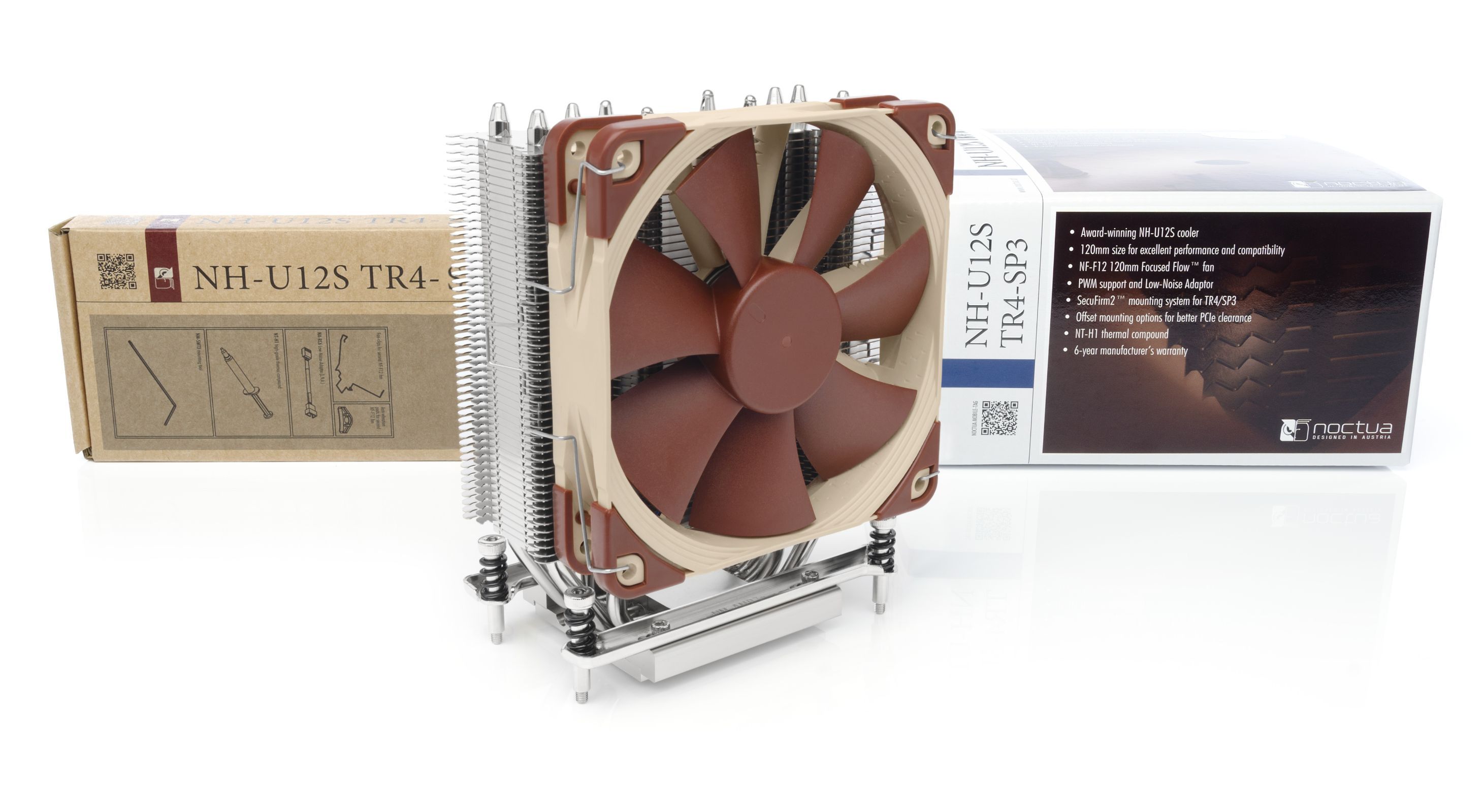 NF-F12 120mm Focused Flow™ fan
Recommended by more than 150 hardware publications and thousands of enthusiasts world-wide, the Noctua's premium quality NF-F12 Focused Flow™ 120mm fan is renowned to combine superb static pressure, excellent heatsink performance and surprising quietness of operation.
PWM support and Low-Noise Adaptor
The NF-F12 120mm fan supplied with the NH-U12S supports PWM for convenient automatic speed control through the mainboard. In addition, the maximum fan speed can be reduced from 1500 to 1200rpm using the supplied Low-Noise Adaptor for even quieter operation.
Anti-vibration pads and fan-clips for second NF-F12 (optional)
For users who want to achieve even better performance by adding a second, optional NF-F12 fan to create a push/pull setup, the NH-U12S includes fan clips and an extra set of custom-designed anti-vibration pads that allow to off-set the rear fan by 5mm to improve acoustics in dual-fan mode.
SecuFirm2™ mounting system
Noctua's SecuFirm2™ mounting systems have become synonymous with quality, safety and ease of use. Supporting Intel LGA115x (LGA1150, LGA1151, LGA1155, LGA1156), LGA2011, LGA2066 and AMD (AM3+, AM2+, FM1, FM2, FM2+), the SecuFirm2™ mounting included with the NH-U12S guarantees perfect contact pressure and maximum convenience on all current sockets.
Compatibility with past and future sockets
Complying with the open SecuFirm™ standard, the NH-U12S can be made compatible with the older LGA1366 and LGA775 sockets using the optional NM-I3 mounting kit, which is provided by Noctua free of charge. If technically possible, Noctua will also provide upgrade kits for future sockets.
NT-H1 thermal compound
Having received more than 100 awards and recommendations from hardware journalists around the world, Noctua's NT-H1 is a proven professional grade TIM solution that provides minimum thermal resistance, excellent ease of use and outstanding reliability.
6-year manufacturer's warranty
Noctua products are renowned for their impeccable quality and outstanding longevity. Like all Noctua fans, the supplied NF-F12 features an MTTF rating of more than 150.000 hours and the entire NH-U12S package comes with a full 6-year manufacturer's warranty.