Madcatz V7 Gaming Keyboard overview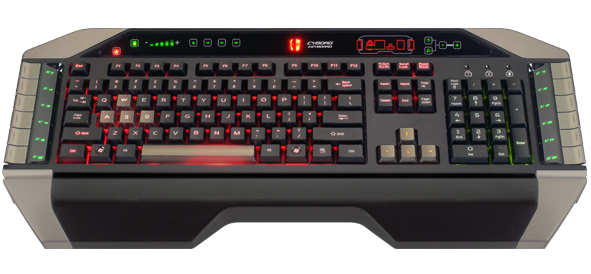 Built for 21st century gaming, the V.7 embodies the true essence of the Cyborg range.
Tru-Vu™ illuminations allow you to set the mood and illuminate your world, mixing shades from Red through Amber to Green.
Multi-color Backlighting
Witness the true power of Cyborg and take your gaming to the next level with the Cyborg Keyboard range. When performance is key, customization is vital, and losing is not an option, only Cyborg brings the power you crave.
Touch-sensitive, backlit dashboard Control Panel
Configure your lighting, media and volume controls with the brush of a finger.
Cyborg Mode
Instantly disable the Windows® keys and change the color and brightness of your gaming keys at the touch of a button.
Set and forget
Persistent key illumination settings ensure your color combinations remain intact, even after a system reboot.
12 programmable 'Cyborg' keys
Store your favorite macros for buying equipment, activating abilities or just for initiating your favorite trash talk.
Powerful ST Programming Software
Create profiles for each game that you play in order to save different button configurations.
WASD, cursor, 'Cyborg' and NumPad keys can be lit independently from the rest of the keyboard to highlight commonly used gaming keys. Set each area to your preferred color or brightness to make the keyboard battle ready.
Hard wearing, metal-plated key caps in key gaming areas are designed to withstand the punishment that pro gamers demand.
Pass-through USB, audio and microphone sockets means no more crawling behind your PC to change your USB device or audio configuration.
Enhanced multiple key presses in gaming areas for complex in-game commands.
Adjustable wrist rest and keyboard rake angle (front and back).
Gold-plated connectors for USB and audio.