Seagate BarraCuda 1TB 2.5" Laptop Hard Drive (HDD) 7mm overview
| | | | |
| --- | --- | --- | --- |
| | | | |
| Amazing Versatility | Incredible Speed | Trusted Dependability | Multi-Tier Caching |



Amazing Versatility

Get the most out of your storage with BarraCuda hard drives. From computers full of photos and memories to gaming PCs that need more room to play, BarraCuda grows with you.



2.5-Inch BarraCuda Hard Drives Deliver!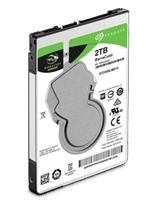 Laptop and Mobile Storage
Experience the highest capacity, and the thinnest 2.5-inch hard drive you've ever seen. Choose from 500 GB to 2 TB of massive storage for all of your application and data needs along with a slim 7 mm form factor drive that makes system upgrades very easy.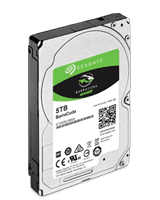 External and All-in-One PC Storage
You also have the option of a 2.5-inch, 15 mm form factor drive — in 3 TB, 4 TB and 5 TB capacities — which provides amazing storage for your important and critical work files, as well as those you personally treasure the most. This drive is an excellent solution for taking your external hard drive to the next level or bumping up the storage on your all-in-one or slim PC.



3.5-Inch BarraCuda Hard Drives Deliver!

Rock-solid reliability built on over 20 years of BarraCuda innovation. Versatile mix of capacity and price point options to fit any budget. Multi-Tier Caching Technology™ for excellent hard drive performance.



Trusted Dependability

The BarraCuda family of reliable hard drives is here to stay, for years to come.
•Experience — For more than 20 years, Seagate has manufactured and delivered the super-reliable BarraCuda family of drives •BarraCuda — Seagate's drive-reliability data simply speaks for itself, and the BarraCuda family is often recognised by leading publications and customers •Worry less with a hard drive that has your back — BarraCuda Pro comes equipped with a 5-year limited warranty



Multi-Tier Caching Technology

All hard drives in the BarraCuda family come equipped with Multi-Tier Caching Technology (MTC). MTC takes your PC to new performance levels, so you can load applications and files faster than ever before. By applying intelligent layers of NAND Flash, DRAM and media cache technologies, BarraCuda delivers improved read and write performance by optimising data flow.