Thermaltake Pure Plus 12 LED RGB Radiator Fan TT Premium Edition (3-Fan Pack) overview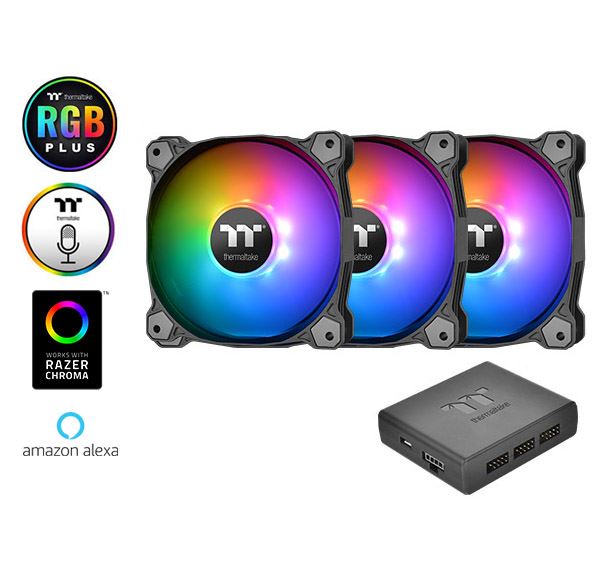 Specially designed for mainstream market, Thermaltake Pure Plus 12 RGB features compression blades, hydraulic bearing, and a 16.8 million colors LED ring with 9 addressable LEDs. Supporting Thermaltake's patented TT RGB PLUS Software and AI interactive voice control, the Pure Plus 12 RGB lights up your system without sacrificing performance!
TT RGB PLUS
TT RGB PLUS Ecosystem is the intelligent lighting system for PCs that combines the most advanced addressable LED lighting with Thermaltake's patented TT RGB PLUS Software. TT RGB PLUS ecosystem provides nearly unlimited possibilities for playing with colors, synchronizing lights to games, music, CPU temperatures or other TT RGB PLUS products, including case fans, CPU/VGA waterblocks, AIO CPU coolers, PSUs, LED strips and peripherals. The patented software allows users to change the light modes, colors, speeds, brightness, fan speeds, and even supports AI voice control in iOS and Android devices.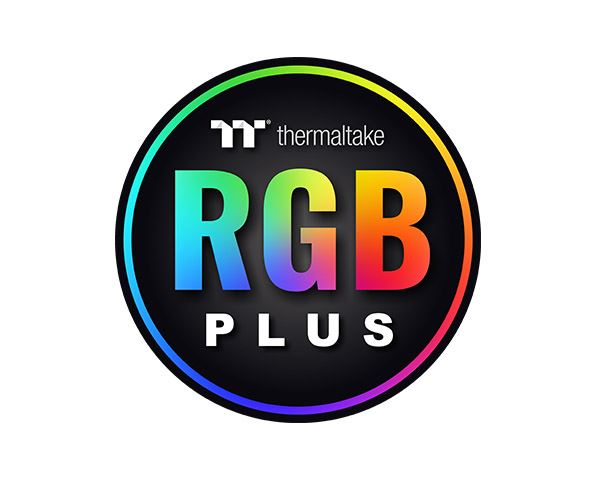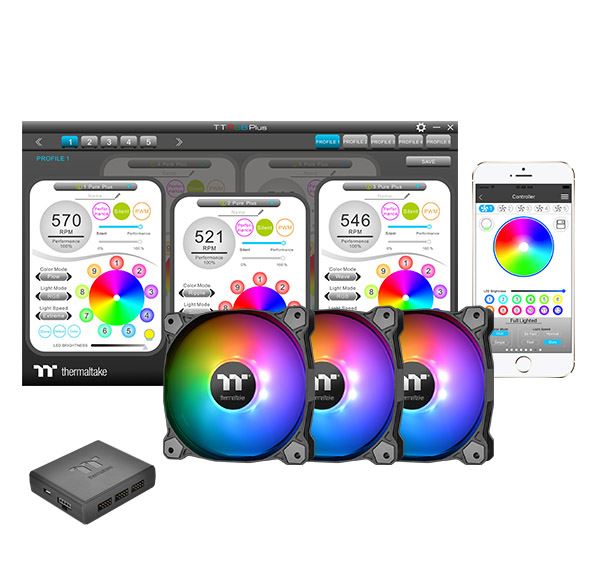 Patented TT RGB PLUS Software & App
Monitor the fan performance, adjust the fan speeds, and customize the lighting effects for Thermaltake RGB PLUS series products with the patented TT RGB PLUS Software and an exclusively designed mobile app. Choose a function from below and scroll down to read the details.
SyncALL, Say "Hello TT" Thermaltake AI Voice Control
Talking to TT RGB PLUS App is an easier, faster way to set lights for your systems. You can ask it to turn the lights on or off, switch lights modes, dim the lights, change light colors, or adjust lights speeds or fan speeds. Choose a video from below to see how it works.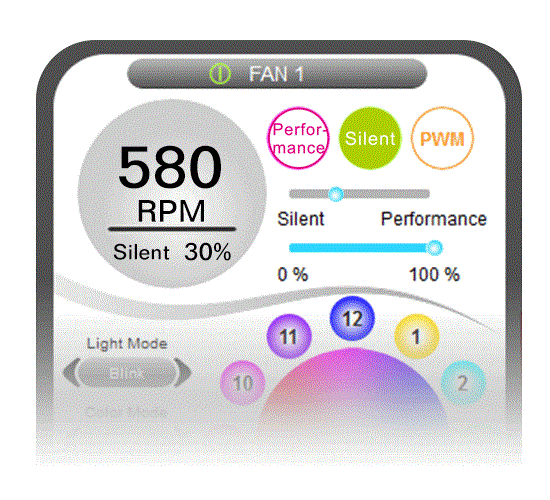 Fan Speeds
Simply drag the slider bar to adjust your fan speed RPM on a dedicated control panel. The software is also included a number of preset fan modes that allow you to set the fans to 'Silent Mode' where the RPM performs between a 500 – 1500 RPM range, or 'Performance Mode' which operates and dynamically adjusts all the way up to 1500 RPM. Besides running at the optimal RPM range, you can customize the speed by disabling PWM.
Fan Alert
The software offers real-time fan warning alerts when performance operating issues have emerged. The control panel of the failed fan will be grey out, so you can quickly identify which fan is causing issues.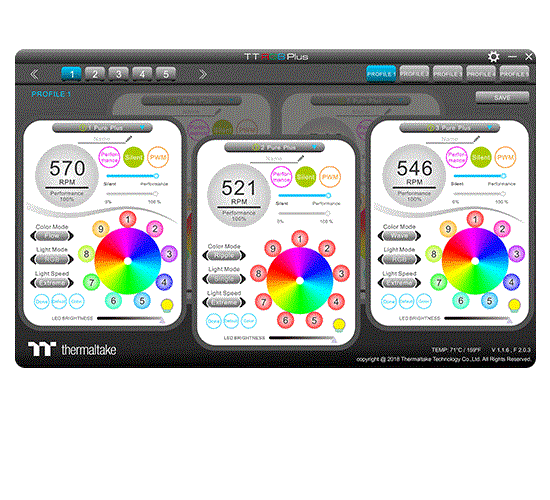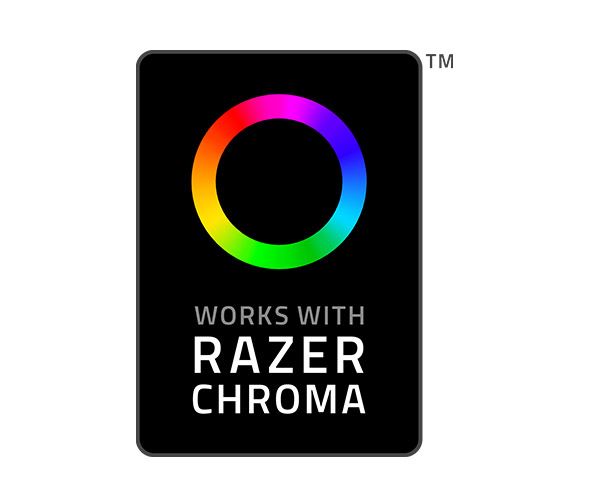 Sync with Razer Chroma Lighting
All Thermaltake TT RGB PLUS products are able to connect into the Razer Chroma ecosystem. Users who have installed both the TT RGB PLUS Software and Razer Synapse 3 can experience synchronized gaming and RGB lighting effects on their TT RGB PLUS liquid cooling system and gaming gear! From cooldown timers, health bars, and flashy ultimate indicators, to subtle ambient lighting that sets the perfect mood for each game, Razer Chroma provides an experience that transcends the screen and into your full setup, for a truly immersive experience.
Digital Lighting Controller
The controller is designed with a DIP switch on the back. Hence, you can set a number for each controller easily. You can add up to 5 devices to one lighting controller and up to 16 controllers to the software. The controller and the coding guide are included in all packs.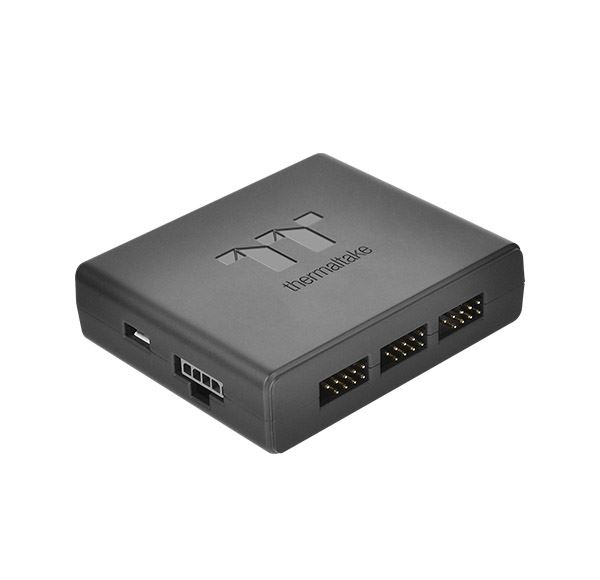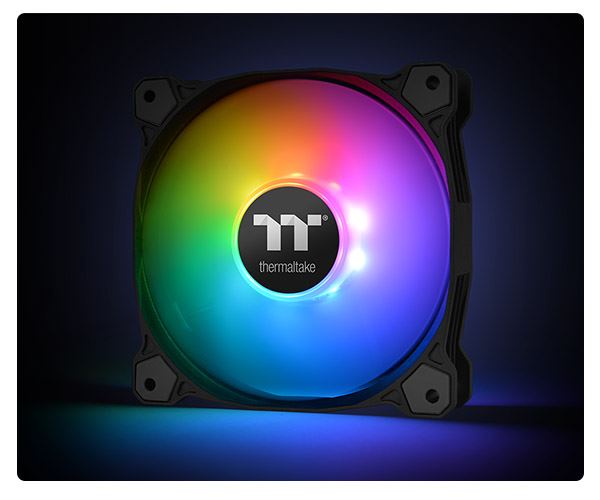 16.8 Million Colors LED Design
Featuring 9 addressable LEDs, great light coverage, and uniform color and brightness, the built-in LED ring can paint your build with 16.8 million colors.
Anti-Vibration Mounting System
In-mold injection anti-vibration rubber pads provide a hassle-free usage with 80% protection coverage for all corners.