GIGABYTE GeForce GTX TITAN WINDFORCE 3X OC 6GB GDDR5 overview
Buy this product and enter the prize draw for an nSpire laptop. Click for more details.
Product Overview
Introducing GeForce GTX TITAN. Bring the powerful NVIDIA Kepler architecture technology that drives the Oak Ridge National Laboratory's Titan supercomputer to your next gaming experience. Despite being ten times more powerful than its predecessor, the Titan supercomputer takes up the same amount of space and uses the same amount of power. Only GTX TITAN brings this rare combination of raw power and incredible efficiency to PC gaming. NVIDIA Kepler architecture gives you 2,688 NVIDIA CUDA cores and 4.5 teraflops of gaming horsepower. Plus, GTX TITAN delivers a 384-bit memory interface running at a blazing fast 6 Gbps for an amazing 288 GB/s of memory bandwidth—enough power to handle even the most extreme high-resolution games.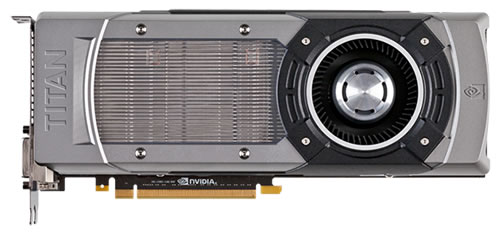 GIGABYTE Exclusive Features


Windforce 3X 450W Cooling System*
Keeping the same 450W Cooling capacity using only 2 slots, the New WINDFORCE 3X 450W cooling system is equipped with two 8mm and four 6mm cooper heat-pipes , inclined fans, and GIGABYTE "Triangle Cool" technology. This not only provides an effective heat dissipation capacity but GPU Boost 2.0 technology also enables higher performance due to a lower temperature.

*Please Note: GIGABYTE Windforce 3X 450W Cooling System is provided seperately in the box and must be fitted (instructions provided). Card ships with standard TITAN Cooler.




OC GURU II
Brand-new instinctive user interface, easier to monitor and adjust all important settings. Users can set up MONITORING, GPU CLOCK, MEMORY CLOCK, FAN, GPU VOLTAGE, Memory VOLTAGE, OSD, ONLINE SUPPORT and update driver, BIOS directly.
NVIDIA Features


NVIDIA GeForce Experience
Want to know the best settings to play your games? GeForce Experience will figure it out for you. GeForce Experience connects you to NVIDIA's cloud datacenter to download optimal game settings tailored to your PC based on your CPU, GPU and monitor. Optimal settings maximize image quality while maintaining great performance so you get the best experience. A built-in interactive screenshot viewer helps you learn more about each setting and their benefits. The GeForce Experience application automatically notifies you of new driver releases from NVIDIA. With a single click, you'll be able to update the driver directly, without leaving your desktop.




NVIDIA Kepler GPU Architecture
NVIDIA's Kepler GPU architecture has been designed from the ground up not just for maximum performance in the latest DirectX 11 games, but optimal performance per watt. The new SMX streaming multiprocessor is twice as efficient as the prior generation and the new geometry engine draws triangles twice as fast. The result is world class performance and the highest image quality in an elegant and power efficient graphics card.




NVIDIA TXAA Technology
Film studios invest enormous resources in developing advanced technologies and post-production effects to deliver visually spectacular experiences for movie-goers. For games to achieve this level of fidelity, developers need new anti–aliasing technologies that deliver a viewing experience that eliminates the distraction of unrealistic, jagged lines ("jaggies") and aliased shimmering–without compromising performance. NVIDIA is making this happen today, bringing cinema-quality graphics to life in blockbuster gaming titles with an innovative new temporal antialiasing technology called TXAA. Available exclusively on GeForce GTX Kepler-powered GPUs, TXAA is designed to be directly integrated into game engines. Plus, it combines the raw power of MSAA (multi–sample anti–aliasing) with a temporal filter and sophisticated resolve filters similar to those used in CG films. The end result is a smoother, more lifelike image than any other comparable technique.




NVIDIA GPU Boost 2.0 Technology
Up until now, GPUs have operated at a fixed clock speed when playing 3D games, even if they have the potential to run faster. GPU Boost intelligently monitors graphics work load and increases the clock speed whenever possible. The result is that the GPU always performs at its peak and you get the highest framerate possible. With NVIDIA GPU Boost 2.0 Enjoy new levels of customization with advanced controls like GPU temperature target, overclocking, and overvoltage.




NVIDIA Adaptive V-Sync Technology
Nothing is more distracting than framerate stuttering and screen tearing. The first tends to occur when framerates are low, the second when framerates are high. Adaptive V-Sync is a smarter way to render frames. At high framerates, V-sync is enabled to eliminate tearing, at low frame rates, it's disabled to minimize stuttering. It gets rid of distractions so you can get on with gaming.




NVIDIA PhysX Technology
PhysX is designed specifically for hardware acceleration by powerful processors with hundreds of cores. Combined with the tremendous parallel processing capability of the GPU, PhysX will provide an exponential increase in physics processing power and will take gaming to a new level delivering rich, immersive physical gaming environments.




NVIDIA CUDA Technology
NVIDIA CUDA technology is the world's only C language environment that enables programmers and developers to write software to solve complex computational problems in a fraction of the time by tapping into the many-core parallel processing power of GPUs. With millions of CUDA-capable GPUs already deployed, thousands of software programmers are already using the free CUDA software tools to accelerate applications—from video and audio encoding to oil and gas exploration, product design, medical imaging, and scientific research.




NVIDIA Surround with up to 4 Monitors
Nothing is as breathtaking as playing your favorite games across three monitors. At 5760 x 1080, the expanded field of view fully engages human peripheral vision and provides for the most immersive experience in racing and flight simulators. Add in a fourth display to keep tabs on chat, email or web while you are gaming.




NVIDIA 3D Vision
NVIDIA 3D Vision brings a fully immersive, stereoscopic 3D experience to the PC. A combination of high-tech wireless glasses and advanced software, 3D Vision transforms hundreds of PC games into full stereoscopic 3D. Get up to 2x monitor and keyboard brightness with NVIDIA 3D LightBoost technology. In addition, you can enjoy 3D movies and 3D digital photographs from 3DVisionLive.com in eye popping, crystal-clear quality.




NVIDIA SLI Technology
Used by the most demanding gamers worldwide, SLI lets you link up to three GeForce GTX TITAN's together for astounding performance. And with NVIDIA's track record for fast and frequent software updates, you'll not only get the best performance in existing games, but future games too.


General Specifications
Bus Interface
PCI Express 3.0 x16
Output Interface
1 x DVI-I
1 x DVI-D
1 x HDMI
1 x DisplayPort
Expansion / Connectivity
| | |
| --- | --- |
| Compatible Slots | 1 x PCI Express x16 |
| Width | Dual Slot |
GPU Specification
| | |
| --- | --- |
| Core Clock | 928 MHz |
| Core Boost Clock | 980 MHz |
| CUDA Cores | 2688 |
Memory Specification
| | |
| --- | --- |
| Memory Type | 384 bit GDDR5 |
| Memory Size | 6144 MB |
| Memory Effective Size | 6008 Mhz |
Display Specification
| | |
| --- | --- |
| Multi-Monitor Support | Up to 4 displays |
| Max Digital Resolution | 4096x2160 |
| Max Analogue Resolution | 2048x1536 |
Thermal Specification
| | |
| --- | --- |
| Max GPU Temp | 98C |
| Max Power Usage | 300W |
| Minimum PSU Requirement | 650W |
| Required Power Connectors | 2 x 8-pin |
Supported Technologies
Technologies
DirectX 11 Support
PCIe 3.0 Support
OpenGL 4.2
NVIDIA Kepler GPU Archtecture
NVIDIA TXAA Technology
NVIDIA GPU Boost 2.0 Technology
NVIDIA Adaptive V-Sync Technology
NVIDIA PhysX Technology
NVIDIA CUDA Technology
NVIDIA SLI Technology
NVIDIA Surround Technology with 4 Monitor Support
GIGABYTE Windforce 3x 450W Thermal Solution
Manufacturer Warranty
Delivery Options Available
Next Working Day Delivery
Get your order delivered the next working day for £5.99, available when ordering Monday - Thursday and before 17:00 on that day if the product is in stock and your payment has cleared.
Pre 12 Next Working Day Delivery
Get your order delivered the next working day before 12:00pm for £8.38, available when ordering Monday - Thursday and before 17:00 on that day if the product is in stock and your payment has cleared. Some orders if via PayPal and the first customer order may not clear in time.
Weekend Delivery - Saturday & Sunday
If you need your order at the weekend, for £9.98, you can specify the day you wish to have it delivered to you, Saturday or Sunday providing your order has been placed by 17:00 on the Friday before.
Free Delivery
Economy Delivery
Economy delivery is available on all orders of any value being shipped within the UK.