PNY Quadro K2000 2GB GDDR5 overview
Product Overview
The NVIDIA Quadro K2000 graphics board offers the perfect blend of performance and the latest productivity enhancing technical innovations at a very reasonable cost for a wide range of leading professional applications. You get 2GB of GDDR5 GPU memory, 384 SMX CUDA parallel processing cores, the ability to drive up to four displays simultaneously, and full Shader Model 5 compatibility; all in a single slot form factor which requires no auxiliary power to deliver full performance. Designed and built specifically for professional workstations, NVIDIA Quadro GPUs power more than 150 professional applications across a broad range of industries including manufacturing, media and entertainment, sciences, and energy. Professionals trust them to realize their most ambitions visions – whether it's product design, visualization and simulation, or spectacular visual storytelling – and get results to market faster, more profitably, and with superior visual quality.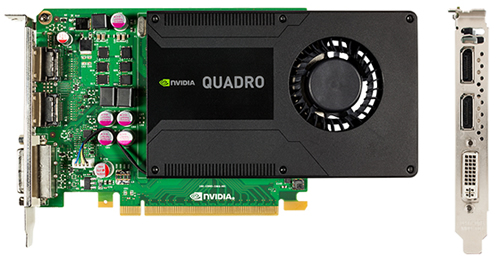 NVIDIA Features


NVIDIA Kepler GPU Architecture
The NVIDIA Kepler architecture introduces the concept of bindless textures, which enables the GPU to reference textures directly in memory. This effectively eliminates the limit on the number of unique textures that can be used to render a scene, and reduces the CPU overhead to deliver improved performance. In fact, over one million unique textures are now possible. Fast approximate anti-aliasing (FXAA) and temporal anti-aliasing (TXAA) film-style technologies give you outstanding image quality for content creation and design reviews without compromising the interactive experience.




NVIDIA SMX Technology
Next-generation streaming multiprocessor (SM) design, called SMX, offers several important architectural changes. You can realise substantial increases in per-clock throughput of key graphics operations that combine to deliver unprecedented performance and power efficiency. Plus, the new Quadro solutions offer up to 4 GB frame buffer capacity, letting you work with larger models and assemblies and improving interactive manipulation performance during the design process.




NVIDIA CUDA Architecture
CUDA is NVIDIA's parallel computing architecture that enables dramatic increases in computing performance by harnessing the power of the GPU (graphics processing unit). With millions of CUDA-enabled GPUs sold to date, software developers, scientists and researchers are finding broad-ranging uses for CUDA, including image and video processing, computational biology and chemistry, fluid dynamics simulation, CT image reconstruction, seismic analysis, ray tracing, and much more.




NVIDIA Quadro Scalable Geometry Engine
Quadro Scalable Geometry Engine dramatically improves performance across a broad range of CAD, DCC and scientific applications, enabling your work to flow interactively with models and scenes that are an order of magnitude more complex than ever before.




NVIDIA Parallel DataCache
Supports a true cache hierarchy combined with on-chip shared memory. L1 and L2 caches drive exceptional throughput, accelerating features such as real-time ray tracing, physics, and texture filtering.




NVIDIA 3D Vision and 3D Vision Pro Stereoscopic Solution
Advanced active shutter glasses that deliver crystal-clear stereoscopic 3D visualization for the most immersive experience. Infrared (3D Vision) or RF (3D Vision Pro) technology enable a range of immersive environments from your desktop workstation to collaborative work spaces. 3D Vision and 3D Vision Pro are sold separately.




NVIDIA NVIEW Advanced Desktop Software
As the magnitude of data increases, it is more crucial than ever for professionals to efficiently manage their system's single or multi monitor workspace. Using NVIDIA NVIEW Software, professionals have maximum flexibility and unprecedented control over their workspace. NVIEW provides a visual overview of the entire workspace along with a range of tools to accelerate the navigation through their system's information to maximize productivity.




NVIDIA Quadro Mosaic Technology
Whether you want to see your designs across eight displays or project your ideas in 4K, you can with NVIDIA Mosaic multi-display technology. Featured in NVIDIA Quadro and NVIDIA NVS solutions, you can easily span any application across multiple high-resolution panels or projectors from a single workstation, without sacrificing performance or power.
General Specifications
Bus Interface
PCI Express 2.0 x16
Output Interface
1 x DVI-I
2 x DisplayPort
Expansion / Connectivity
| | |
| --- | --- |
| Compatible Slots | 1 x PCI Express x16 |
| Width | Single Slot |
GPU Specification
Memory Specification
| | |
| --- | --- |
| Memory Type | 128 bit GDDR5 |
| Memory Size | 2048 MB |
Display Specification
| | |
| --- | --- |
| Multi-Monitor Support | Up to 4 displays* |
| Max Digital Resolution | 3840x2160 |
| Max Analogue Resolution | 2048x1536 |
| Quadro SDI Enabled | No |
| Quadro Synch Enabled | No |
| Quadro SLi Enabled | No |
| Quadro Maximus Enabled | No |
*4 screens via a seperate Display Port 1.2 MST Hub (not included)
Thermal Specification
| | |
| --- | --- |
| Max Power Usage | 51W |
| Minimum PSU Requirement | 300W |
| Required Power Connectors | N/A |
Supported Technologies
Technologies
DirectX 11 Support
Shader Model 5.0
OpenGL 4.3
NVIDIA Kepler Architecture
NVIDIA SMX Engine
NVIDIA Scalable Geometry Engine
NVIDIA Parallel DataCache
NVIDIA CUDA Architecture
NVIDIA Quadro Mosaic Technology
NVIDIA NVIEW Display Management
NVIDIA FXAA and TXAA
NVIDIA 3D Vision and 3D Vision Pro
NVIDIA Enterprise Management Tools
H.264 Encoder
Bindless Textures
Unified Driver Architecture (UDA)
Full-Scene Antialiasing (FSAA)
Manufacturer Warranty
Delivery Options Available
Next Working Day Delivery
Get your order delivered the next working day for £5.99, available when ordering Monday - Thursday and before 17:00 on that day if the product is in stock and your payment has cleared.
Pre 12 Next Working Day Delivery
Get your order delivered the next working day before 12:00pm for £8.38, available when ordering Monday - Thursday and before 17:00 on that day if the product is in stock and your payment has cleared. Some orders if via PayPal and the first customer order may not clear in time.
Weekend Delivery - Saturday & Sunday
If you need your order at the weekend, for £9.98, you can specify the day you wish to have it delivered to you, Saturday or Sunday providing your order has been placed by 17:00 on the Friday before.
Free Delivery
Economy Delivery
Economy delivery is available on all orders of any value being shipped within the UK.
Sorry, this product is no longer available to purchase.

Please view our whole range of NVIDIA Quadro here