AMD Ryzen 7 1700 8 Core (Socket AM4) Processor - Retail overview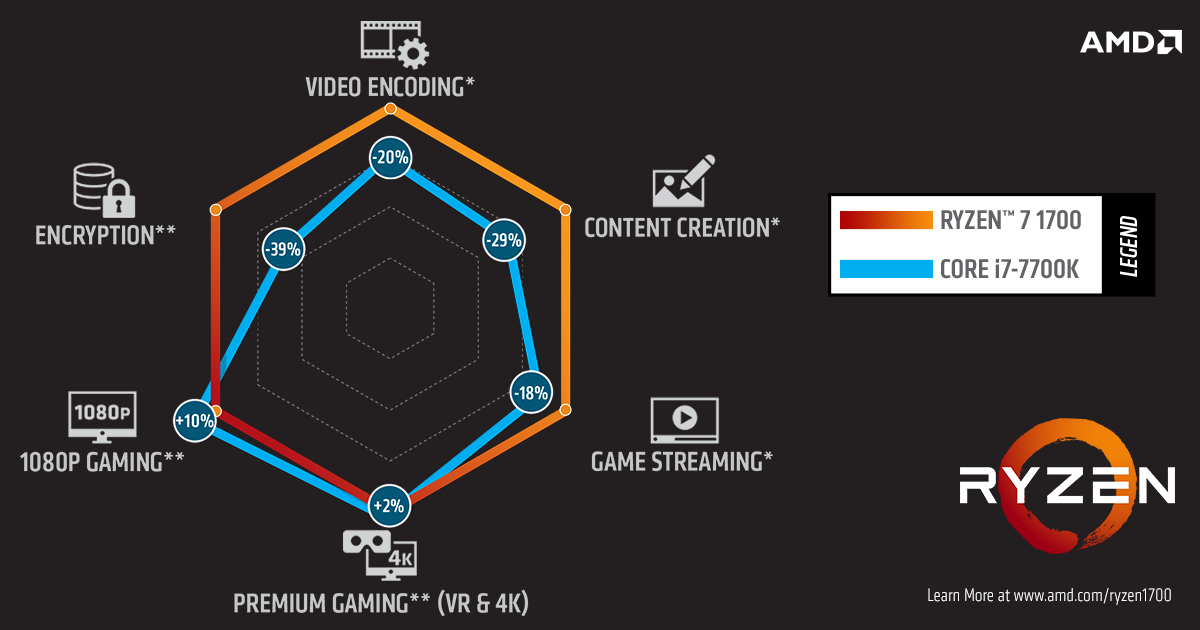 | | |
| --- | --- |
| | After more than four years of work on the new "Zen" microarchitecture for their x86 processors, the beginning of 2017 heralds AMD's fresh attempt at recapturing the high-end segment. After having previously abandoned this front in the eternal battle between David and Goliath, AMD has rolled out the heavy guns in the form of a cutting-edge processor design going by the name of Ryzen |
Massive performance improvements in every respect mean that AMD's Ryzen quad-core, hexa-core and octa-core CPUs handily outperform their predecessors and combine innovative features with a pioneering platform as well as cutting-edge I/O interfaces. And yet AMD's new "Zen" architecture is so flexible and versatile that they can be installed into high-end desktop platforms as well as mainstream APUs utilising integrated graphics, and enabling the processors to scale from high-performance servers for data centres all the way down to fan-less mobile platforms, has brought forth an array of performance-enhancing features and characteristics to their intended fields. This is how the chip manufacturer intends to pave the way for a dazzling comeback, and AMD has laid the foundations to this approach for the next few years on the broad shoulders of the AM4 platform. As the underdog in the battle for supreme processing power, AMD continues to offer their customers an extremely attractive price-to-performance ratio in the new range of Ryzen CPUs.
The AMD Ryzen 7 1700 3,0 GHz 8-Core Processor at a Glance:

8 "Zen" cores with a low 65 Watt Thermal Design Power (TDP)
16 Threads thanks to Simultaneous Multithreading (SMT)
Very high single- and multi-thread performance
3.0 GHz Base- & 3.7GHz Turbo Clock with Precision Boost
Unlocked multiplier for manual overclocking (unlocked CPU)
Large memory cache: 4 MB L2 & 16 MB L3
Highly efficient, non-planar 14 Nanometre FinFET transistors
AVX2 instruction set extensions for complex vector calculations
Two AES units for fast and reliable data encryption
Modern AM4 platform with extensive features
Supports energy efficient DDR4-RAM (Dual-Channel)
Includes AMD Wraith Spire CPU cooler with red LED ring!
AMD Zen - Scalable Architecture with Precision Boost Technology
| | |
| --- | --- |
| | The AMD Ryzen 7 1700 is a processor hailing from the new "Summit Ridge" generation with eight logical CPU cores that, thanks to Simultaneous Multithreading (SMT), are capable of processing two threads at once on each core. This means that the number of processor cores is effectively supplemented by the addition of eight further virtual cores to make a total of 16 effective cores. The 8-core top-of-the-range model functions at a high clock rate of 3,6 GHz per core which, due to the implementation of Precision Boost, performs real-time tuning in accordance with the performance demands placed on the processor. This holds true in respect to both games and applications, adjusting itself on-the-fly in precise 25 MHz increments within the TDP framework up to a maximum of 3,7 GHz. |
In addition to these improvements the chip architecture also produces less heat and operates more quietly than any of its predecessors and is specially designed and optimised to work at high clock frequencies. These optimisations are due in part to the drastic improvements in energy efficiency and the low 65 Watt Thermal Design Power (TDP) of the CPU cores. The impressive specifications of this processor demonstrate the extent to which AMD's time has been invested into research and development. This goes a long way towards explaining the massive single-thread performance increase of up to 40% in terms of Instructions Per Cycle (IPC) as well as the manner in which the processor excels in highly parallelised multi-thread applications. These combined factors result in consistent and optimal performance.
The silicon is lithographed in the advanced
14 nm FinFET manufacturing process
with stacked transistors (also known as 3D transistors). This striking reduction in scale has resulted in space being freed up on the processor die, thereby permitting the integration of a total of 4 MB Level 2 Cache and a full 16 MB Level 3 Cache into the centrepiece of the PC. Due to the intelligently controlled cache buffer and thanks to the "Smart Prefetch" jump-prediction algorithms, Ryzen is capable of ensuring instantaneous data access and swift compute performance in all use cases - irrespective of whether the task involves gaming and Virtual Reality or cloud computing and virtualisation.
Unlocked CPU: Foolproof Overclocking Thanks to the Unlocked Multiplier
All AMD Ryzen CPUs are "unlocked" and come with - as was the case with the "Black Editions" and "K" variants of earlier product ranges - an
unlocked multiplier
that allows overclockers to attain relatively high clock rates in a virtually foolproof manner. The aforementioned overclocks are easily achievable via manual alterations to the BIOS or UEFI, or by means of software tools designed for increasing the maximum factory-set boost clocks. Both an overclocking-friendly chipset such as the AMD X370, B350, or X300, as well as additional 3rd party cooling is necessary.
Cutting-Edge & Luxuriously-Featured: The AM4 Platform
| | |
| --- | --- |
| | Motherboards equipped with the AM4 socket serve as the foundation for AMD's range of Ryzen CPUs, and they also offer cutting-edge interfaces. The CPU itself possesses four dedicated PCI-Express 3.0 lanes providing compatibility with modern SATA and PCI-Express SSDs in both M.2 and U.2 formats as well as support for the NVM-Express protocol (NVMe for short). A further 16 PCIe 3.0 lanes deliver abundant bandwidth for even high-end gaming graphics cards. Additional PCIe lanes for data storage, expansion cards and peripheral devices are allocated separately, dependent upon the chipset of the motherboard. The new AM4 platform also supports up-to-date external device interfaces like USB 3.1 Gen 2 with Type A and/or Type C connectors and high data transfer rates of up to 10 Gbit/s. The CPU's integrated memory controller supports AM4 motherboards as well as speedy and energy-efficient DDR4-RAM in dual-channel mode with or without ECC error correction. |
Ryzen processors are also continually monitored by AMD's special "Pure Power" sensors. These sensors monitor temperatures, voltages and frequencies in order to perfectly tailor energy usage with an eye to different use case scenarios. Even with respect to SIMD instruction set extension AMD is now pulling up equal to the competition and has now mastered
AVX2 (Advanced Vector Extensions)
, which enable dramatic performance improvements in floating-point calculations in scientific simulations, video-, picture- and audio editing, as well as video games and multimedia applications, in so far as the application supports this feature.
Note: This is the boxed version including an AMD Wraith Spire CPU cooler with a red LED ring. All AMD Ryzen CPUs also require an AM4-compatible motherboard.