ARCTIC Freezer i13 X CO Intel CPU Air Cooler overview
SMALL FOOTPRINT FOR OPTIMAL COMPATIBILLITY
The Freezer i13 X CO combines a compact advanced heat sink design with 3 direct touch heat pipes. In combination with the fan designed for static pressure, an optimal cooling performance is achieved despite the comparatively small dimensions. The Freezer i13 X CO has an installation height of only 137 mm and there are no limitations in RAM compatibility.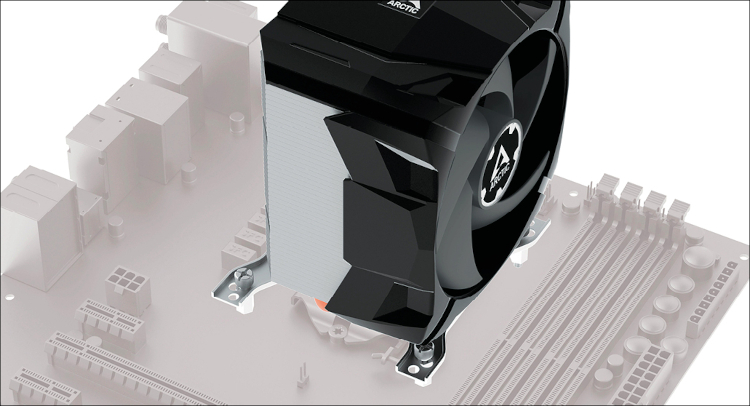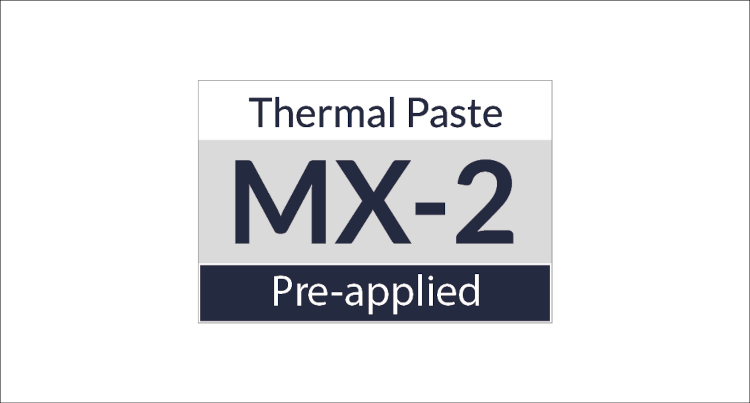 PRE-APPLIED MX-2 THERMAL PASTE
Pre-applied, high-performing MX-2 thermal paste ensures quick and clean assembly.
LONGER LIFESPAN THANKS TO ITS LOW MOTOR TEMPERATURE
The Freezer i13 X CO uses a fan motor newly developed by ARCTIC. This runs less audibly and more efficiently, so that the temperature of the coils is 20 °C lower than with conventional motors. This increases the lifespan of the fans considerably, allowing ARCTIC to grant a 6-year warranty period for the Freezer i13 X CO.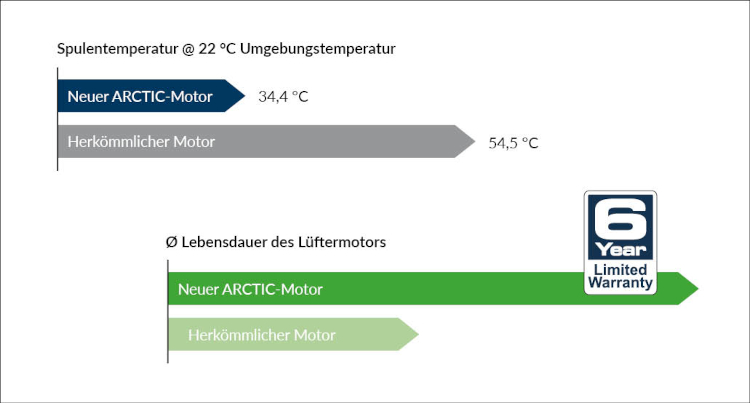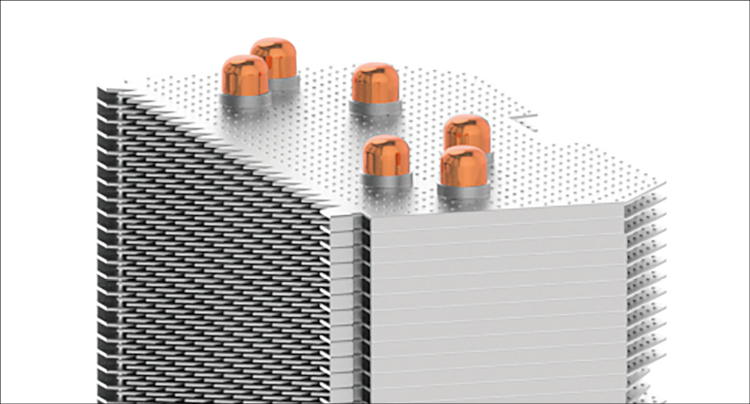 OFFSET HEAT PIPES ENABLE OPTIMAL HEAT DISSIPATION
The direct touch heat pipes attached to the Freezer i13 X CO and an optimised design of the 44 cooling fins together ensure that the heat from the CPU can be ideally removed and released into the air.
P-FAN FOR INCREASED PERFORMANCE
Inspired by the P-series, the Freezer i13 X CO's fan benefits from all of the advantages of P-fans. High static pressure for increased cooling performance, Lower power consumption, Less vibration and PWM for synchronous fan control across a broad RPM range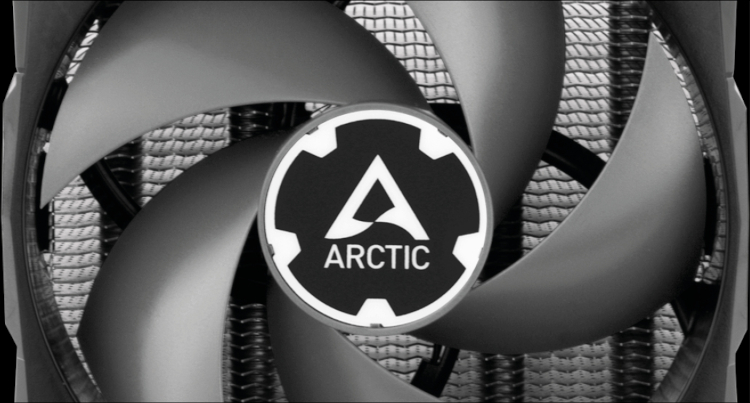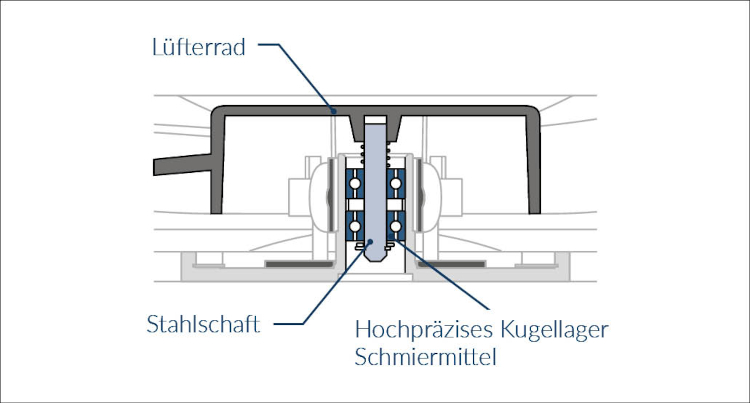 DOUBLE BALL BEARING FOR CONTINOUS OPERATION
The premium quality Japanese dual ball bearing allows con­tinuous operation 24/7 without the slightest compromise in performance. Dust and high temperature are affecting this bearing a lot less than generic sleeve or one ball bearings and thus make it the perfect choice when reliability is essential.
DIRECT TOUCH HEAT PIPES
The Freezer i13 X CO uses direct touch heat pipes. This ensures that the heat to be dissipated is transferred directly to the heat pipes without an additional material layer, and transported into the heatsink via the pipes.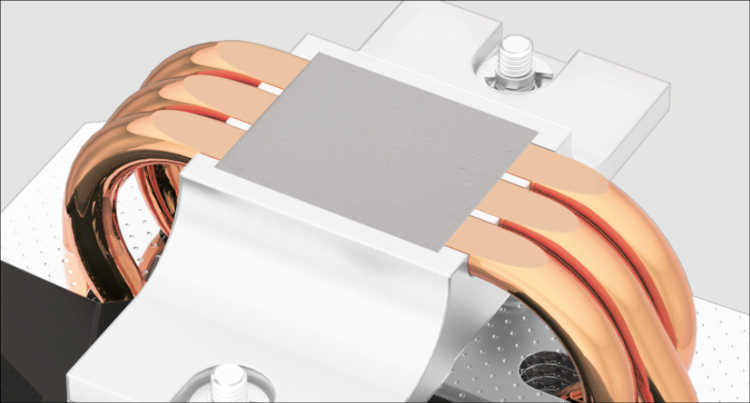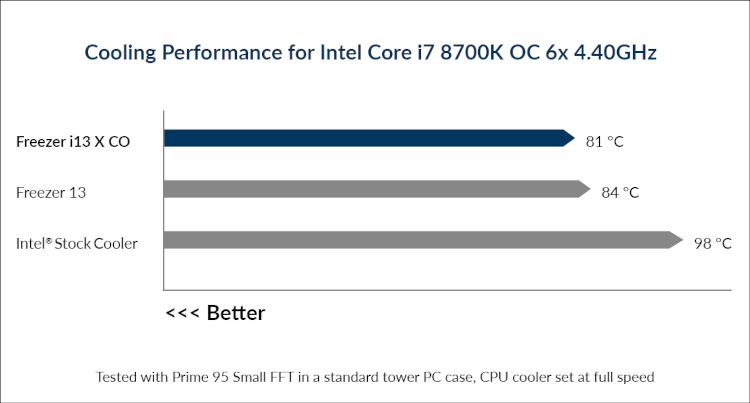 MORE COOLING CAPACITY WITH FREEZER I13 X CO
The ARCTIC Freezer i13 X CO sets new standards in cooling. Proven to outperform its predecessor in cooling capacity.
MORE EFFICIENT AND WHISPER QUIET
In addition to operating more quietly, even at maximum speed, the Freezer i13 X CO's built-in fan motor is also much more efficient. The power consumption was reduced from 0.18 A to 0.07 A, which corresponds to an effective saving of 60?% in power consumption. ARCTIC engineers were also able to reduce the volume by 40%, allowing the Freezer i13 X CO to run at a whisper-quiet 0.3 sone when at maximum speed.