ASUS NVIDIA GeForce RTX 4060 Dual OC 8GB GDDR6 Graphics Card overview
2X FANS. 2X FUN.
ASUS Dual GeForce RTX fuses dynamic thermal performance with broad compatibility. Advanced cooling solutions from flagship graphics cards — including two Axial-tech fans for maximizing airflow to the heatsink — are packed into the 22.7 cm long, 2.5-slot card, delivering more power in less space. These enhancements make ASUS Dual the perfect choice for gamers who want heavyweight graphics performance in a compact build.
AXIAL-TECH FAN DESIGN
Two tried-and-true Axial-tech fans feature a smaller hub that facilitates longer blades and a barrier ring to increase downward air pressure.
0DB TECHNOLOGY
To eliminate unnecessary noise, a stop mode halts all fans when the GPU temp falls below 50 degrees and power consumption is low.
DUAL BALL FAN BEARING
Different bearing types have unique pros and cons. Ball bearings excel at durability and can last up to twice as long as sleeve bearing designs.
DUAL BIOS
Do you prioritize low core temps or low noise levels? Performance mode will let the fans spin up to keep the card running cool all the time. Quiet mode keeps the same power target and top-end settings, but offers a less aggressive fan curve for quieter operation at medium temps. For even more customization and control, check out our GPU Tweak III software.
2.5 SLOT DESIGN
A carefully designed shroud, heatsink, and heatpipe layout allows the two Axial-tech fans to leverage chassis side-panel ventilation and deliver thermal performance that belies the card's size.
AUTO-EXTREME TECHNOLOGY
Auto-Extreme Technology is an automated manufacturing process that sets new standards in the industry by allowing all soldering to be completed in a single pass. This reduces thermal strain on components and avoids the use of harsh cleaning chemicals, resulting in less environmental impact, lower manufacturing power consumption, and a more reliable product overall.
PROTECTIVE BACKPLATE
The PCB is reinforced by an aluminum backplate that adds structural rigidity, helping to prevent flex and protect components and trace pathways from damage. The rear features a wide vent that allows hot air to escape towards chassis exhaust fans instead of being recycled back into the GPU cooler.
GPU TWEAK III
The ASUS GPU Tweak III utility takes graphics card tuning to the next level. It allows you to tweak critical parameters including GPU core clocks, memory frequency, and voltage settings, with the option to monitor everything in real-time through a customizable on-screen display. Advanced fan control is also included along with many more features to help you get the most out of your graphics card.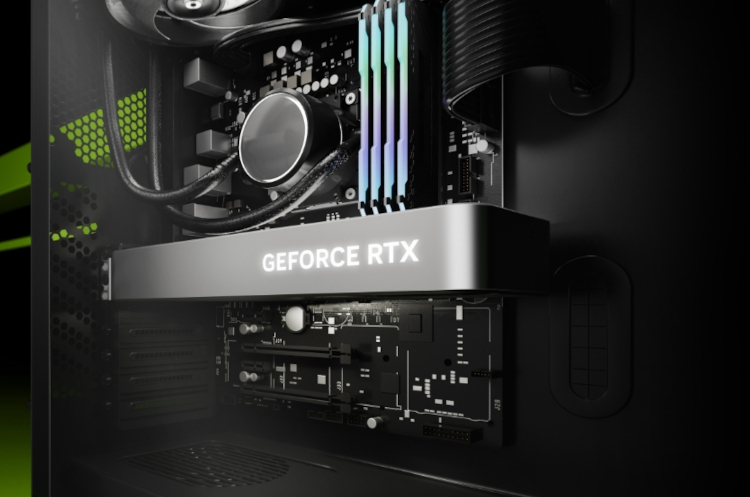 GEFORCE RTX 4060 SERIES
Game, stream, create. The GeForce RTX 4060 lets you take on the latest games and apps with the ultra-efficient NVIDIA Ada Lovelace architecture. Experience immersive, AI-accelerated gaming with ray tracing and DLSS 3, and supercharge your creative process and productivity with NVIDIA Studio.
NVIDIA ADA LOVELACE ARCHITECTURE
Ahead of its time, ahead of the game.
New Streaming Multiprocessors for up to 2x performance and power efficiency


Fourth-Gen Tensor Cores for up to 2x AI performance


Third-Gen RT Cores up to 2x ray tracing performance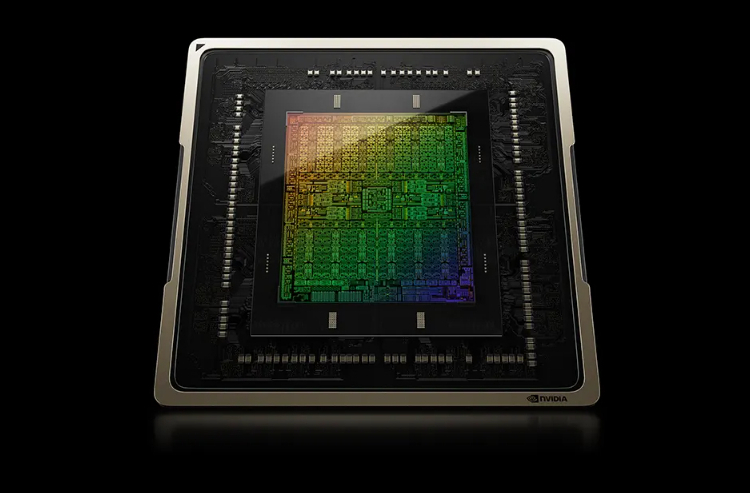 NVIDIA DLSS 3
DLSS is a revolutionary breakthrough in AI-powered graphics that massively boosts performance. Powered by the new fourth-gen Tensor Cores and Optical Flow Accelerator on GeForce RTX 40 Series GPUs, DLSS 3 uses AI to create additional high-quality frames.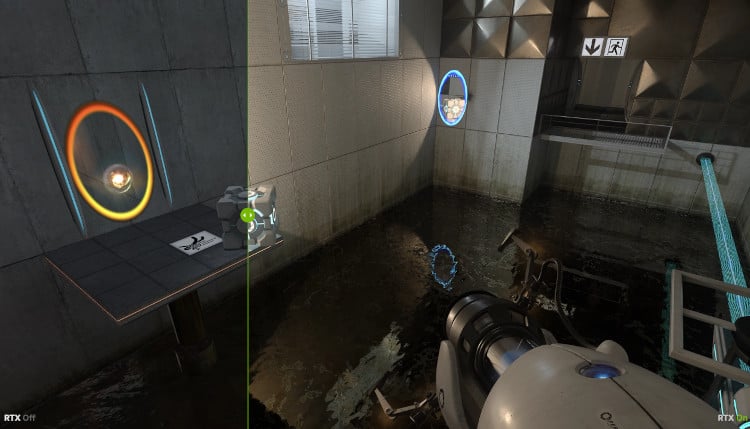 RAY TRACING
The Ada architecture unleashes the full glory of ray tracing, which simulates how light behaves in the real world. With the power of RTX 40 Series and third-gen RT Cores, you can experience incredibly detailed virtual worlds like never before.
VICTORY MEASURED IN MILLISECONDS
NVIDIA Reflex and GeForce RTX 40 Series GPUs deliver the lowest latency and best responsiveness for the ultimate competitive advantage. Built to optimize and measure system latency, Reflex provides faster target acquisition, quicker reaction times, and the best aim precision for competitive games.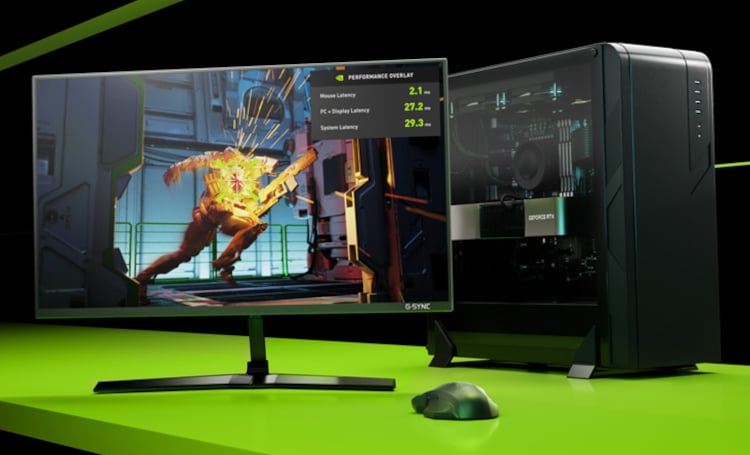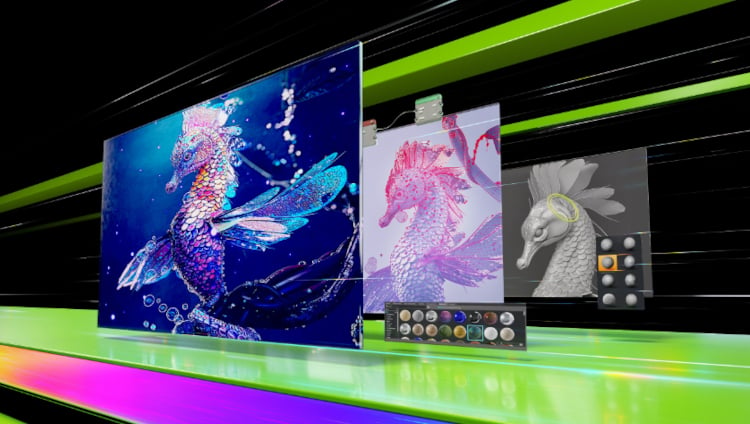 UP YOUR CREATIVE GAME
Take your creative projects to the next level with NVIDIA Studio. Powered by new dedicated hardware, RTX 40 Series unlocks unmatched performance in 3D rendering, video editing, and graphic design. Experience feature-rich RTX accelerations in top creative apps, world-class NVIDIA Studio drivers engineered to provide maximum stability, and a suite of exclusive tools that harness the power of RTX for AI-assisted creative workflows.
THE DREAM STREAM
Steal the show with incredible graphics and high-quality, stutter-free live streaming. Powered by the 8th generation NVIDIA Encoder (NVENC), GeForce RTX 40 Series ushers in a new era of high-quality broadcasting with next-generation AV1 encoding support, engineered to deliver greater efficiency than H.264, unlocking glorious streams at higher resolutions. Plus, exclusive optimizations in your favorite live streaming apps give your audience your best—every time.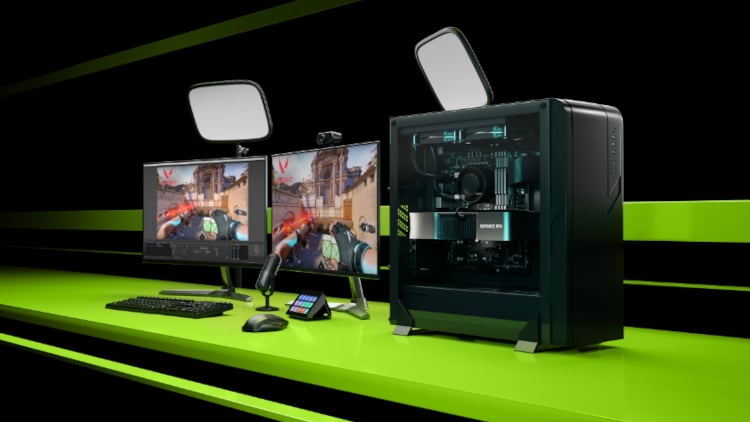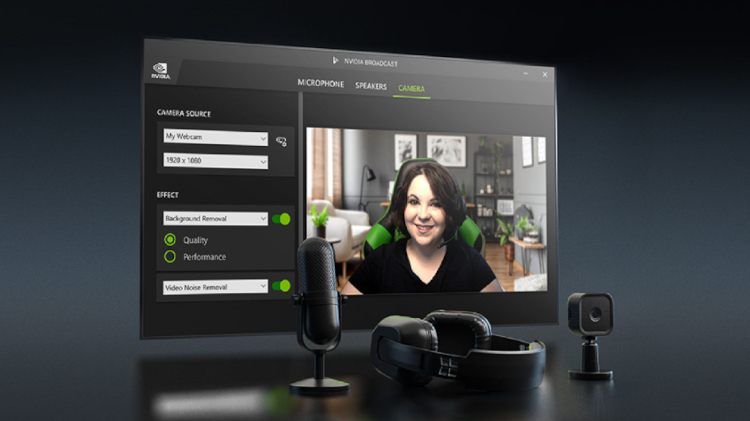 YOUR AI-POWERED HOME STUDIO
The NVIDIA Broadcast app transforms any room into a home studio—taking your live streams, voice chats, and video calls to the next level with powerful AI effects like noise and room echo removal, virtual background, and more.
CONNECT YOUR CREATIVE WORLDS TO A UNIVERSE OF POSSIBILITY
NVIDIA Omniverse is a 3D design collaboration platform within the NVIDIA Studio suite of tools for creators. Built to accelerate workflows and unite apps and assets to bring your ideas to life—fast.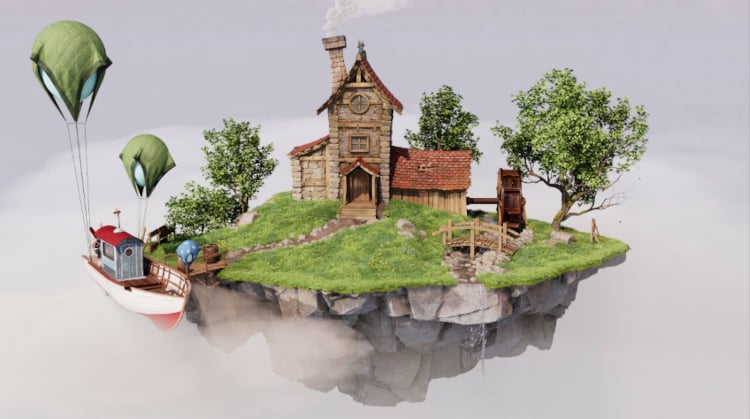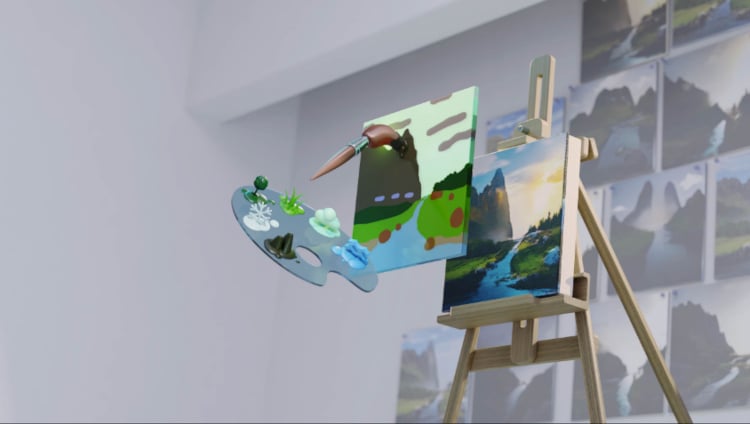 THE APP THAT PUTS THE AI IN PAINTING
Use AI to turn simple brushstrokes into realistic landscape images. Create backgrounds quickly, or speed up your concept exploration, so you can spend more time visualizing ideas.
GAME READY DRIVERS
GeForce Game Ready Drivers deliver the best experience for your favorite games. They're finely tuned in collaboration with developers and extensively tested across thousands of hardware configurations for maximum performance and reliability.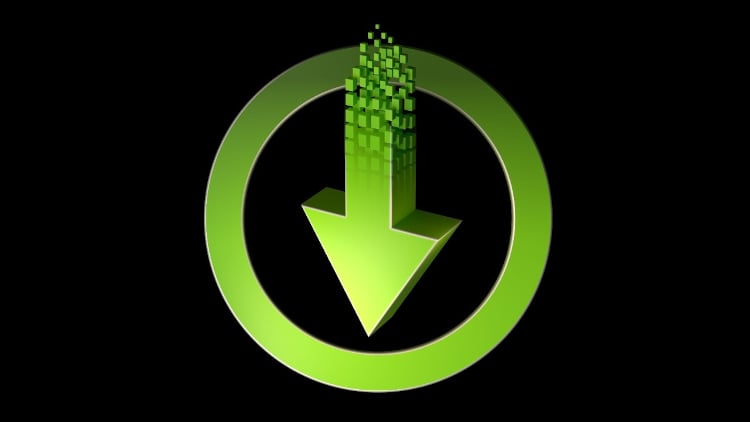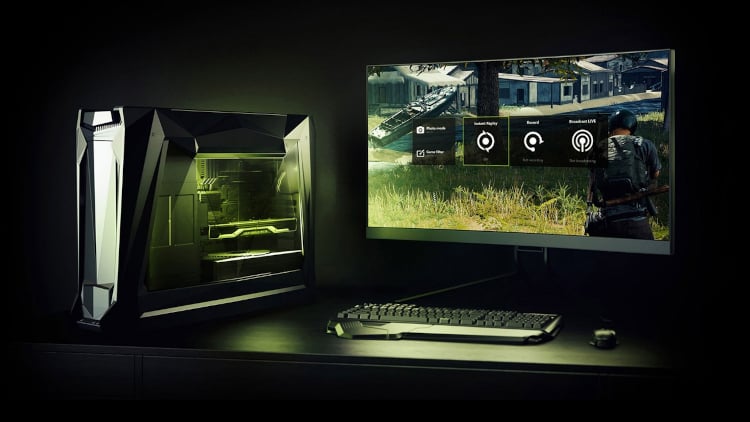 GEFORCE EXPERIENCE
Capture and share videos, screenshots, and live streams with friends. Keep your drivers up to date and optimize your game settings. GeForce Experience lets you do it all. It's the essential companion to your GeForce graphics card.
NVIDIA G-SYNC
Get smooth, tear-free gameplay at high refresh rates, plus HDR and more. This is the ultimate gaming display and the go-to equipment for enthusiast gamers.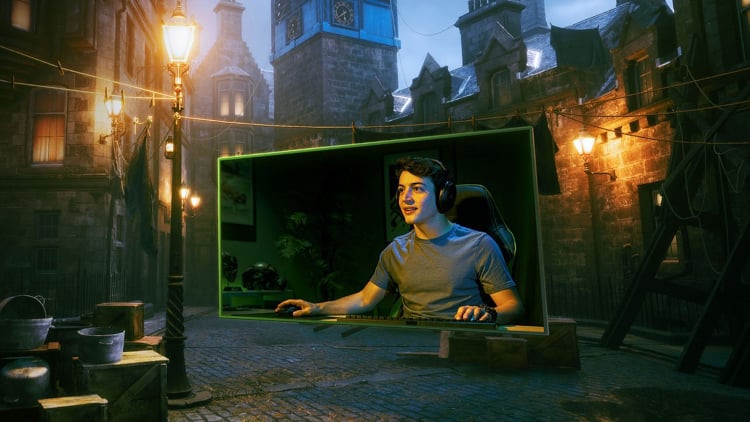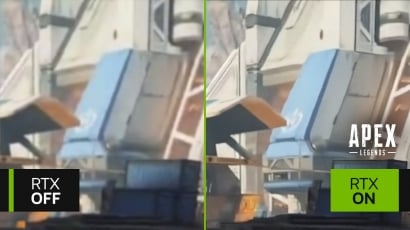 RTX VIDEO SUPER RESOLUTION
RTX Video Super Resolution automatically enhances videos played in your Chrome or Edge browser using state-of-the art AI algorithms to sharpen images and remove blocky and distracting compression artifacts. Enjoy crystal-clear video with up to 4K resolution.
VIRTUAL REALITY
The highest performance graphics deliver the smoothest, most immersive VR experiences.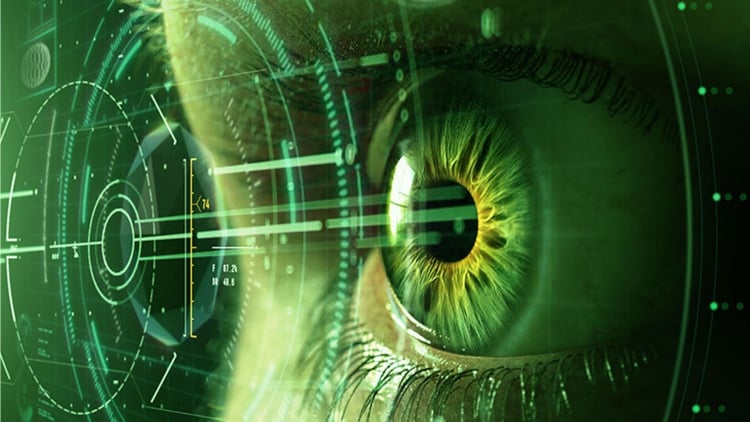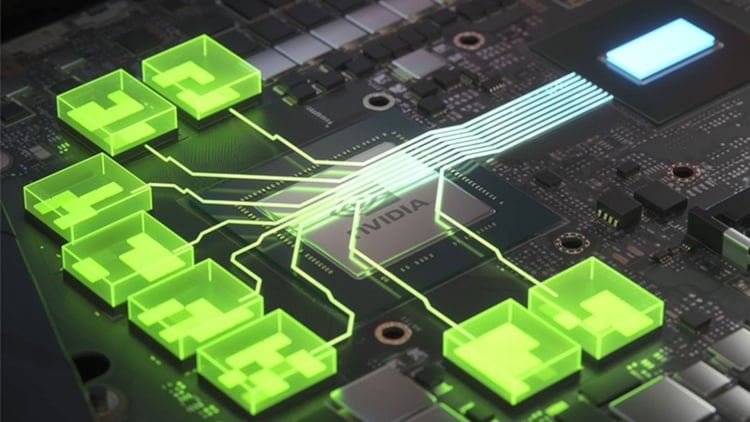 RESIZABLE BAR
Resizable BAR is an advanced PCI Express feature that enables the CPU to access the entire GPU frame buffer at once, improving performance in many games.