BenQ PV3200PT Video Post-Production Monitor overview
There is no Boundary Between Imagination and Reality.
BenQ PV3200PT video post-production monitor comes with 32" 4K UHD IPS technology and 100% Rec. 709 colour space for photo and video editing, it gives you a crisp and clear viewing quality.

The High Resolution and Professionally Rendered Colours, So You Can See It All
Colour accuracy and clear line of view are of utmost importance for anyone working in the field of professional video post production. BenQ PV3200PT offers a wonderful range of 100% Rec. 709 with a resolution of 4K UHD to give you crisp and clear viewing quality.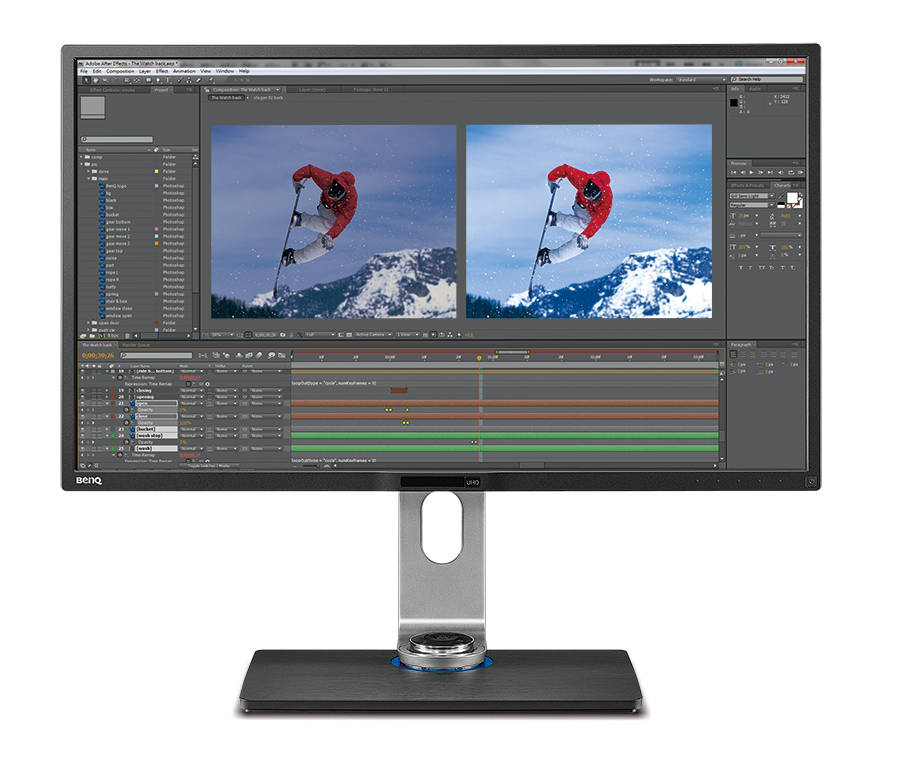 4K UHD Monitor
Ultra HD has 4 times the resolution of conventional Full HD displays, and offers the clearest, most perceptible details in graphics, designs, and photos the eyes can see.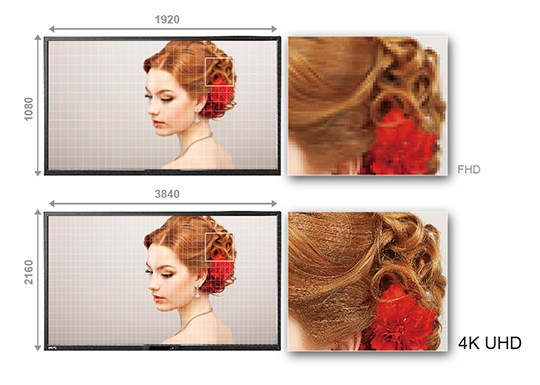 10-bit 100% Rec.709 and sRGB Optimal Colour Precision
Enjoy over 1 billion accurately displayed colours in accordance with the highest design industry standards. PV3200PT covers 100% sRGB and Rec.709 colour space to ensure every colour is faithfully represented with the most optimal precision.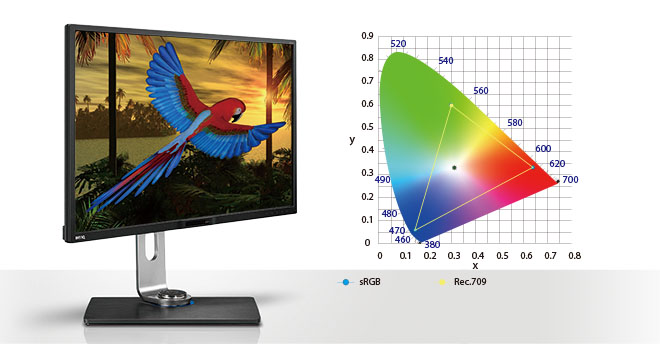 14-bit 3D LUT & Delta E=2
The 14-bit 3D Look Up Table (LUT) improves RGB colour blending accuracy, resulting in impeccable colour reproduction. Having average Delta E=2 in both sRGB & Rec. 709 colour spaces gives you the truest and most representative view of the original image.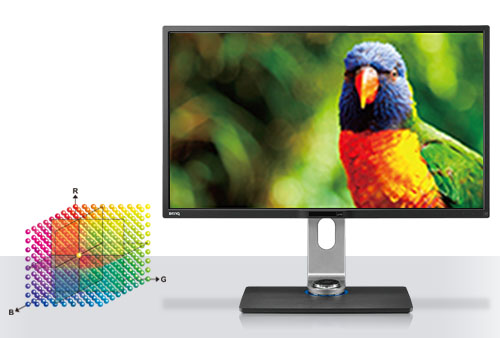 Hardware Calibration
Hardware calibration allows you to adjust the image processing chip in the monitor without changing the graphic card output data. It keeps images consistent with its original copies without being affected by graphic settings.




Individually Tested to Verify Performance
The PV3200PT display is subjected to an on-site verification process upon production to ensure the performance of the monitor in terms of brightness uniformity, Delta-E and Gamma curve. These results are then validated against BenQ and industry colour standards.(Below image is for your reference, the data in report will be different in monitors due to different colour performance.)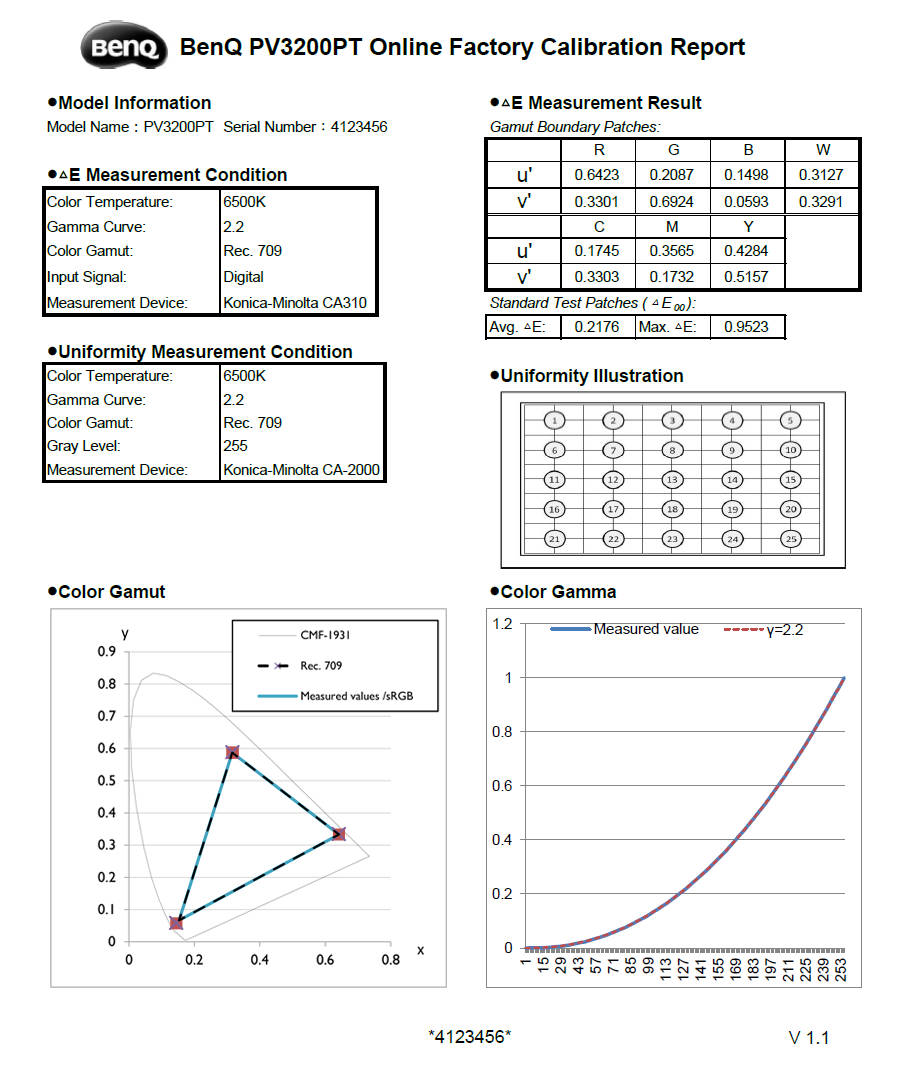 Brightness Uniformity
Brightness uniformity is achieved via delicate process involving the utilization of high precision apparatus to meticulously fine-tune hundreds of sub-regions on the entire screen. It offers a more authentic and consistent viewing experience.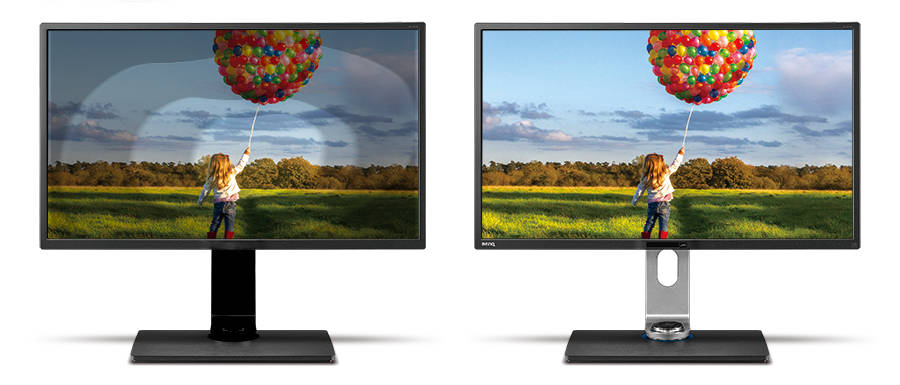 Ergonomic
An extensive range of monitor adjustments-height, tilt, pivot, stroke and swivel-tailor your work station to one that best suits your ergonomic needs.





OSD Controller
The OSD controller is a remote controller that comes with three preset buttons each set up with a customized display setting such as Rec. 709, EBU, or SMPTE-C. It can make users switch conveniently between different modes to save time and work more efficiently.

* Rec. 709: The standard of the format for HDTV. Color space is identical to the sRGB.
EBU: Colour standard for European broadcasting union.
SMPTE-C: Colour standard for broadcasting in North American TV broadcast.