GIGABYTE GA-Z97X-GAMING 5 Intel Z97 (Socket 1150) Motherboard overview
CPU and Chipset Features



Intel LGA1150 4th Generation CPU Support

This motherboard supports Intel 4th and New 4th Generation Core i7/i5/i3/Pentium/Celeron processors in the LGA1150 package, with iGPU, memory and PCI Express controllers integrated to support onboard graphics output with dedicated chipsets, 2-channel (4 DIMM) DDR3 memory and 16 PCI Express 3.0/2.0 lanes. This provides great graphics performance.



Intel Z97 Express Chipset

The Intel Z97 Express Chipset is a single-chipset design that supports Intel LGA1150 4th and 5th Generation Core i7/i5/i3/Pentium/Celeron processors. It provides improved performance by utilizing serial point-to-point links, allowing increased bandwidth and stability. Additionally, Z97 provides a maximum 6 USB 3.0 ports, 6 SATA 6Gb/s ports and 1GB/s M.2 support for faster data retrieval. Moreover, the Intel Z97 Express Chipset also supports iGPU functions, letting users enjoy the latest Intel integrated graphics performance.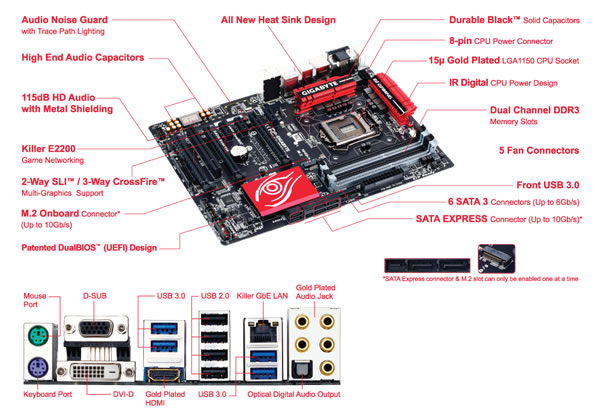 Performance and Stability Features
GIGABYTE G1 Gaming Series

With the launch of the G1 brand of gaming motherboards in 2010, GIGABYTE set out to define what it means to be a PC gamer and we made it our mission to create a line of motherboards that focused solely on the features that matter most to gamers. Whatever the game, whether playing First Person Shooters or Real-Time Strategies, GIGABYTE G1 motherboards deliver top-notch features that can give gamers the winning edge and deliver a much more realistic and immersive gaming environment than even the latest game consoles.



Gigabyte 4 Year Warranty

At Gigabyte we only use premium components in our motherboards, which is why Gigabyte are the only motherboard manufacturer to offer an extended 4 year warranty on all of its Gaming series motherboards. Further to this, all warranty requests are dealt with by Gigabyte's award winning, UK based, service center so in the unlikely event your motherboard suffers a problem you can be safe in the knowledge that we will have you back into the game faster than any other leading motherboard brand.



10K Durable Black Soild Caps

GIGABYTE 9 series motherboards integrate the absolute best quality solid state capacitors that are rated to perform at maximum efficiency for a guaranteed minimum of 10K hours. Not only do they provide ultra-low ESR no matter how high the CPU loading, they also come in customized jet black from Nippon Chemi-Con and Nichicon.



5x (15µ) Gold Plated CPU Socket Design

GIGABYTE 9 Series motherboards come equipped with a gold plated CPU socket, which means that enthusiasts can enjoy absolute reliability and longevity for the CPU socket overtime, without having any concerns about corroded pins and bad contacts.



Intel Smart Response Technology

Uses an installed fast SSD (18.6GB available capacity required) as a cache for frequently-accessed data. Key benefits include reduced load and wait times, and lower power consumption through the elimination of unnecessary hard drive spin. This technology combines SSD performance with hard drive capacity, operating up to 6X faster than a hard drive-only system.



Intel Rapid Start Technology

Allows your computer to quickly resume from a low-power hibernate state in seconds. Saving your system memory to the designated SSD, it provides your computer a faster wake-up response time, while still keeping energy use low.
Graphics Features
4K Ultra HD Support

4K resolution is the next technological milestone in high-definition content delivery, utilizing approximately 4,000 pixels on the horizontal axis, more than four times today's standard HD pixel density. GIGABYTE motherboards provide native 4K support with integrated Intel HD Graphics via HDMI.



HDMI Support

HDMI is a High-Definition Multimedia Interface which provides up to 5Gb/s video transmitting bandwidth and 8-channel high quality audio all through a single cable. Able to transmit superior, uncompressed digital video and audio, HDMI ensures the crispest rendering of digital content up to 1080p without the quality losses associated with analog interfaces and their digital-to-analog conversion. In addition, HDMI is compatible with HDCP (High-bandwidth Digital Content Protection), allowing the playback of Blu-ray/HD DVD and other protected media content.



AMD CrossfireX Multi-GPU Support

AMD CrossFireX is the ultimate multi-GPU performance gaming platform. Enabling game-dominating power, AMD CrossFireX technology enables two or more discrete graphics processors to work together to improve graphics performance. AMD CrossFireX technology allows you to expand your system's graphics capabilities. It allows you the ability to scale your system's graphics horsepower as you need it, supporting up to four AMD Radeon HD graphics cards, making it the most scalable gaming platform ever. With an AMD CrossFireX gaming technology, the traditional graphics limitation exists no more, allowing you to enjoy higher performance as well as visual experience.



NVIDIA SLI Multi-GPU Technology

NVIDIA SLI technology is a revolutionary platform innovation that allows you to intelligently scale graphics performance by combining multiple NVIDIA graphics solutions in an SLI-Certified motherboard. Using proprietary software algorithms and dedicated scalability logic in each NVIDIA graphics processing unit (GPU), NVIDIA SLI technology delivers up to twice the performance (with 2 cards) and 2.8X the performance (with 3 cards) compared to a single graphics solution.
Memory Features
Dual-Channel DDR3 3200(OC) MHz Support

The motherboard supports 32GB DDR3 memory that features data transfer rates of up to 3200(OC) MHz to meet the higher bandwidth requirements of the latest 3D graphics, multimedia and Internet applications.
Cooling Features
GIGABYTE OPT Fan Support

Many of today's 3rd party water cooling systems require CPU fan power support for both the cooling fan and the water pump. GIGABYTE 9 Series motherboards feature OPT fan support, an additional CPU fan pin header that can be used to connect a water pump and configured for continuous full speed operation. The OPT Fan is also useful for high performance coolers employing two fans.
Audio Features
Gigabyte AMP-UP Audio Technology

GIGABYTE G1 Gaming motherboards are equipped with the GIGABYTE exclusive AMP-UP Audio Technology, which provides the industry's highest level of onboard audio features and technologies. With GIGABYTE AMP-UP Audio, gamers and audiophiles are able to experience crisp, ultra realistic sound effects while gaming, and the richest possible sound experience when listening to their favorite music and movies.



Realtek ALC1150 115dB SNR HD Audio

The ALC1150 is a high-performance multi-channel High Definition Audio Codec that delivers an exceptional audio listening experience with up to 115dB SNR, ensuring users get the best possible audio quality from their PC. The ALC1150 provides ten DAC channels that simultaneously support 7.1-channel sound playback, plus 2 channels of independent stereo sound output (multiple streaming) through the front panel stereo outputs. Two stereo ADCs are integrated and can support a microphone array with Acoustic Echo Cancellation (AEC), Beam Forming (BF), and Noise Suppression (NS) technologies. The ALC1150 incorporates Realtek proprietary converter technology to achieve Front differential output 115dB Signal-to-Noise ratio (SNR) playback (DAC) quality and 104dB SNR recording (ADC) quality.



Sound Blaster X-Fi MB3

GIGABYTE G1 Gaming motherboards also include Sound Blaster X-Fi MB3 software suite. Sound Blaster X-Fi MB3 software suite is a powerful audio platform offering premium audio quality, effects and features for gamers. It features SBX Pro Studio suite of technologies, which is designed to give you the fullest audio experience.



High End Audio Capacitors

GIGABYTE G1 Gaming motherboards use high end, Japanese branded Nichicon audio capacitors. These professional audio capacitors deliver the highest quality sound resolution and sound expansion to create the most realistic sound effects for professional gamers.



Gold Plated Audio Hardware

GIGABYTE motherboards pack top quality gold plated audio and HDMI connectors for improved connectivity and long lasting durability. Gold has superb signal conductivity and will not tarnish over extended periods of use. The Audio controller is also shielded by a gold plated cover which eliminates electrostatic interference.



Dedicated Audio Hardware Zone

GIGABYTE G1 Gaming motherboards feature a designated audio hardware zone. Separation on the PCB layer protects the board's sensitive analog audio components. Separate analog and digital ground to protect against Electromagnetic Interference (EMI). LED trace path lighting illuminates to show the separation of the PCB layers.
Transfer Features




SATA 6Gb/s

SATA 6Gb/s provides double the bandwidth of traditional SATA 3Gb/s, and increases the data transfer rate between your motherboard and internal storage devices, such as 7200RPM HDDs, 10000RPM HDDs and SSDs. It's also the current trend for upcoming high-speed internal storage devices to break the existing bottleneck of a PC's performance.






SATA Express 10Gb/s

GIGABYTE motherboards feature an onboard SATA Express connector which provides performance far superior to that of current SATA technologies. SATA Express features data transfer rates of up to 10Gb/s, considerably higher than SATA Revision 3 (6Gb/s), which won't bottleneck faster NAND flash technologies in cutting edge SSDs. SATA Express combines the benefits of PCI-Express and SATA to provide much higher bandwidth, allowing SATA Express based drives to perform at similar speeds as PCI-Express based drives.






M.2 10Gb/s

GIGABYTE motherboards come equipped with an onboard M.2 slot, providing users PCI-Express connectivity for SSD devices. Delivering up to 10 Gb/s data transfer speeds, M.2 offers users considerably faster storage performance than current mSATA and even SATA Revision 3 (6Gb/s) storage devices.






USB 3.0

Compared to the 480Mbps provided by traditional USB 2.0, the all-new USB 3.0's 5Gb/s offers 10 times the transfer bandwidth, so transferring a Blu-ray movie takes less than one minute. GIGABYTE also has implemented a front panel USB 3.0 port, making the use of an external USB 3.0 device even more convenient.






Killer E2200 Game Networking

The Killer E2200 Intelligent Networking Platform is built for maximum networking performance for online games and high-quality streaming media. Featuring Advanced Stream Detect, Killer E2200 automatically detects and accelerates game traffic ahead of other network traffic for smoother, stutter-free in-game performance and the competitive edge. With this exclusive, automatic traffic prioritization, games and real-time chat get priority over low-level system chatter, giving you the lowest latency for game data on the most controllable network hardware available. Through the detection and prioritization of gaming traffic you can finally fully utilize your network without fear of being kicked from an on-line game because of high ping. This enables true multi-tasking without manually enabling or disabling applications, updates and installations. Killer networking actually allows you to use your PC 24 hours a day.
Software and Bios Features
GIGABYTE UEFI DualBIOS

GIGABYTE motherboards feature GIGABYTE DualBIOS, an exclusive technology from GIGABYTE that protects arguably one of your PC's most crucial components, the BIOS. GIGABYTE DualBIOS means that your motherboard has both a 'Main BIOS' and a 'Backup BIOS', making users protected from BIOS failure due to virus attack, hardware malfunction, improper OC settings or power failure during the update process.



GIGABYTE EasyTune App

GIGABYTE's EasyTune is a simple and easy-to-use interface that allows users to fine-tune their system settings or adjust system and memory clocks and voltages in a Windows environment. With Smart Quick Boost, one click is all it takes to automatically overclock your system, giving an added performance boost when you need it the most.



GIGABYTE Cloud Station APP

GIGABYTE Cloud Station is composed of several GIGABYTE's unique apps that allow your smart phones/tablet device to communicate, share resources, and control desktop PCs via wireless connection.



Intel Smart Connect Technology

Your computer can receive web updates with fresh content for selected applications, even when the system is in sleep mode. This means less time waiting for applications to update and sync with the cloud, leading to a more efficient computing experience.