Eizo EV2216W 22" LED Monitor with TN Panel overview
The EIZO EV2216W impresses with a modern, bright and energy-efficient LED backlight. Typical power consumption is only 12 watts. The monitor's EcoView functions also save energy by intelligently adjusting the image brightness to the environment, using Auto EcoView and to the image content with EcoView Optimizer.
EcoView Sense switches off the monitor whenever possible. EcoView means maximum user convenience, reduced impact on the environment and minimal operating costs. Connectivity is provided through DisplayPort, DVI-D and D-Sub connections, as well as a USB hub with one upstream port and two downstream ports located on the side panel. The EV2216W is targeted at companies and government agencies, but also attracts interest from private users who want a high-quality monitor.

- 22" with 16:10 aspect ratio and LED technology in a compact, space-saving design.
- Contrast 1000:1, brightness 250 cd/m2.
- Auto EcoView, EcoView Index, EcoView Sense and EcoView Optimizer for maximum power savings and superb ergonomics.
- Integrated speakers and headphone jack.
- USB hub with one upstream and two downstream ports.
- DisplayPort, DVI-D and D-Sub inputs for digital and analogue connection.

Slim Bezels
A thin bezel design saves space on the desktop and minimizes eye movement between screens in a multi-monitor environment.
Ergonomic Stand
Adjust the screen to your ideal viewing position with EIZO's versatile FlexStand.





Getting Connected
Three input terminals are included for connecting to PCs. In addition, a USB hub and headphone/ audio jacks are conveniently located on the side of the monitor.





Flicker-Free Images
flicker freeDue to the way brightness is controlled on LED backlights, a small number of people perceive flicker on their screen which causes eye fatigue. The FlexScan EV series utilizes a hybrid solution to regulate brightness and make flicker unperceivable without any drawbacks like compromising colour stability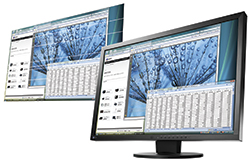 Tireless Eyes
To prevent eye fatigue, a brightness sensor called Auto EcoView detects the changes in the ambient brightness that occur throughout the day and automatically adjusts the screen to the ideal brightness level. Auto EcoView cuts power by almost 40% compared to operating the monitor at maximum brightness.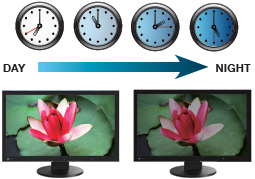 Adjustable to Just 1% of Maximum Brightness
In a dimly-lit work environment, a monitor with low brightness settings will be more comfortable to use. This monitor comes with an LED backlight that allows for adjusting the brightness to just 1% (about 3 cd/m2) of the maximum. With typical CCFL backlights the lowest you could adjust to would be a much brighter 20%.
Preset Modes for Optimum Viewing
Five preset modes (including two with user adjustable settings) ensure you always get the right setting for any application. You can switch modes at the touch of a button or automatically with the bundled ScreenManager Pro for LCD software.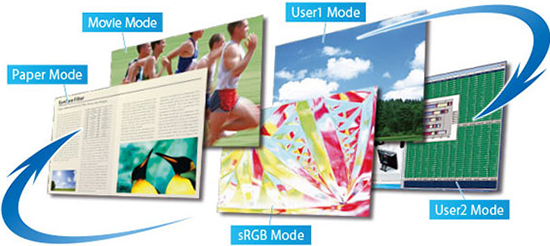 Paper Mode and EyeCare Filter Reduce Eye Fatigue
The Paper mode preset simulates the look of printed paper and helps prevent eyestrain when reading documents. When used with EyeCare Filter (available with the bundled ScreenManager Pro software), any of several filter patters that resemble different types of paper can be applied. You can adjust the density of the filter patterns for maximum viewing comfort