Nanoleaf Light Panels Smarter Kit Rhythm Edtion - 9 Panels + Rhythm Module overview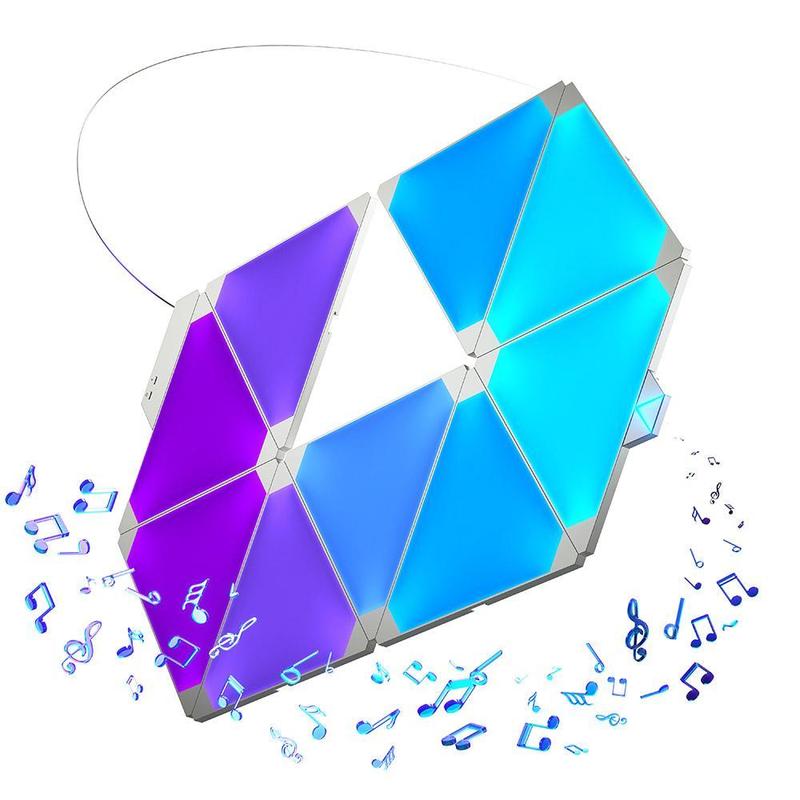 The Smarter Kit includes everything you need to get started and the Rhythm Upgrade module! Add up to 30 panels to this WiFi smart lighting product and bathe any room in gorgeous, colorful light. Operate with the free Nanoleaf Smarter Series App or the Home App in iOS10+. And if you don't want to use your phone as a lightswitch, you can access basic functions from the controller buttons and with Siri, Google Home / Assistant or Amazon Alexa.
Illuminate Your Life, Your Way.
Fully personalise your lighting experience with modular panels, millions of colours, an intuitive light Scene creator, and support for many popular smart home platforms.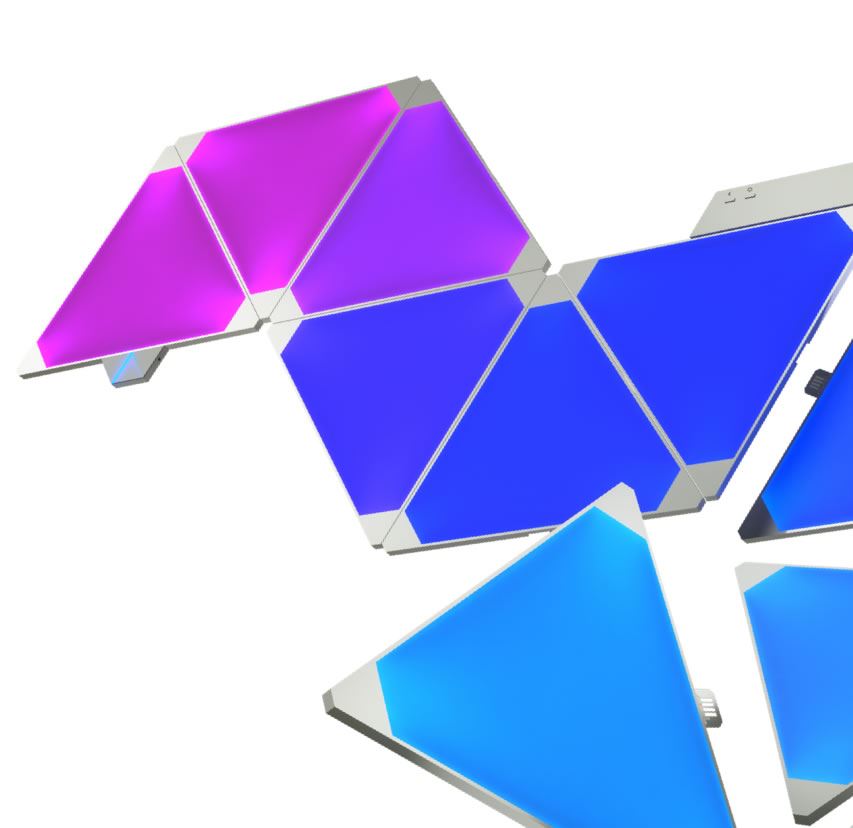 How the Light Panels Work
Piece the triangular panels together into whatever shape your heart desires. Easily mounted onto any flat surface using mounting tape. Fully customize your lighting inside the App, create scenes, set schedules, or download/share your scenes with the user community. Activate scenes using your voice via Siri, Amazon Alexa, or Google Assistant. Or use the toggle button on the physical controller.
How the Rhythm Works
Advanced technology that would have filled your garage a generation ago, stuffed into a three inch by two inch by half inch jack-in-the-box of pure joy. This is technological progress at its finest. Plug the Rhythm module into any Light Panel and you're good to go! Reacts to music of all genres in real time. Immerse yourself in a symphony of light with this great Light Panels add-on.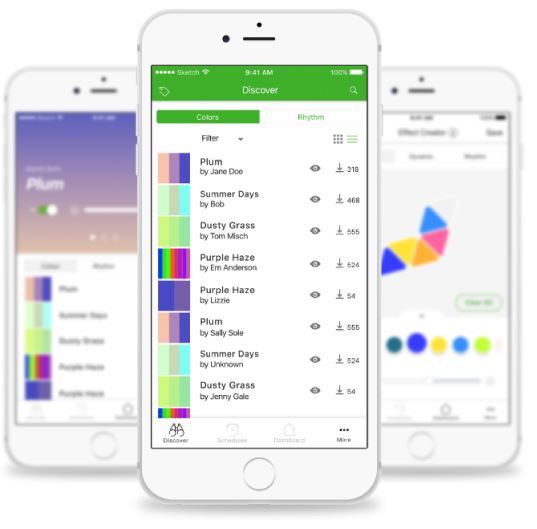 Guided Content Discovery
There's an entire community of creators and music enthusiasts dreaming up new Scenes. Be one of them and share your Light Panels and Rhythm Scenes, or preview and download Scenes shared by others.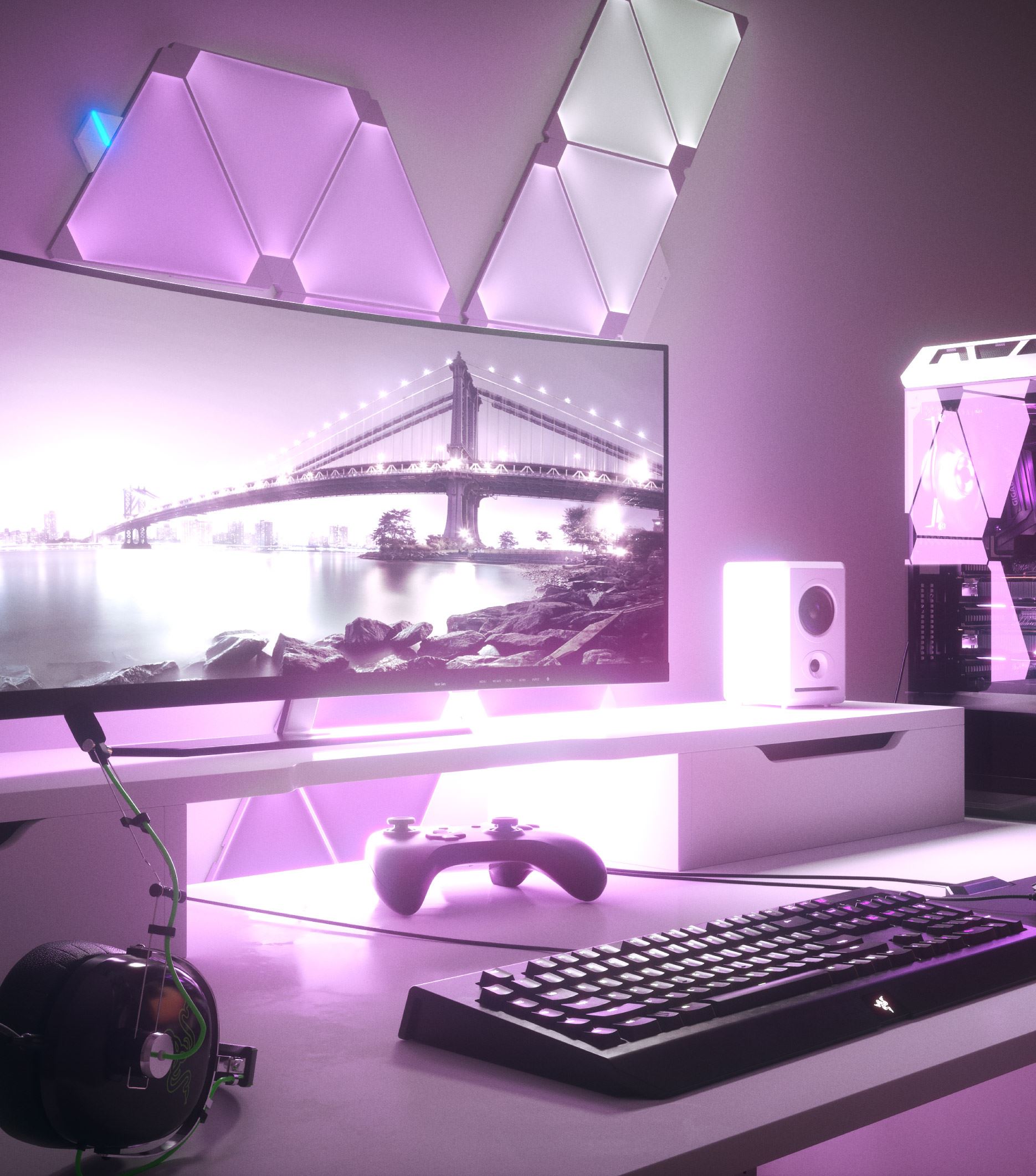 Stream, Game, and Work in Your Personal Nerd Heaven.
Does your battlestation feel like it's missing something? Look no further, Nanoleaf Light Panels are the answer you've been searching for. Personalize the lighting to match any setup, set the mood for some epic wins, or customize even further using our open API and SDK. Integrations available for Razer Chroma and Cooler Master. The best part is the modular light panels is designed to support your ever changing setup, so feel free to rearrange them whenever you want a fresh new look.
The Rhythm Edition Light Panels includes a Rhythm sound module that transforms sounds into a visualizer of dancing colors on your Light Panels. Turn on your speakers and embark on a sensory adventure as you become unstoppable.