PNY Quadro P6000 24GB GDDR5X Professional Graphics Card overview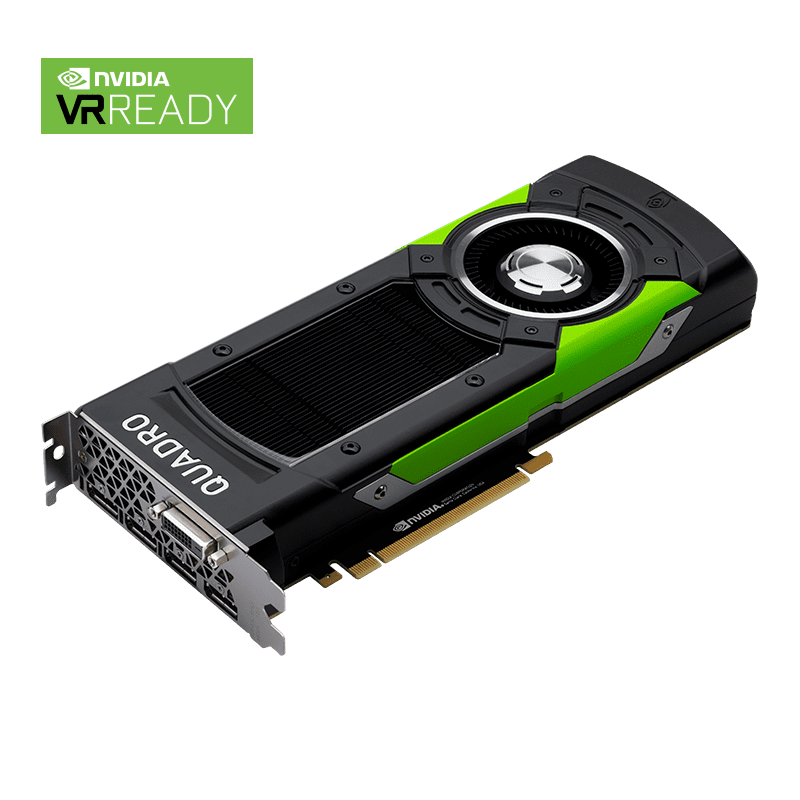 NVIDIA Quadro P6000
NVIDIA Quadro P6000
VCQP6000-PB
UNMATCHED POWER. UNMATCHED CREATIVE FREEDOM.
NVIDIA Quadro P6000—The World's Most Powerful Workstation Graphics Solution.
The NVIDIA Quadro P6000 is the most advanced pure professional graphics solution ever created, combining the latest GPU, memory and display technologies that result in unprecedented performance and breakthrough capabilities. Professionals across a range of industries can now create their most complex designs, solve the most challenging visualization problems and experience their creations within the most detailed, lifelike and immersive VR environments. Additionally, you can create massive digital signage solutions by connecting multiple P6000s via Quadro Sync II.
| | |
| --- | --- |
| CUDA Cores | 3840 |
| Peak Single Precision FP32 Performance | 12 TFLOPS |
| GPU Memory | 24 GB GDDR5 |
| Memory Interface | 384-bit |
| Memory Bandwidth | 432 GB/s |
| System Interface | PCI Express 3.0 x16 |
| Display Connectors | DP 1.4 (4) + DVI-D DL (1) + Stereo |
Designs become more complex over time. Visual effects grow in size, complexity, and scope. Scientific visualization and compute problems continue to push the boundaries of workstation capabilities. VR is changing all facets of entertainment, design, engineering, architecture, and medicine. As professional workflows grow in size and complexity, the demand for visual compute power grows with it.
Quadro P6000's Pascal architecture GPU implementation, GDDR5X memory and DisplayPort 1.4 support synergistically deliver the best overall single precision FP32 performance and professional graphics solutions. The P6000 enables users to create large, complex designs, interactively render photorealistic imagery, and create detailed, lifelike VR experiences.
Manufacturing Solutions
• Designers and engineers can create models with larger assemblies and larger numbers of components, render with higher image quality, or resolution.
• Quadro P6000 supports multiple displays at up to 5K resolution.
• Use real-world physics, lighting, and materials during interactive design and visualize with photo-realistic image quality.
• Integrate simulation during design with finer time-steps, more depth of field, larger assemblies, and more detail in components.
• NVIDIA Iray® plug-ins enable designers to visualize designs with photorealistic image quality using physically based lights and materials as an integrated part of their workflow.
• Combine multiple P6000 cards to provide incredible rendering power for larger, more demanding rendering workloads.
• Pascal's simultaneous multi-projection feature brings VR-based virtual prototyping to the next level. Larger, more complex designs can be experienced at scale, complete with virtual audio and touch integration.
Media & Entertainment Features and Benefits
• Editors can work in real time with HDR content and up to 8K full resolution on more complex projects with more layers and effects.
• Animators can create complex simulations and interactive visual effects like never before.
• Build extremely large scenes with large numbers of 3D elements, all fitting in graphics memory.
• 3D texture painting artists can enjoy creative flexibility in their workflow without being constrained by a maximum number of textures.
• Visual effects artists can create the most complex special effects, maintaining all assets in graphics memory and streamlining the effects workflow.
• GPU-powered rendering enables artists to visualize creations with photorealistic image quality using application-based, GPU-accelerated rendering or with NVIDIA Iray plug-ins using physically based lights and materials.
• Dual H.264/HEVC encode engines and one decode engine let you create and playback ultra-high quality HDR content.
• Quadro P6000 brings new levels of VR content creation power, enabling more complex, more detailed, and more lifelike VR experiences than ever before.
AEC Solutions
• Architects can create entire buildings—including designing, conducting analysis, and providing detailed walkthroughs of complete structures with new levels of realism.
• Plant designers can create the most complex plant designs and conduct verifications and walkthroughs.
• Urban designers can create entire cities, enabling walkthroughs with complete details of buildings, roads, plants, and trees with incredible detail.
• Powered by the P6000, VR-enabled walkthroughs allow customers to experience buildings at scale, providing instant feedback on designs, colors, textures, and features, reducing costly rework once construction has begun.
Energy (Oil & Gas) Solutions
• The P6000 GDDR5X memory provides up to twice the performance of the previous generation, allowing seismic interpreters to examine larger data sets with higher levels of interactivity than ever before without cutting down the size of the data or reducing fidelity. Reservoir simulations can also traverse GPU memory more quickly for better performance.
• With up to 70% better compute performance than the previous generation, geoscientists can run simulations faster, speeding up time to solution.
Immersive Visualization Features and Benefits
• Drive more complex, lifelike HMD-based VR experiences by taking advantage of the P6000's VR-specific GPU hardware.
• Build completely immersive environments with a single P6000 driving multiple 4K projectors.
• Quadro Sync II with multiple P6000s can be used to create extremely large virtual displays.
• NVIDIA MOSAIC technology, combined with the P6000, enables seamless multi-projector implementations.
Visual Simulation Features and Benefits
• Create flight simulations that circle the globe seamlessly without limitations to altitude or detail.
• Connect multiple displays or projectors to create 360-degree field of view.
• Quadro Sync II can connect multiple P6000 cards and workstations for massive multi-display and multi-projector simulation environments.